Compare Internet Deals UK (2022)
The emergence of broadband internet has quickly taken over the world with strong demand in parallel with our ever-increasing reliance on the internet. UK residents, much like most of the world, now need to go through a long process in order to compare internet broadband deals, compare internet packages and compare internet providers to ensure that they pick the right internet deal for them. How does one compare internet services? With our guidance of course!
Last updated in: April 2022
The following blog is designed to help you better understand which broadband internet deal is right for you. Through a comparison of internet deals, providers, and providing knowledge on the concept itself, you will finish this article with confidence in your ability to choose the right internet plan for your household. We will notably cover in a little more depths; the different types of internet connections, internet deals, internet providers, managing your internet contract and more.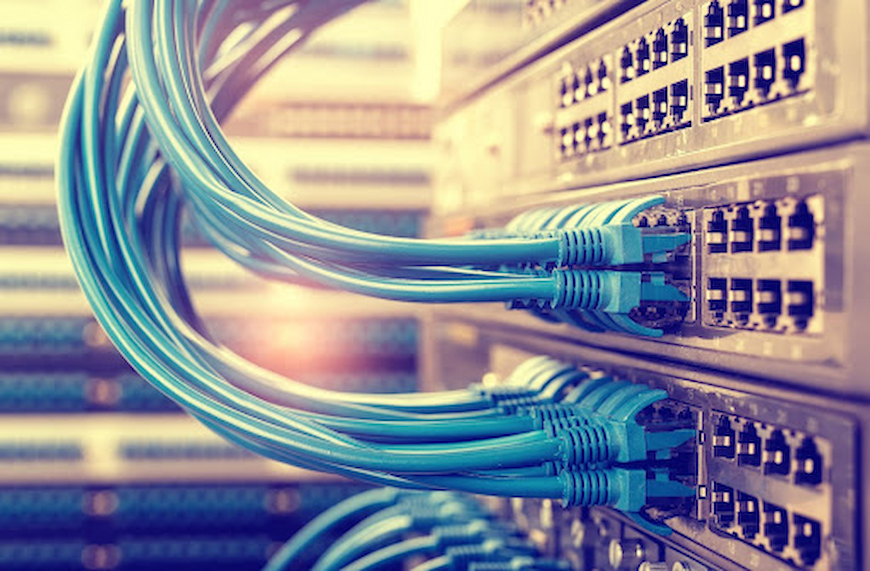 What is broadband internet?
Broadband internet is a high-speed internet connection service that offers users a more efficient online connection than traditional dial-up internet services. This emerging internet technology has become popular for those wanting top notch internet speeds for remote working, streaming, gaming, etc. In fact, in 2019 the UK government found that 98% of households use a broadband internet connection. Without getting too technical, broadband is the name of the technology that allows an internet service provider (ISP) to connect us to the internet. The name broadband derives from the large width of the technology which enables the use of multiple signals. This is the not-so-secret-secret of how broadband is faster than dial-up internet for example.
What are the different types of internet connections?
Ultimately the different types of broadband internet packages available to you will be dependent on your location, budget and speeds requirements. Keeping this in consideration, there are 6 main types of internet connections in the UK that you can choose from.

Different types of internet

| Type of internet | Definition | Best for | Speed in Mbps |
| --- | --- | --- | --- |
| Digital subscriber line (ADSL) | Transmits data on existing copper wire telephone lines | Anywhere in the UK (more options in bigger cities) | 1-100 Mbps |
| Cable modem | Uses the cable television infrastructure to access the internet | Awywhere with a cable TV connection | 20-1,200 Mbps |
| Fibre broadband | Uses fibre optic cables to transfer data | Anywhere in the UK (more options in bigger cities) | 10-10,000 Mbps |
| Wireless | Access to the Internet by transmitting over the air. | Rural areas without wires and cables | 10-1,000 Mbps |
| Broadband over power lines (BPL) | Internet data transmission over utility power lines. | Limited availability | 1-5 Mbps |
| Satellite | Internet access through communication satellites. | Remote and rural areas | 12-200 Mbps |
What is the cost of internet plans?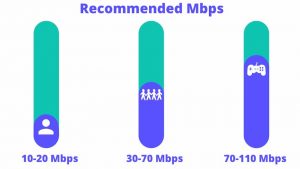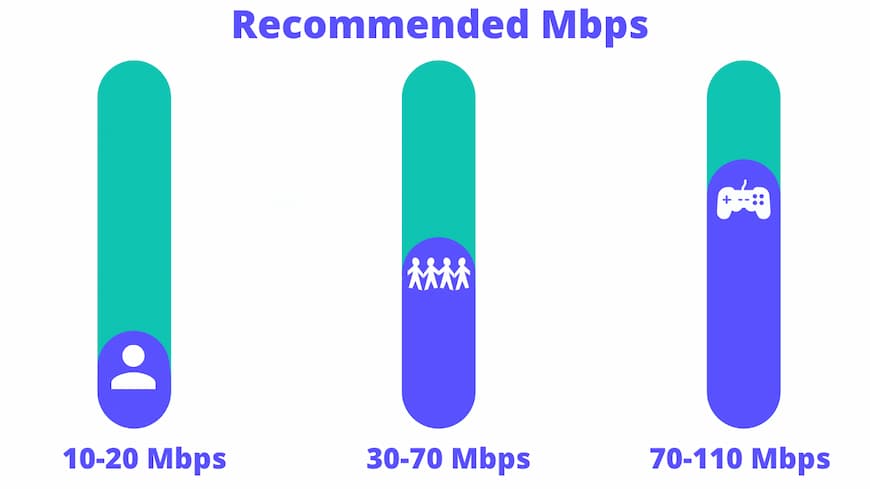 Figures from Ofcom show that the average UK user spends £29 on standalone broadband services. However, keep in mind that the cost of internet plans will range in price based on the provider, the speed, and your location. For instance, a single person household with low internet usage will require a different broadband speed than a family of four with a moderate internet usage. Thus, both households will be required to pay different rates for different packages in order to get the necessary broadband speed needed. Take a look below to discover the different types of packages for different household. Note that these prices do not reflect the set up cost, which varies by provider and internet type.

Packages for different households

| Type of internet | Single person household, with low internet usage | Family household with moderate internet usage | Household with gamers |
| --- | --- | --- | --- |
| Digital subscriber line (ADSL) | Average price: £20 | ❌Not recommended due to low speeds | ❌Not recommended due to low speeds |
| Cable modem | ❌Not recommended due to high speeds | Average price: £28 | Average price: £35 |
| Fibre | Average price: £22 | Average price: £26 | Average price: £32 |
| Wireless | Average price: £19 | Average price: £22 | Average price: £30 |
Can I get the internet without a landline?
Yes, you can have broadband internet without a landline. However, this isn't the case for all the different types of broadband internet. Consult the table below to determine which internet services can be used with and without a landline.
Internet without a landline

| Broadband type | UK coverage | Availble without phone lines |
| --- | --- | --- |
| Asymmetric digital subscriber line (ADSL) | 99% | ❌ |
| Fibre-to-the-cabinet (FTTC) | 95% | ❌ |
| Full fibre | 21% | ✅ |
| Cable | 52% | ✅ |
| Mobile broadband | Unknown | ✅ |
Should I get an internet, phone and TV package?
The benefit of bundling your internet, phone and TV under one provider is that it's usually cheaper than buying individual contracts for each service. However, as previously mentioned your location in the UK is a large factor in which bundles will be available to you. Here is an example of the prices for different bundles from Sky based on broadband availability in London.
Sky Broadband Bundles
Package
Speed
Price
Broadband
36 Mpbs
£28 per month
Phone
–
20p per minute
TV
–
£26 per month
Broadband + TV + phone

Sky Q
Sky TV
Netflix
Superfast Broadband
Pay as you talk

36 Mpbs
£43 per month
As you can see, if you were to bundle your TV, phone and broadband services all under Sky instead of buying them individual it would be cheaper.
What offers, rewards, gifts and cash-back can I get with internet providers?
Some UK internet providers offer rewards, gifts and cash-back when signing a new contract with them as a way to sweeten the deal. Some of the bonuses internet providers provide include:
Cash-back
Reward and prepaid cards
Gifts
Vouchers
Compare internet providers
When comparing internet providers it's important to consider which ones have different plans available in your specific location. A provider might have multiple options for a metropolitan city such as London, and fewer for smaller cities. Take into consideration the prices, speed, rewards, contract length and customer service in order to properly determine which internet provider is the most suitable for your online usage.
Which are the most popular internet providers in the UK?
The UK broadband internet market can be considered an oligopoly, with three main firms dominating the market share; Virgin Media, BT and Sky. However, UK residents can still choose from a variety of other internet providers such as Talk Talk, Vodafone, EE and more.
Market share of providers

| Logo | Broadband subscribers | Market share |
| --- | --- | --- |
| | 15 million | 24% |
| | 13 million | 22% |
| | 12 million | 19% |
| | 4 million | 9% |
| | 1 million | 5% |
| | 1 million | 5% |
| | 1 million | 5% |
Which provider has the best internet deals?
When comparing providers with the best deals, it's important to make sure you´re comparing prices, the speed, the contract length and rewards in order to get an overall view on which provider has the best deal for you. The table below allows you to compare the price of plans between providers based on an average internet speed of Mbps of 60. In order to help you better contextualize these figures, remember that a speed of 60 Mbps is an ideal speed for a family of 4 with moderate internet usage.
Best internet deals for an average 60 Mbps

| Company | Speed | Contract length | Price per month | Set up price | Rewards |
| --- | --- | --- | --- | --- | --- |
| BT | 67 Mbps | 24 months | £33.99 | £29.99 | £120 virtual reward card |
| TalkTalk | 67 Mbps | 18 months | £23.00 | Free | £60 virtual reward card |
| Sky | 59 Mbps | 18 months | £26.00 | Free | None |
| Virgin Media | 54 Mbps | 18 months | £33.00 | Free | £50 bill credits |
| Vodafone | 67 Mbps | 24 months | £25 | Free | None |
| Plusnet | 66 Mbps | 18 months | £24.90 | Free | £60 virtual reward card |
| EE | 74 Mbps | 24 months | £27.00 | Free | None |
Which is the fastest internet provider?
While different providers offer fast internet, it can be generally agreed upon that ultra-fast internet can be considered anything over 100 Mbps. The table below allows you to compare internet providers based on the highest speed offered in the UK market.
Fastest internet providers
Service
Speed
Providers
Superfast fibre
35Mb – 67Mb

BT
Sky
EE
Cucko
Vodafone
Virgin Media
Plusnet
TalkTalk
Now broadband
Hyperotic
Shell Energy

Ultrafast fibre
300Mbps – 1Gbps

TalkTalk
Virgin Media
Vodafone
Sky
Cuckoo
EE
Comparing some of the fastest internet providers can be tricky based on the diverse speeds, packages, and geographical availability. So in order to simplify things, we took 4 providers offering superfast broadband speeds in order to help you grasp a better idea of the costs behind superfast internet.
Superfast internet deals

| Company | Package | Speed | Contract length | Price per month |
| --- | --- | --- | --- | --- |
| Plusnet | Unlimited Fibre Extra | 66 Mbps | 18 months | £24.99 |
| Sky | Sky Broadband Superfast | 59 Mbps | 18 months | £26 |
| Hyperotic | 50Mb Fibre Broadband only | 50 Mbps | 24 months | £17.99 |
| BT | Fibre 1 | 50 Mbps | 24 months | £27.99 |
| TalkTalk | Fibre 65 | 67 Mbps | 18 months | £23.5 |
Which internet provider has the best customer service?
In 2021, BT, Sky and EE are the three providers that have received the least amount of customer complaints in regards to customer support in the UK broadband internet industry. Thus, it´s safe to say that these three internet providers have the reputation of having the best customer service.
Customer satisfaction

| Provider | Overall customer satisfaction | Satisfaction with reliability of service | Satisfaction with speed of service |
| --- | --- | --- | --- |
| | 86% | 84% | 80% |
| | 86% | 86% | 84% |
| | 88% | 87% | 85% |
Which internet deal is the best for me?
Choosing an internet plan can be a big commitment, with most contracts lasting a year or more. One person's perfect internet deals will defer from another person´s perfect deal based on their internet usage, location and more. For example; If you're looking for the cheapest internet deals, and just use the internet for social networking, your perfect deal would be different than someone working from home who needs fast and reliable internet. Thus, it's essential you take the time to understand what you need from your internet plan and compare internet providers in order to ensure you chose the right internet deal for your specific needs.
How do I choose an internet package?
While chosing an internet package can seem overwhelming at first, there are several factors that you should consider to help you chose the best internet package for you:
Contract length
Download speed
Download limit
Availability based on your location
Customer support
Offers, rewards and gifts
Overall cost
Which internet deal contract length is best?
Short term and no contract broadband deals are ideal for those who are not planning on staying with their internet provider for a long term duration. However, these contracts usually have more costs (overall cost and set-up costs) than long term contracts. Hence, if you don't foresee the need to switch internet providers in the long term, a 12, 18, or 24-month contract would be more suitable.
Perfect contract length for you
Contract Length
Pros
Cons
Perfect for
No-contract

No contract deals are useful if you need a short-term option
No cancelation fees

More expensive setup fees
Higher monthly costs
Fewer offers/rewards

Students
Temporary accommodation
Leasing seasonal holiday homes
Commitment issues

12 months

Switch more regularly
Take advantage of the competitive broadband market

Can't get the very fastest fibre deals
Biggest providers don't offer such short contracts
Fewer offers/rewards

Students
Young professionals
Regular switchers

18+ months

Many providers offer 18-month contracts
Widely available in the UK
Good value and can lock prices down for a while
Can bundle your broadband with TV and home phone

Not very flexible – you're stuck in the deal for a year and a half
Can be a pain if you´re renting a lease shorter than 18 months
Cancelation fees if you need to cancel before contract is up

People and families who know they want move in the near future
What internet speed do I need?
Your required internet speed is based on your internet usage (gaming, streaming, working), the number of devices connected, data transfer technology and your location. The following table can help give you an idea of your personalized optimal internet speed based on the amount of devices connected and online usage.
Optimal download speed

| Number of devices | Usage | Optimal download speed |
| --- | --- | --- |
| 1-2 | Web browsing, emailing/social media, light video content | Up to 25 Mbps |
| 3-5 | Streaming, gaming, working from home | 50-100 Mbps |
| Over 5 | All of the above | 150-200 Mbps |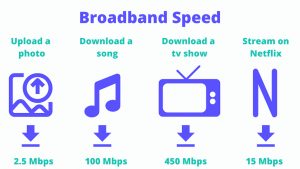 Internet speed is usually defined as Mbps which stands for "megabits per second" which is a measurement of bandwidth. Simply put, bandwidth is the download rate of your internet connection. If you´re having doubts in terms of the amount of Mbps you´re using, take a look at this figure. This will give you an idea of how much internet you need for different online usages in order to better help you understand the daily Mbps you require for your online activities.
What is my current internet speed?
In order to determine your current internet speed, you can take an internet speed test. This will allow you to see how fast your current internet is, and help you determine if you should upgrade your internet plan to one with more Mbps for faster internet.
What can affect your internet speed?
If you have noticed that your internet is too slow for your online usage, there are a few things you can do to improve your speed before bringing it to the attention of your provider and/or considering upgrading your internet plan.
Location of wireless setup: Try moving your wireless setup to a location closer to your internet devices.
Too many devices are connected: Try turning the Wifi off of the devices that are not being used.
Switch your Wifi for wires: While wifi is convenient, ethernet cables can give you a more reliable internet connection.
Clean up your computer: From system updates, to clearing your cache. These efforts can
help improve your internet speed.
Troubleshoot your router: Try turning your router on and off again. Make sure your router is as fast as your plan´s download speed.
Managing your internet contract
When managing your internet contract, it´s essential that you are aware of your internet consumer rights in order to help you stay informed throughout the duration of your contract. These factors will help you understand what is expected of both yourself and your provider during the duration of your contract and help you navigate those murky waters that can be easily overlooked in the small print.
A fair contract
Both parties must agree and follow through with the terms of the contract
The quality of the internet should represent what was agreed upon in the contract (ex; the right speed)
The contract is hosted under the ADR (Alternative Dispute Resolution)
You have the right to cancel your contract (note that additional fees may apply)
Should I get a new internet deal?
You´ve tried these manual tips to increase your internet speed and you are still not satisfied with your internet speed. In this case, it is possible to upgrade your contract or switch providers in order to get a faster internet plan. Keep in mind that when getting a new internet deal, make sure your router can keep up with the speeds of your new plan. Bear in mind that switching your contracts or providers may cost you extra money.
How to switch internet contracts?
If you have finished your contract with an internet provider, you are eligible to switch to a new provider or remain with the same provider and simply switch contracts. However, if you would like to switch contracts before your contract has finished, expect to pay the remaining months left in your contract before you´re eligible to switch. Oftentimes, if you are switching providers, your new provider will help you throughout this process. While if you're staying with the same provider and simply switching contacts, your current provider will help you through the process. Nonetheless, here are some things you should do before switching your contract.
Discover what broadband is available in your area: Before switching you should be aware of the different broadband technologies that are available in your specific area, as their availability can differ by location.
Check your contract terms: Unless your provider has not held up their end of the contract (ex; minimum speed required) then expect to pay exit fees if you want to switch contract before your current one is finished.
Determine what broadband speed you will need: If your switching contracts, this is a great opportunity to discover what broadband speed you need in order to maintain your desired online usage.
Checkout different broadband packages available in your area: think about if you should bundle your broadband with internet and/or phone, often times this can be a cheaper option. If you´re struggling with this, call the number below and we at Broadband Plans will be help to lend a helping hand
Chose a provider: checking out customer surveys, deals available are great ways to determine which provider you should go with if you want to go with a different provider.
Our broadband experts are here to help
Free service - Available Monday to Friday from 9am until 7pm
How to cancel your internet provider?
If you´re unhappy with your internet provider, you are always able to cancel your internet contract. However, expect to pay for the remaining months of your contract and possibly some extra additional fees. Although there are a few special circumstances that would exonerate you from paying the early exit fees such as the following:
If your internet provider increases their prices
If you´re not getting the quality of internet speed you´re paying for
If there is a problem with your internet that your provider is unable to fix
If you have signed up less than 14 days ago
Regardless if you are exempted from exit fees or not, you will have to get in touch with your providers customer service via email or phone.
Note that you should take the same steps as you would when switching your contract before following through with the cancellation so that you´re prepared for a seamless switch.
How to complain about your internet provider?
When considering switching providers, cancelling your contract, or just simply wanting to make a complaint about your provider's services there are a series of steps you can take to file a complaint with your internet provider.
Speak to your provider regarding your complaint
Escalate the broadband complaint to senior management
Accept the resolution or request a deadlock letter
Complain to the communication ombudsman
Once you´ve made your complaint to Ombudsman you may be contacted to provide additional information to add to any detail you have already provided. Most of the work they do will involve getting evidence like notes and phone calls from your provider. You can also submit copies of correspondence to be on the safe side. Normally, the outcome is issued by letter or email, with a clear description of what will happen next, for example, a company being told to pay you compensation.
FAQ
🏃 Which internet is the fastest?
Virgin Media is considered one of the fastest internet services in the UK (with a median download speed of 1130Mbps).

🏅 Who is the best internet provider?
Vodafone: One of the best internet providers in terms of bundles and deals
BT: One of the most reliable internet providers
Virgin media: One of the best internet providers in terms of speed
EE: One of the best internet providers in terms of speed and customer service

💰 Who is the cheapest internet provider in the UK?

While the price will defer based on your location and speed desired, these are some of the brands that can offer the cheapest internet services.

Plusnet: the UK's cheapest all around
Virgin: fast fibre for low prices
Now Broadband: cheap bundle packages

Updated on 11 May, 2022
You may find these posts interesting