How good is Hyperoptic Broadband?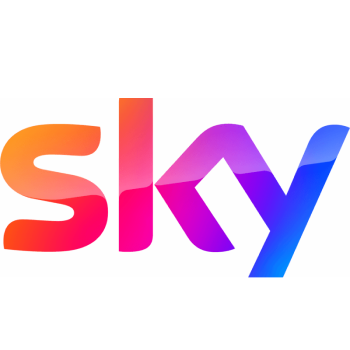 Want to compare Hyperoptic deals?
Save money with Sky Broadband & TV
Save money and switch to Sky for your broadband and TV! With award-winning TV services that are unbelievable for unlimited streaming and guaranteed broadband speed or money back
⭐️ Save over £200 on your yearly broadband and TV bills ⭐️
Hyperoptic coverage is increasing and the public's awareness of the company is also on the rise. Hyperoptic wants to be the fastest for speed/price ratio and also have a customer service team that delivers strongly. The Hyperoptic Trustpilot, is for the moment at least an indication of some success here. They also offer what appears to be a swift installation process for free.
Last update: November 2022
For the time being, Hyperoptic coverage across the UK is not at a very high level and the rollout of new infrastructure is taking time. It also does not offer any entertainment bundles. Hyperoptic make the point that this enables the user to choose all the services they want whilst benefiting from faster speed to run the service from. A bit of a stretch in a competitive market. Nevertheless, Hyperoptic is a good broadband provider and a genuine option that could provide faster speeds at a good price. We'll look at the company in more depth to figure out if switching to a Hyperoptic tariff is a good move.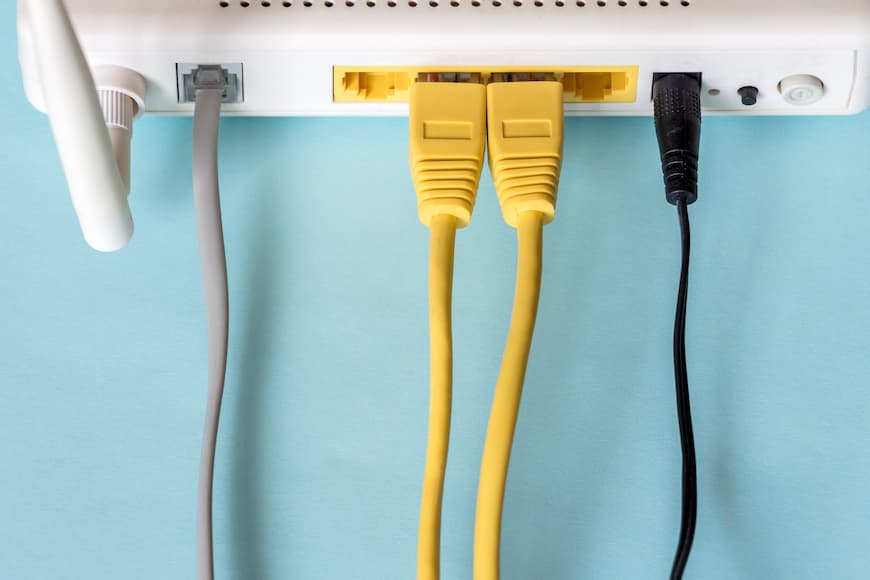 Hyperoptic Broadband Only Packages and Deals
Hyperoptic offers a number of broadband only packages and deals and are aggressive in their marketing of them versus major rivals like BT. They offer Broadband Only and Broadband with phone options. All of their offers are FTTP or Fibre to the Premises. This usually means better connection and speed, Hyperoptic are keen for their customers to compare with other suppliers. An example that they give on their website is as follows:
| Details | | | | |
| --- | --- | --- | --- | --- |
| Package | 50Mbps | 50Mbps | 52Mbps | 17Mbps |
| Average download speed | 50Mbps | 54Mbps | 50Mbps | 11Mbps |
| Average upload speed | 5Mbps | 3Mbps | 10Mbps | 1Mbps |
| Monthly Price during contract | £20 | £38 | £27 | £30 |
| Monthly Price after contract | £25 | £44 | £37 | £30 |
| Set up fee | £29 | £35 | £10 | £20 |
| Minimum commitment period | 24 months | 18 months | 24 months | 18 months |
| Fixed price during commitment period | Yes | Yes | No | No |
| Price match guarantee | Yes | No | No | No |
The main difference between Hyperoptic and their competitors is the fact that they offer FTTP and this leads to faster download and upload speeds. In the higher end tariffs this becomes clear. However, one difference that is not so positive, is the fact that Hyperoptic are still not active in so many parts of the UK. On the higher end tariffs, Hyperoptic are among the fastest for download but much faster for upload, as seen below:
| | 1GB Package |
| --- | --- |
| Average download speed | 900Mbps |
| Average upload speed | 900Mbps |
| Monthly Price during contract | £35 |
| Monthly Price after contract | £60 |
| Set up fee | £0 |
| Minimum commitment period | 24 months |
| Fixed price during commitment period | Yes |
| Price match guarantee | Yes |
There is a massive speed increase with no knock on effect for the price. However, Hyperoptic does not offer any TV bundles, another difference between them and their rivals.
What broadband packages does Hyperoptic offer?
If you like the sound of Hyperoptic so far, let's see what their offers are like. Bearing in mind they keep it simple, with no bundles, so we can focus on prices and speeds.
At the time of writing these are the offers from Hyperoptic for broadband only, though they do offer landlines as well on their website.
| Commitment length | Monthly Price in Commitment | Monthly Price after Commitment | Average speed | Activation Fee |
| --- | --- | --- | --- | --- |
| 12 months | £22 | £25 | 50 mb/s | £29 |
| 12 months | £29 | £35 | 150 mb/s | £29 |
| 12 months | £35 | £50 | 500 mb/s | £0 |
| 12 months | £40 | £60 | 900 mb/s | £0 |
| 24 months | £20 | £25 | 50 mb/s | £29 |
| 24 months | £25 | £35 | 150 mb/s | £29 |
| 24 months | £30 | £50 | 500 mb/s | £0 |
| 24 months | £35 | £60 | 900 mb/s | £0 |
Which package should I choose?
When choosing a broadband package, there are a few things you need to weigh up such as:
price
speed
commitment length
options that match your rental contract
usage
The fastest is not always going to be necessary, depending on your use of the connection. If you are a large family streaming, downloading, working from home and gaming all in the same household then, yes a more powerful plan makes sense. But if there are one or two people, only using the connection for work or study and some streaming of TV or music, then a mid range plan or even lower end, in the case of Hyperotic, will be just fine.
What Equipment do I get when I sign-up?
When you sign up for Hyperoptic will be provided a free router that the engineer will set up for you for free.
Indeed an engineer will carry out a full broadband installation by drilling a small hole near your front door to put a cable through. They will then install a socket or fibre converter.
Does Hyperoptic broadband offer TV packages?
No, and they explain why. It's clear that right now the focus for Hyperoptic is only broadband and landline and their website pushes the message that bundles are not all they are cracked up to be. It's a worthy effort to persuade customers that they would be better off taking a Hyperoptic plan and then signing up directly with the likes of Sky broadband, BT Sport or even Netflix.
The argument is that Hyperoptic will give you fast speed to power these options. It doesn't really stick very well because it is almost always going to be more expensive taking both instead of a bundle where you get broadband, TV and telephone, amongst other options.
In the same breath, Hyperoptic offers a partnership with Sky on their lower end contracts, which is a pretty middle of the road offering in terms of price and content against rivals who specialise in bundles.
Hyperoptic Broadband & Phone Packages and Deals
While they may not have bundles available, Hyperoptic do offer Broadband plus landline options and these are offered in 12, 24 and monthly contracts. As with their broadband only options, pricing is competitive against rivals, but the areas covered remain very limited just now.
What are Hyperoptic's Broadband and phone deals?
At the time of writing, Hyperoptic offers the following deals with a landline included.
| Commitment length | Monthly Price in Commitment | Monthly Price after Commitment | Average speed | Activation Fee |
| --- | --- | --- | --- | --- |
| 12 months | £24 | £28 | 50 mb/s | £29 |
| 12 months | £31 | £38 | 150 mb/s | £29 |
| 12 months | £37 | £53 | 500 mb/s | £0 |
| 12 months | £42 | £63 | 900 mb/s | £0 |
| 24 months | £22 | £28 | 50 mb/s | £29 |
| 24 months | £27 | £38 | 150 mb/s | £19 |
| 24 months | £32 | £53 | 500 mb/s | £0 |
| 24 months | £37 | £63 | 900 mb/s | £0 |
What call packages does Hyperoptic offer?
For a start, details about their call packages are hard to come by. From what we can see, you need to be eligible for Hyperoptic, then choose a plan and the rest of the details about what it included in your call plan would be given to you before the sale. On their website however, there is very little to explain what is actually covered by your call plan.
Where is Hyperoptic broadband available?
This is another question that is a bit difficult to answer for Hyperoptic. There are very few locations overall compared with main rivals. Outside of major cities there is a further drop off in areas taking orders, though installations and notes of interest are growing in number. In addition to this, it is easy to register interest, agree to an installation and check the coverage map on Hyperoptic's website.
Can I get Hyperoptic broadband deals in my area?
This very much depends on if they have the infrastructure ready to go or if they are still getting things installed in your area. If not available yet, it is straightforward enough to register your interest or agree to an installation. Unless you live in a major city, there is a good chance it will take longer.
Hyperoptic say that they have now rolled out their infrastructure in 57 towns and cities across the UK.
The process to request an installation is also quite straightforward, you click onto the Hyperoptic website and then under "why hyperoptic" you can click onto their coverage map.
Can I get Hyperoptic broadband without a landline?
Yes, this is one of the main offers that Hyperoptic has. Most of their available contracts are without a landline and offer a free installation.
Hyperoptic do seem to understand a younger generation of customers who are more interested in gaming, streaming and working or studying from home. Happily they offer a range of contracts with and without a landline included.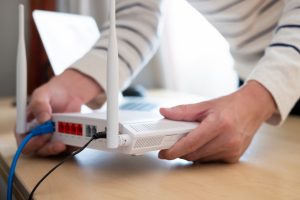 How fast is Hyperoptic vs competitors?
As we've already looked at, there is close competition between Hyperoptic and the likes of BT, Sky and Virgin Media for download speed. Hyperoptic takes the lead when it comes to upload speed in most cases however.
Hyperoptic's main selling point is that they offer equal speeds for both upload and download. Their website has numerous examples of the way Hyperoptic beats rivals for upload speed, because it matches download speed. Because of this, Hyperoptic are normally among the fastest for download speeds but then miles in front for upload.
Does Hyperoptic offer a minimum speed guarantee?
Not exactly. They are required to give realistic quotes by Ofcom and these are listed when you check prices and speeds in your postcode. In the small print Hyperoptic says that 50% of their users achieve the best quoted speed, they then add that by signing terms and conditions for a contract, you are agreeing that the speed can fall below the best figure quoted.
Hyperoptic coverage: Can I get Hyperoptic & how fast is it?
Getting Hyperoptic very much depends on where you live. At present, major UK cities are served quite well but outside of that it's a case of finding where they have managed to install and where they are soon going to arrive.
Hyperoptic does offer a coverage checker on their website where you can also register interest in installation but they do make it clear that it might not be the fastest installation process.
The process for getting Hyperoptic may be slow but once you have it, you are looking at great speeds. Hyperoptic compared with all the other major providers are just as fast, if not faster for download and then, in most cases they are faster than major rivals for upload.
Hyperoptic are working in three phases on their coverage checker – registering interest, installation agreed and taking orders. A quick glance at the coverage checker will show you that there is a lot of demand, especially in the bigger cities where installation is more likely.
For the moment though, the vast majority of consumers will be waiting a while for Hyperoptic to become available in their area.
Hyperoptic customer feedback: Is it any good?
Hyperoptic is trying to outclass its competitors in more than just speeds and prices. Their attitude towards customer service is to be the best in the industry.
Hyperoptic offers live chat, telephone and email 24 hours a day, 7 days a week. They do also have a very clear FAQs section covering the key points around billing, installation, landline services and technical support. Hyperoptic does also offer a sweetner of £25 as a referral bonus, if an existing customer refers a friend, who will also get £25 after being a customer for 30 days.
Hyperoptic refer to "five star customer service" and are reasonably transparent about their way of operating. This includes explaining that their staff all worked from home during the days of the pandemic when this was necessary.
Despite being around since 2011, it is clear that Hyperoptic still thinks like a new company and has an approach to customer service that – at face value – appears to be positive.
For a newer company with fewer customers than main rivals, there is always an easier period when it comes to getting good reviews. The real test may lie ahead, as Hyperoptic expands, can it keep pace with the expectations it has created so far.
Hyperoptic broadband customer service
To test all of these claims out, the best thing is to check reviews. Hyperoptic has an active Trustpilot that they claimed in July 2015. A score of 4.7 stars is therefore highly impressive and would validate most of the claims made by Hyperoptic about their way of treating customers.
While Trustpilot is a good indicator, it is always best to do your own checks. With Hyperoptic especially, you are probably going to find yourself waiting for an installation or for your interest to be picked up, in the cases where you cannot become a customer immediately. How they communicate in this period is crucial and how they approach any challenges like delays or technical issues.
One thing worth mentioning is that their negative Trustpilot reviews have a theme of a slow response to technical issues and a lack of follow up. Again with reviews, it's important to see them as an indicator but not a hard and fast way of making the decision to join or not.
⭐️ Trusted by over 1 million clients ⭐️
Is there a Hyperoptic broadband installation fee?
In most cases they will not charge an activation or installation fee. On lower end contracts there is a charge of £29.
Can I leave Hyperoptic Broadband early? Are there any cancellation fees?
It is possible to leave your Hyperoptic contract early, though there would be an early termination fee – ETF. The ETF with Hyperoptic is quite hard to track down on their website, but it's unclear why it's so well hidden – it's very reasonable.
For Broadband only, the fee is:

whatever is less out of £20
or the remaining amount left on your contract in total
For Broadband and Landline the fee is:

whatever is less out of £25
and the remaining amount left on your contract
One possible reason is that Hyperoptic are aware that they operate in so few locations, that if a customer moves house, the new property has a high chance of not being covered yet. To penalise customers for leaving because their new property is not included in the network would be counterproductive.
Of course in the unlikely event the new property is with Hyperoptic, you can take your contract across with you and avoid the ETF, even if it is one of the more forgiving exit fees on the market.
Hyperoptic broadband setup
Another key selling point for Hyperoptic is their simple setup. They claim it will take 1 hour for an engineer to complete the free or £29 setup. A small hole is drilled near the front door followed by connection to a socket or fibre converter. The Hyperhub router is then set up next.
The Hyperoptic engineer will also arrive with a cordless vacuum to clean up any dust or debris caused by the drilling. Hyperoptic agreed to a one hour time slot for installation and their website states everything will be completed in that time.
Is Hyperoptic fibre to the premises?
Yes and this is the exact reason that Hyperoptic is able to achieve the equal speeds between upload and download for Mb/s. Fibre to the premises – FTTP – is where the fibre connection runs the full length of the journey from the exchange to the property.
Reasons to choose Hyperoptic
Our verdict: Should you choose Hyperoptic Broadband?
If you are looking for fast upload and download speeds at a price similar or even slightly less than rivals, then Hyperoptic, if you are in their coverage zone, is one of the best choices in the market just now. If you are in their coverage zone, then you would be advised to find out how long it will take for them to reach you.
If you are looking for bundles where TV and other services are all included in one price, then this is probably not the best option for you.
What are the benefits of Hyperoptic?
Fast download speeds that are matched by the upload speed because of their FTTP system
A focus on customer service
The prices works out as good value against rivals
What are the drawbacks of Hyperoptic?
Coverage is very limited across the UK and changing this will not be quick
No bundle options, other than a limited agreement with Sky until December 31st 2021
No clear details about landline offering
How do Hyperoptic prices compare to other broadband providers?
In most cases, they compare well and offer value for money. In many cases Hyperoptic will undercut their main rivals like Sky, BT and Virgin Media. There has been some criticism to say that the reduction could be further, because Hyperoptic are not offering any other services with the contract. However for the price/speed ratio it's hard to find fault.
What other services can you get from Hyperoptic broadband offering?
Not many. At the moment Hyperoptic are focused on rolling out their infrastructure and getting the best speeds to their customers, so doing deals with TV bundles and similar extras are not really a priority. Currently they have a deal in place with Sky TV for their superfast broadband and this is expected to last until December 31st 2021. Compared to others it's not the most competitive bundle out there.
Don't hesitate to check out the articles about the other internet providers:

Discover deals from another provider to choose the best broadband deal.🌐
⭐️ Trusted by over 1 million clients ⭐️
FAQ
Does hyperoptic use BT Openreach?
No, Hyperoptic have their own infrastructure. When installation happens, this is to put in the Hyperoptic Socket or Fibre converter. This is an important part of being able to provide fast speeds for both upload and download. By having their own technology, Hyperoptic are can secure the connection as Fibre to the Premises.
Is hyperoptic faster than BT?
This question depends on the exact location and the bundle but in general they are both close to each other on download speeds, but when we consider upload speeds, Hyperoptic are considerably faster.
Updated on 31 Oct, 2022