Talkmobile | A Guide to SIM-Only Deals, Coverage, and Customer Reviews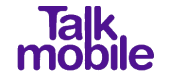 Save money with TalkMobile SIM Only deals
Save money and switch to TalkMobile for your mobile deal!Get the best from one of the biggest and cheapest Mobile Virtual Network Operators in the UK
⭐️ Save over £200 on your yearly mobile bills ⭐️
The UK's mobile carrier market is expansive, with so many options to choose from. This includes the brands known collectively as the 'big four' networks – EE, O2, Three and Vodafone. However, smaller providers use these networks and offer different plans and prices – and Talkmobile is one of these suppliers, known as a mobile virtual network operator (MVNO).
Although it was originally launched by the defunct chain Carphone Warehouse, Talkmobile continues trading as one of Vodafone's brands. Talkmobile provides mobile services across the UK by relying on Vodafone's network, which is widely available across the UK. You'll find that Talkmobile is highly affordable, straightforward, and flexible to suit your needs in terms of calls, text, and mobile data.
Last updated in: November 2022
To ensure you find the best Talkmobile plan, we'll explain everything you need to know in our comprehensive guide. This article will cover Talkmobile's coverage, Wi-Fi calling features, and its best PAYG deals.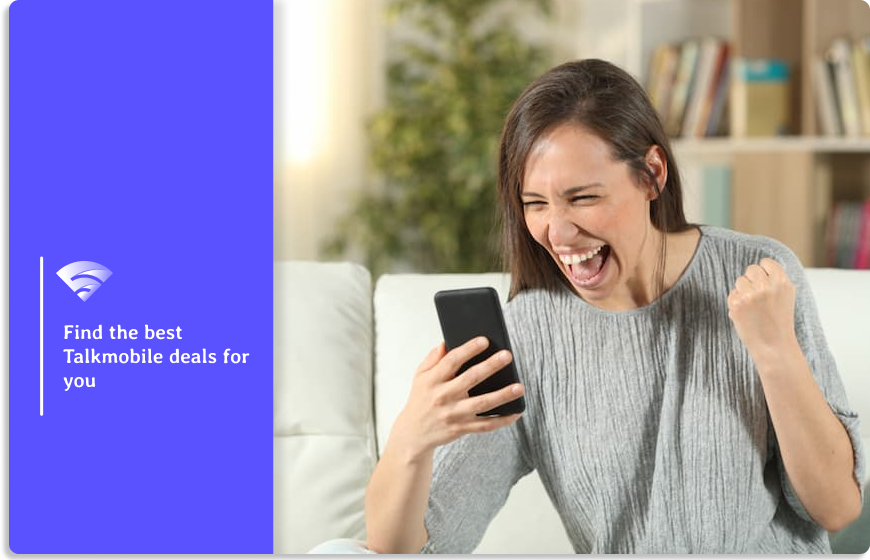 ---
Why choose Talkmobile?
Talkmobile openly calls itself a "cheap" provider – and it's proud to do so, offering good value for money on its mobile plans. Unlike its host network, Vodafone, Talkmobile isn't about offering a premium experience with plenty of bonuses and perks. Rather, this provider puts affordability and simplicity first – and it delivers on these promises.
As Talkmobile uses Vodafone's network, it boasts UK-wide availability. 99.9% of the UK population can receive coverage from Vodafone, so Talkmobile is widely available. What's more, Talkmobile customers can also access 5G with any SIM-only plan or phone contract.
What's more, Talkmobile SIM cards are compatible with all mobile handsets, so they're universally functional across smartphone brands. You can also access unlimited tethering with any Talkmobile plan, and even Wi-Fi calling to stabilise your phone calls when you've got no connection.
Talkmobile coverage
Talkmobile's coverage is very good, and on par with most UK network providers. The reason that Talkmobile's coverage is so impressive is that it uses the same network infrastructure as telecoms giant Vodafone.
Talkmobile's services cover 99.9% of the UK population, so you can expect coverage wherever you're located. However, if you're looking for 5G coverage, you'll find that it's limited to certain areas with nearby 5G masts.
The best way to check whether you'd receive coverage from Talkmobile is by using its online coverage checker.
⭐️ Trusted by over 1 million clients ⭐️
Advantages and disadvantages of Talkmobile
As an affordable and widely-available provider, Talkmobile has a few good things going for it. However, as with any provider, it's got its downsides too – which is why you should consider both the pros and cons of joining Talkmobile before you switch over.
| | |
| --- | --- |
| ✅ Pros | ❌ Cons |
| Low prices for SIM-only plans | No unlimited data plans available |
| Unlimited calls and texts with every plan | Not much on offer in terms of incentives and bonuses |
| Spending caps if you want to set a clear limit on your phone bill | Very little Ofcom data on this provider – so there's no certainty about its customer service |
| Wi-Fi calling, allowing you to keep calling and texting over a Wi-Fi connection where you can't get signal | ❌ |
| Roam at no extra cost in 41 countries, including EU destinations | ❌ |
---
Talkmobile deals
Whether you're looking for a basic, one-month PAYG plan or a longer plan with plenty of gigabytes of data, you'll likely find what you need with Talkmobile. And you'll find it at a pretty cheap price, too!
Talkmobile SIM-only deals
In this day and age, many of us already have smartphones that are ready to use – but without being able to send texts, make calls, and use data, what good is a phone? Thankfully, you can access all of those functions with a SIM-only deal from Talkmobile, with each plan including a set data limit and unlimited calls and texts.
Talkmobile 30-day SIM plans
Committing to a contract that lasts months can be too much hassle for some customers – so it's often more convenient to top up each month. With Talkmobile's 30-day SIM plans, this is possible – and here are the best options:
Deal
Breakdown of costs
Contract length ⌚️
Texts and minutes
Monthly data allowance
1GB data
Monthly: £5
One-off: 0
30 days
Unlimited
1GB
10GB
Monthly: £9
One-off: 0
30
Unlimited
10GB
24GB
Monthly: £12
One-off: 0
30
Unlimited
24GB
Talkmobile 12-month plans
Talkmobile's 12-month SIM-only deals involve more commitment than a 30-day plan – but in exchange, you'll get better value for money on data. It's also the only way to access larger data allowances of 50GB or 100GB. These are all the 12-month SIM-only deals from Talkmobile:
Deal
Breakdown of costs
Contract length ⌚️
Texts and minutes
Data allowance
3GB data
Monthly: £7
One-off: 0
12-month
Unlimited
3GB
6GB
Monthly: £8
One-off: 0
12
Unlimited
6GB
50GB
Monthly: £15
One-off: 0
12
Unlimited
50GB
100GB
Monthly: £20
One-off: 0
12
Unlimited
100GB
Best Talkmobile SIM-only deals
Whether you're looking for a 30-day or 12-month deal, it's important to get the best value for money – or in other words, more data for less. These are the very best Talkmobile deals available:
Deal
Breakdown of costs
Contract length ⌚️
Texts and minutes
Data allowance
24GB data
Monthly: £12
One-off: 0
30 days
Unlimited
24GB
50GB
Monthly: £15
One-off: 0
12-month
Unlimited
50GB
100GB
Monthly: £20
One-off: 0
12
Unlimited
100GB
Cheapest Talkmobile SIM-only deals
With the cost of living rising across the board, many customers are keen to make savings on their monthly mobile bills. To help you spend as little as possible on texts, calls, and mobile data:
Deal
Breakdown of costs
Contract length ⌚️
Texts and minutes
Data allowance
1GB data
Monthly: £5
One-off: 0
30 days
Unlimited
1GB
3GB
Monthly: £7
One-off: 0
12-month
Unlimited
3GB
6GB
Monthly: £8
One-off: 0
12
Unlimited
6GB
---
Talkmobile key features
Talkmobile is one of many UK mobile carriers, but it's got a few appealing features that you won't find with many of its competitors. This includes Wi-Fi calling and even roaming at no extra cost across the EU.
Talkmobile speeds
As Talkmobile relies on the Vodafone network, you can expect the same Internet speeds as you'd get as an Vodafone customer. As 5G is currently not widely available on this network, Talkmobile customers can expect to receive a 4G mobile broadband connection in areas with decent signal.
Talkmobile allows you to receive Internet with average download speeds of 21.6Mbps and upload speeds of 7.4Mbps. This is on par with what you can expect from most networks – except when connected to 5G, which is considerably faster.
Talkmobile data and calling features
Talkmobile has introduced a feature called Voice over LTE (VoLTE), which uses a 4G network to host phone calls. The carrier describes this as "like calling in HD" – meaning that you can expect better audio quality and clearer calls by using 4G technology.
Besides an improved calling experience, Talkmobile's VoLTE feature also allows you to make calls in areas where there's 4G coverage but no 3G or 2G.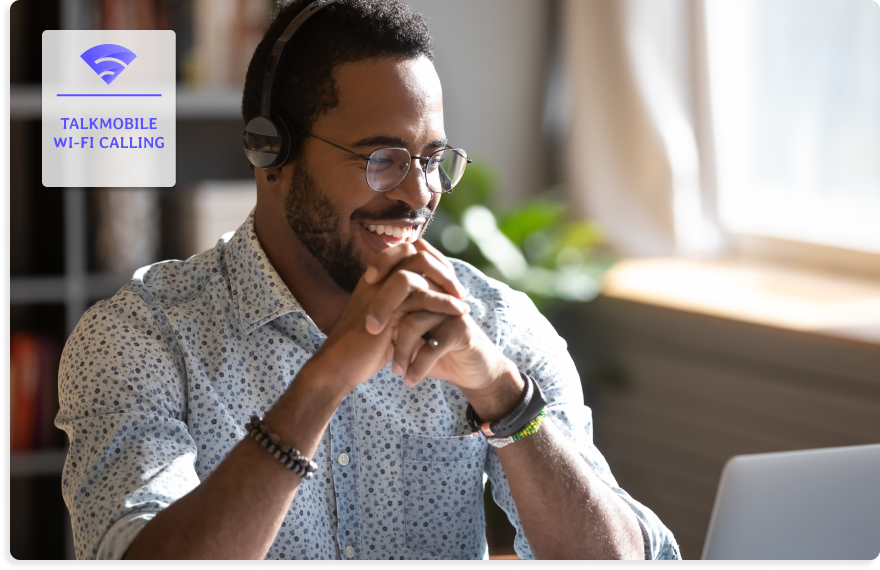 Talkmobile Wi-Fi calling
Wi-Fi calling is another attractive feature of Talkmobile. As the name suggests, this involves making calls over a Wi-Fi or 4G connection rather than a phone signal. The benefit of this is that you can make and receive calls in area with poor signal, as long as you can access the Internet. An example of an ideal circumstance for Wi-Fi calling would be when you're in a building with a Wi-Fi connection but no signal.
Wi-Fi calling also applies to texting, too – in other words, Talkmobile allows you to send and receive texts via an Internet connection if you need to.
Talkmobile roaming features
Talkmobile allows its customers to use their standard UK mobile plans abroad in 41 European countries. This essentially means that you can use your standard monthly allowance as usual when you're in another country in Europe – without extra costs.
To demonstrate how Talkmobile roaming works, you can send a text to a UK mobile number while you're abroad in Italy – or you could call a UK landline from Portugal. As long as you're within one of Talkmobile's roaming destinations, using calls, texts, or data will cost the same as it would in the UK. However, calling non-UK or premium phone numbers abroad will incur extra costs, as would be the case in the UK.
Unfortunately, if you're outside any of the 41 specified European destinations, you'll be subject to the calling rates of the country you're visiting.
Countries not included in the list of 41 destinations include Macedonia, Switzerland, and some other European destinations – as well as non-EU countries such as the USA or India. You can find a full list of countries where you can roam like home on Talkmobile's website.
---
Talkmobile customer service
Let's face it – having the ability to make calls, send texts, and access mobile data is an absolute necessity. So, in the event that anything goes wrong with your service, contract, or payments, it's important that you can rely on a helpful customer service team to support you. Here's what we know about Talkmobile's customer service:
Does Talkmobile have good customer service?
Unfortunately, there's little that can be said on Talkmobile's customer service due to the lack of data about it. This is because Ofcom has not officially reviewed the standards of Talkmobile – so there's no official, Ofcom-backed insight into Talkmobile's quality of customer service. The only way of getting to understand customers' thoughts on Talkmobile's service is by looking at its reviews on Trustpilot.
Talkmobile reviews
On the review aggregator site Trustpilot , Talkmobile has a score of 3.6/5 stars. This is considered an 'Average' ranking – but it's better than a lot of mobile providers' scores. Based on this score, Talkmobile seems to deliver a decent quality of customer service.
To give you some insight into customers' experiences, here is a glowing five-star review of Talkmobile:

⭐️⭐️⭐️⭐️⭐️
"Very good customer service and very competitively priced."

However, as this one-star review shows, some customers aren't satisfied:
⭐️
"If you lose your phone, do not rely on this company to send you a replacement SIM for at least 10 days (I'm still waiting for mine)."
How can I contact Talkmobile customer service?
There are a couple of ways to contact the customer support team at Talkmobile. The first is to use its online webchat, where you can speak to an adviser through a live online conversation. Start by visiting Talkmobile's contact us page and clicking the orange 'Chat now' tab to chat with a team member.
If you'd like to speak to someone over the phone, you can call Talkmobile's team by calling
5888
from your Talkmobile SIM. If you're using another phone, simply dial
0333 304 8064
instead.
How do I top up my Talkmobile plan?
The easiest way to top up your Talkmobile SIM-only plan is by logging into your Talkmobile account , where you can top-up online. Once you've logged in, you can use the 'Boost My Allowance' button to add extra data to your Talkmobile plan if your standard monthly allowance won't suffice.
---
Switching your mobile provider – Talkmobile
With so many carriers in the mobile market, you've got plenty of choice in terms of what company provides your mobile phone services. Whether you want to join Talkmobile or leave it for another provider, you'll be glad to hear that the process is straightforward.
Should I switch to Talkmobile?
Talkmobile has some advantages and disadvantages attached to all of its plans, so it's best to consider these in detail before you decide to switch. Here are the pros and cons to think about before joining Talkmobile:
✅ Pros:

Relatively low prices
Unlimited calls and texts for every plan
Optional spending caps and Wi-Fi calling
Inclusive EU roaming
❌ Cons:

No option for unlimited data
No perks or bonuses to sweeten the deal
Quality of customer service is questionable without Ofcom's perspective
How do I switch to Talkmobile?
It's easy to switch over to Talkmobile's network. You'll just need to follow some simple steps, which will vary slightly depending on whether you want to keep your old number or not.
To keep your number:
Text 'PAC' to 65075 from the phone number you wish to keep. Your old provider will respond by giving you a PAC code.
Insert your new Talkmobile SIM card into your handset. Dial *#100# to receive your temporary Talkmobile number.
Visit Talkmoble's 'Keep my number' page and input your PAC code. You can then choose a convenient date to transfer your old number to your new Talkmobile SIM.
You'll then be able to use your old number as normal.
However, if you're looking for a fresh start, you can change your number when joining Talkmobile:
Text 'STAC' to 75075. You'll promptly receive a STAC code from your old carrier.
Insert your new Talkmobile SIM card into your handset. Dial *#100# to receive your Talkmobile number.
Share your STAC code with Talkmobile by clicking the "I'd rather keep the new number" tab on its number switching page. You'll also need to input your old number so it can be deleted.
After switching over, you'll have a brand new number.
Switching is easier than it once was – but it can be even easier! Get in touch with the Broadband Plans team today, and we'll handle the switching process for you for free.
How do I cancel my Talkmobile contract?
If you've had enough of Talkmobile and want to cancel your contract, you can call 5888 from your Talkmobile handset or dial or 0333 304 8064 from another phone. Tell the customer service team you'd like to cancel – you won't need a PAC or STAC code, as you'll be terminating your Talkmobile number. Be sure to give Talkmobile 30 days' notice of your cancellation plans, and don't close your direct debit arrangement until you've received your final bill.
Getting mobile deal from TalkMobile is easy!
Want to know more details about the SIM Only deals from TalkMobile?
Check out our best offer right now.
Get TalkMobile now
⭐️ Broadband Plans rate on Trustpilot Ad is 4.1/5 ⭐️
FAQ
🤨 What network does Talkmobile use?
Talkmobile uses the Vodafone network – so you'll get the same 99.9% UK coverage you'd expect with that carrier.
💰 How to check the balance on Talkmobile?
There are a few ways to check your Talkmobile balance:
Text 5888 from your Talkmobile phone. Select option 1 and then option 3 to learn your balance.
Log into your account
and select 'Usage Details' followed by 'My allowances'.
👀 Can I get Talkmobile SIMs with unlimited data?
Unfortunately, it's not possible to get unlimited data from Talkmobile – the closest you can get is a 100GB data allowance with a 12-month plan.
🌐 Can I roam for free with Talkmobile?
You can roam for free in 41 countries in Europe with Talkmobile, meaning that you can use your existing UK minutes, texts, and data allowance without incurring extra fees.
Updated on 9 Nov, 2022