How to Find the Best broadband and TV Deals
Discover the best broadband and TV deals for your home
Save money by bundling your TV and broadband services. Compare the best broadband & TV deals available near you and start saving money today!
⭐️ Save over £200 on your yearly broadband bills ⭐️
Most TV and broadband deals offer customers access to fast internet and a range of digital TV channels for a set monthly fee. Finding the best broadband and TV deal could be a great way for you to save some money. Some also offer telephone landlines and mobile SIMs as part of the deal. If you're considering switching your broadband or TV provider, opting for a combined deal could work for you.
Last update: November 2022
Combined broadband and TV deals allow you to get two of your essential entertainment services from one provider. This can reduce the amount of admin you need to manage each month and give you the opportunity to secure a great value deal. Here, we take a closer look at the best broadband and TV bundles, the most popular suppliers and how to find the right deal for your home.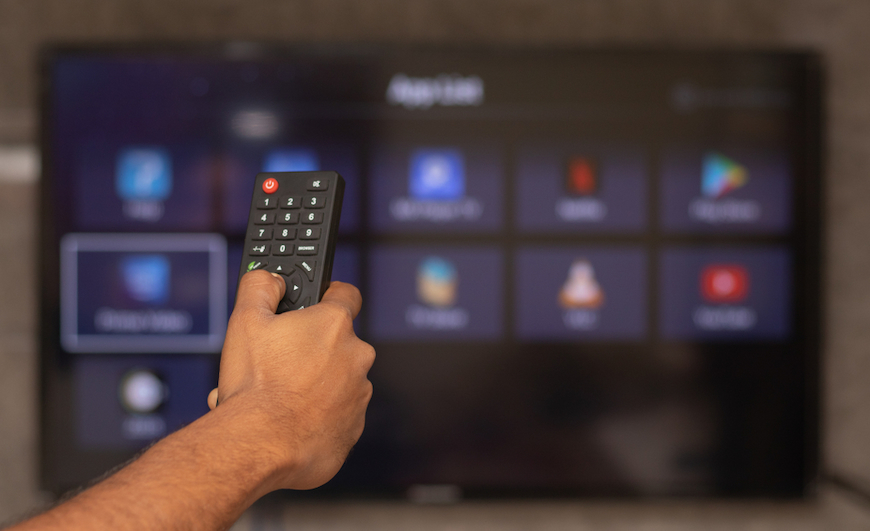 Should I get a broadband and TV bundle?
In general, combined broadband and TV bundles are more expensive than either single TV or broadband deals. This is because you're getting two services rather than one. If you watch most of your TV via a free service like Freeview, or if you use a lot of streaming services like Netflix or Amazon Prime, you may find you don't need an extra TV package. However, if you like to watch a lot of movies, want access to specialist sports events or like to watch US TV, a package that offers a choice of channels could suit you perfectly. In this case, getting a broadband and TV bundle is probably cheaper than buying the two services separately. Essentially, this decision often comes down to money. If you can get a great deal by getting both your broadband and TV from one provider – while minimising admin – it's probably the right choice for you. However, if you'll end up paying more, and won't make full use of the services on offer, getting your TV and broadband separately may suit you better.
What is a broadband and TV bundle deal?
A broadband and TV bundle deal allows you to get your TV and internet connection from the same provider. These combined deals are available from a number of media companies in the UK.
The main pros and cons of a TV and broadband bundle are:

Cheaper than getting TV and broadband separately
Minimises admin
Gives you access to exclusive offers
Simplifies your monthly payments
Can be more expensive than buying a single TV or broadband service
Only worth it if you will watch the extra channels you receive
Different providers offer different TV channels, so you'll need to find the deal that's right for you
Our broadband experts are here to help
Free service - Available Monday to Friday from 9am until 7pm
Which broadband and TV deal is best?
When investing in a new broadband and TV bundle, it's understandable that you'll be looking for the best deal possible. As every household's requirements are slightly different, it's hard to say for certain which deal will be the best one for you. If you watch a lot of sport, you'll probably want to opt for a package that lets you watch all the biggest events. Whereas if you have kids, you may want a TV bundle with a good choice of children's channels.
Other important factors to consider when choosing a broadband and TV bundle include:

Price – no one wants to pay over the odds for their broadband and TV services
Internet speed – it's important to choose a provider that offers fast, reliable internet in your area
Customer service – choosing a company that has a reputation for good customer service will help to make your interactions with them as easy as possible
How to choose the best broadband and TV package?
When selecting the best broadband and TV package for your household, it's important to consider which services are most important to you. Talk to the other people who live with you to find out what type of channels they're most interested in and how much they'd be willing to pay for the extra entertainment.You'll then need to use an impartial comparison service to see which deals are available in your area. Like us for example.
What is the cheapest broadband and TV package?
The cheapest broadband and TV bundles available in the UK start from just under £30 per month.Generally, the very least you'll pay for a combined TV and broadband bundle is around £26 per month, though this can vary depending on where you are in the UK.
Some of the cheapest TV and broadband providers in the UK are:
TalkTalk
Virgin Media
EE
Sky
The table below shows some of the cheapest deals available now:
Cheapest TV bundles
Supplier
Cost per month
Length of contract
Average download speed (Mpbs)
TV details
£26
18 months
38Mbps

Over 50 TV channels
HD options

£30.99
12 months
63Mbps
£33
18 months
54Mbps

80 TV channels
international options

£38
18 months
36Mbps
£39
18 months
59Mbps

Sky One
Sky Atlantic
Sky Arts
In order to access the cheapest broadband and TV deals, you'll need to sign up to a long term contract. Most low cost TV and broadband providers ask customers to sign up for at least 18 months. If you break your contract before this period expires, you may have to pay a fine or even pay for the remaining months left on your deal. Some broadband and TV providers allow you to take your service with you to a new property. If you think you will move house in the next year or two, check what your supplier's policy is before you sign on the dotted line.
What to look out for with broadband deals?
There are a number of important things to watch out for when selecting a new TV and broadband bundle. Checking these details will ensure you get the service that's right for you and aren't caught out by the small print.
Download speed
The download speed is an important indicator of how fast your broadband will be. Most broadband packages advertise an average download speed. However, as download speeds can vary significantly depending on where you're located, it's very important to check what sort of download speed you can realistically expect to see when you sign up. A 'good' broadband speed is considered to be around 11Mbps or more. A speed of 11Mbps will allow you to stream TV and movies, play online computer games and surf the internet quickly and easily. Two people should be able to stream TV at the same time, however if more people want to watch content independently, you may run into problems. Download speeds of between 11Mbps and 50Mbps are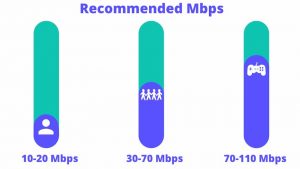 considered fast. If your download speed is anywhere near 50Mbps, a four family household should not have any problems streaming HD films and TV. Speeds of above 50Mbps are considered very fast. If you have a lot of gamers in your house, or like to stream content in ultra HD, a very faster connection of 70-100 Mbps will ensure you won't experience hold ups or delays when looking at TV, films and games. Ideally, you can check out the speed that you require for your daily online usage in order to accurately determine your ideal broadband speed.
Download limit
If your broadband service comes with a download limit, there will be a cap on the amount of content you can stream and download in any one month. This means you may have to limit the amount of videos you watch online or cut down on your online gaming. Download limits are relatively rare these days, especially when it comes to broadband (satellite and 4G internet services are more likely to have limits on usage), but it's still well worth checking the conditions of your deal before you sign up.
Availability
Fast broadband (that is broadband with an average speed of at least 30Mpbs) is now available to around 96% of homes in the UK. Around 1% of UK homes receive a service of 10Mbps or less. There are also still some properties that aren't on the broadband network, this means that they need to get their internet via satellite and 4G services. Before signing up to a broadband and TV bundle, check what services are available in your region. Some broadband providers only operate in certain parts of the UK, so you'll also need to find out if the deal you want is available in your area.
Cost
When comparing TV and broadband deals, cost is going to be one of the most important considerations. In general, the more channels you have, the more expensive your bundle will be. This is especially true if you want a lot of specialist channels like sports or movies.

The cheapest TV and broadband bundles are available for around £26 per month. If you want a more comprehensive deal, you could pay as much as £75 for your entertainment services.
Equipment
In most cases, you'll need a few pieces of specialist tech equipment in order to receive your new TV and broadband services. This might include a new router, a digital TV box and, in some cases, a satellite to allow you to receive TV services. A lot of providers offer this equipment for free, although some ask customers to rent or buy it. If you opt to purchase your equipment, you'll probably be charged a one-off payment at the beginning of your contract. If you choose to rent it, a small additional fee will be added to your monthly bill.
Freebies
Some TV and broadband providers offer customers a choice of freebies when they sign up to a new deal. These might include a free digital TV, a free month's worth of internet, mobile SIM cards or a telephone landline. If you're comparing two similar deals, a few freebies could be enough to help you make up your mind. Check out the ones below for instance:
Freebies offered by providers
Provider
Bundle
Plan details
Price per month
Freebie
Entertainment + Fibre 2

67Mbps
58 tv channels
24
month contract

£48.99
£100 Virtual Reward Card
Super Fibre + Sky Cinema

63Mbps
12 tv channels
12 month contract

£27.99
Free anytime calls
TV + Broadband Superfast

59Mbps
100+tv channels
18 month contract

£42
Save £180 off this plan
Customer support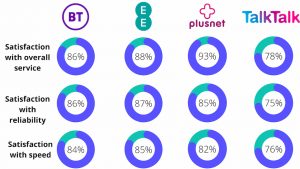 A good level of customer support will help to ensure that any issues you havewith your service or service provider are sorted out quickly. You can get a good idea of the level of customer support on offer from TV and broadband providers by looking at online reviews. Check impartial sites like Trustpilot to find out what existing customers think about their suppliers. Below you can get an idea of the customer service rankings from some of the biggest broadband providers.
Contract length
When signing up to a TV and broadband deal, you'll generally need to sign a fixed-term contract to get the best deal possible. In most cases, the shorter the length of your contract, the more you'll pay. Look for deals that tie you in for around 12-18 months to get the best mixture of price and flexibility.
Looking for a better broadband deal?
Save up to £200 by letting us compare all the available deals for you!
Free service - Available Monday to Friday from 8.30 am until 5.30 pm
What to look out for with TV deals?
Most people take out combined TV and broadband bundles instead of broadband only because they want access to channels not available from free TV providers. This means the choice of channels on offer will probably have a big impact on the TV and broadband bundle you choose. When selecting a new broadband and TV bundle, it's well worth taking a little time to look through the list of channels offered by each provider. These selections can be quite different, so make sure you check that your chosen channels are available from your preferred provider. If you don't watch a lot of TV, or if you mainly watch BBC, ITV, Channel 4 and other free-to-air channels, you may find you don't really need an extra TV bundle. Opting for broadband alone, instead of a combined deal, could save you money. So if you don't think you'll watch the extra sport, movie or kids channels available from paid bundles, it might be best to stick to Freeview.
What types of TV packages are there?
When looking for broadband and TV deals, you'll see that there are a few different options out there. Here are some of the most common, each with their pros and cons.
Satellite
Some TV and broadband providers will offer you satellite TV as part of your bundle. This means that, while your internet will come via cables, your TV will be beamed at you from the space. The best known provider to offer this type of service is Sky. However, some Sky services are now available to customers without satellite dishes installed. Here are some of the pros and cons related to satellite TV.

Accessibility – easy to access anywhere in the UK as long as you have a satellite dish
Variety of choices – foreign and premium channels available among an addition abundance of channels
Cost effectiveness – because it uses fewer resources (transmitting antennas and receiving equipment) it´s cheaper than cable tv for instance
High quality – videos signals transmitted by satellite provide premium video quality 24/7
Installation Cost – Installing satellite dishes is expensive
Signal Interruptions – most satellite signals are prone to interruptions during heavy storms or major events such as the Olympic games.
Dish Blocking – If anything is blocking your dish from the satellite this could result in poor quality
Time Delay – one would miss watching football matches if they are broadcasting via satellite transmission because there could be up to several minutes' delay in the signal reaching your home
Cable
As the name suggests, cable TV will be delivered to your home via cables. At the moment, Virgin Media is the biggest provider of cable TV in the UK. Because cable TV, like superfast broadband, is delivered via fibre optic cables, it's often included in internet and TV bundles. Here are some of the pros and cons related to cable TV.

Stability – while other tv services such as satellite will breakdown during storms, cable will only breakdown if there is something wrong with the system itself such as the router making it a reliable and stable option
Price – if you´re not adding a bunch of additional channels, cable could be one of the cheaper tv options for you
Lower-rated shows – unless you´re adding a bunch of channels, the shows can be pretty basic
Lower Quality – video quality is often not as good as other tv options
Internet TV (IPTV)
Internet TV, is also known as internet protocol TV, or IPTV. It's delivered via the internet and is a good option for households that watch a lot of catch up TV and on demand services. Because IPTV works over the internet, it gives you access to a wide choice of streaming services.
Some of these services may be international and could give you the option to watch TV from other countries. If you're an expat living in the UK, or are interested in foreign broadcasting, this could be a good option. Here are some of the pros and cons related to internet TV.

Recording content – If you are unable to watch something there is an option to schedule a recording of the content so that you can watch it later
Parental Control – You can set a code on content and channels, to control what your children are allowed and what they are not allowed to watch
Video on Demand – the video-on-demand option is actually a modern version of the video club, which allows you to rent a movie, series, show, or concert directly
Quality – HD service included for better video definition
Dependency on the speed of the internet – if you have a slower broadband speed, you might experience some loss and delay
IPTV lists of suspicious origin – while there are free lists or paid legal ones, many IPTV lists have a suspicious origin
Freeview
Freeview is a free digital television service that's available to anyone who pays their license fee. All you need to access Freeview is a digital set top box. Once this is installed, you'll be able to watch all free-to-air channels broadcasting in the UK. At the moment, Freeview offers around 70 channels and 30 radio stations. Here are some of the pros and cons of Freeview.

Widely available – 98.5% of the population can get it
It´s free
Huge variety of Freeview set top boxes and TVs
Minimum number of channels offered
Can't get Sky Cinema, Sky Sports, or BT Sport
On-demand is very limited compared to premium packages
YouView
YouView is a TV platform that's been developed through a collaboration between the BBC, ITV, Channel 4, Channel 5, the BT Group, TalkTalk and Arqiva. Customers can access Freeview channels via a digital box and catch up and on demand services via their broadband connection. This type of service is generally the cheapest TV and broadband option available once it´s set up. Here are some of the pros and cons of YouView.

It´s widely available in the UK
simple to set up, and very user-friendly with plenty of accessibility features
It's one of the only few ways you can get TV without a monthly subscription
Limited number of channels available
You'll also need to make sure your broadband connection is fast and stable enough to handle on-demand streaming
The box itself isn't cheap and can cost up to £100 more than the cheaper recording-free model
Streaming
These days, a lot of households stream their TV via their tablets or desktop computer. Services like Netflix, Amazon Prime and Now TV offer customers access to a huge selection of movies and TV shows.
If you don't want to watch them on your computer, these services can also be accessed using a smart TV that's internet enabled. In general, you'll need to pay a separate subscription for each service you sign up to. This can make streaming a more expensive option than TV bundles, especially if you want access to all of the latest content. Here are some of the pros and cons of streaming.

Streaming is immediate, no need to wait for it to download
Streaming doesn't require storage space
There no schedule restrictions. Most streaming apps let you choose what you want to watch or listen to freely
You need a fast and active internet connection
You might be limited by your internet connection speed
If you want to watch the same movie again later, you'll need to have an internet connection every time you play it
What channels can I get with my broadband and TV deal?
A lot of TV bundles offer 150 channels or more, giving access to a huge choice of films and shows. Some of the most popular paid for TV channels based on the amount of viewers are:
BT Sport – 6.8 million viewers in the UK
Sky Sports – 1.9 million viewers in the UK
Fox – 2.5 million viewers in the UK
Comedy Central – 13.4 million viewers in the Uk
SkyOne – 20.8 million viewers in the UK
Sky News – 12.6 million viewers in the UK
The Discovery Channel – 7.5 million viewers in the UK
What providers offer TV and broadband bundles?
The main providers offering TV and broadband bundles in the UK are:

Broadband providers market share

| Provider | Subscribers |
| --- | --- |
| | 12.7 million |
| | 15.6 million |
| | 14 million |
| | 2.2 million |
| | 4 million |
Setting up your broadband and TV bundle
You will need to set up your broadband before and TV bundle before you can start to enjoy them. In most cases, an engineer will visit your house to install the necessary equipment and ensure everything is working. You should then be able to watch TV and surf the internet without a problem.
Does a broadband and TV package require installation?
The cost of broadband and TV installation varies widely between suppliers. While some companies like EE and Vodafone offer £0.00 installation costs, others, like Virgin Media and BT, charge £30-£35 to get your household online. Some suppliers, like Virgin Media, offer quick self-installation packages. These are a good option if you're in a hurry to get set up.
Is it easy to switch TV and broadband provider?
Switching broadband providers is relatively straightforward. However, you can make the experience even easier by using a service like SwitchBox. We'll compare all available deals to help you find the package that offers the best balance of entertainment and value for money. Once you're happy with your new deal, we'll take care of the admin, allowing you to sit back, relax and enjoy the show.
FAQ
🤔 Can I get a bundle with broadband, TV, and landline?
Yes, a number of TV and broadband bundles include a landline. Providers that offer TV, internet and landline deals include BT, TalkTalk, EE, Virgin Media, Vodafone and Now TV.
🔥 Why choose a broadband and TV package?
A broadband and TV package, although more expensive than either a single broadband or TV subscription, is cheaper than the combined cost of the two services. This means it's an affordable option for households that want to maximise their home entertainment set up.
📺 What do the best broadband and TV deals offer?
The best broadband and TV deals offer access to a good choice of TV channels, fast broadband and a competitive price. Some also offer mobile SIM cards and telephone landlines.
📞 Can I get a broadband and TV deal without a phone line?
At the moment, Virgin Media is the only provider that lets you sign up for fixed broadband without a phone line. All other providers will require you to have a landline in place before they install your internet connection.
Updated on 30 Sep, 2022