The latest on 5G services in the UK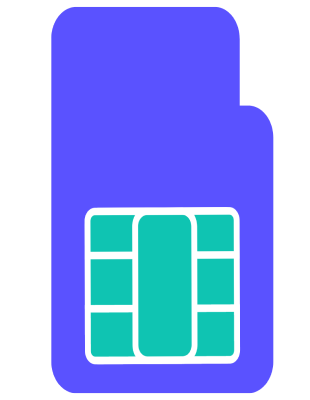 Discover the best 5G SIM deals
5G in the UK from EE, Vodafone, Three and more
Find the best 5G Network deal available near you!
Find the perfect SIM plan that caters to all your data needs. We ensure that you get the
best SIM Only deal on the market.
⭐️ Save over £200 on your data bill ⭐️
Over the next few years, more and more parts of the UK will come under 5G coverage. Already, almost 200 towns and cities have some 5G accessibility, giving people living in these areas access to superfast mobile internet.
Last update: November 2022
5G is essentially the fifth generation of technology used to deliver internet to mobile devices. Like 3G and 4G, it's transmitted using specially designed and installed masts. When you come close to one of these masts, your 5G enabled phone will automatically pick up the signal and you'll be able to access superfast internet speeds.
5G won't be replacing the 3G or 4G networks. Instead, it will be another layer on top of these slower systems. When you're not in range of a 5G mast, your phone will connect to the nearest 4G or 3G signal in order to provide you with the internet access you need.
So, when exactly will you see superfast 5G internet on your mobile device? We're taking a closer look to find out.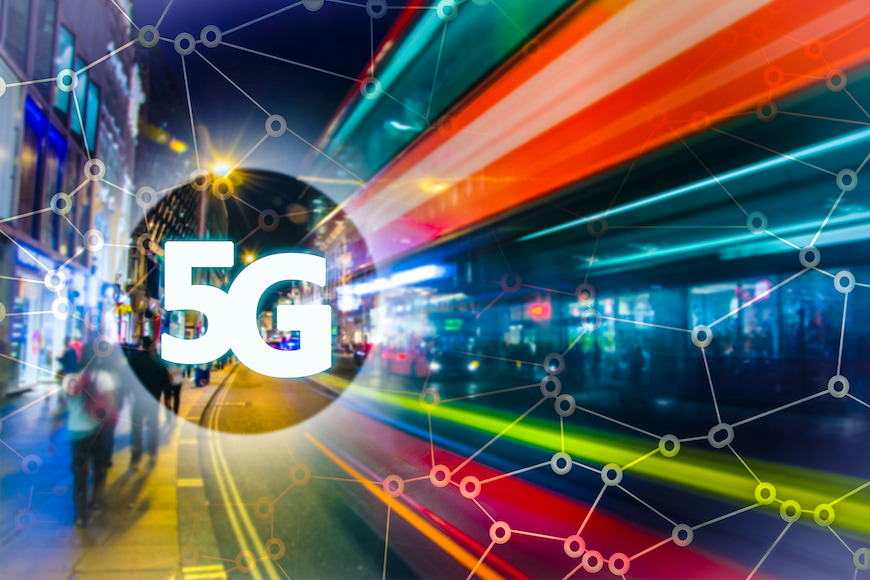 Is 5G available in the UK?

5G was first introduced to the UK in May 2019 when EE launched its first 5G service. This service initially covered parts of London, Edinburgh, Belfast, Cardiff, Birmingham and Manchester.
Since then, the 5G rollout has continued slowly but steadily. It's estimated that around 200 UK towns and cities now have access to 5G. It's hoped that all of the country will have some 5G coverage by the end of 2022.
Which cities have 5G in the UK?
At the moment, most 5G coverage is concentrated in the UK's larger towns and cities. Currently, cities with good 5G coverage include:
Aberdeen
Belfast
Birmingham
Brighton
Bristol
Cardiff
Chester
Exeter
Hull
Leeds
Leicester
Liverpool
London
Manchester
Newcastle
Norwich
Oxford
Portsmouth
Sheffield
York

More towns and cities are being added to the 5G network all of the time. So, if you don't yet have 5G coverage in your area, it's well worth checking the rollout on a regular basis to see when this superfast internet will arrive.
How do I know if I have 5G in my area?
If you already have a 5G enabled phone, your device will automatically pick up 5G if it's available in your area. If you don't yet have a smartphone that is able to access 5G, and want to know if it's worth investing in a new handset, you can use a 5G coverage tracker to see if the service is available in your region.
Alternatively, you can get in touch with a few mobile providers to see when they plan to extend coverage in the UK to your town or city.
Who is installing 5G in UK?
Originally, Chinese company Huawei was contracted to install the UK's 5G network. However, after a number of controversies, the government decided to give the job to other providers.
Currently, the UK's 5G network is being installed by two companies, Nokia and Ericsson.
Are Huawei banned in UK?
In 2020, the government announced that Huawei would no longer be involved in the UK's 5G rollout. Telecoms providers must stop installing Huawei equipment by September 2021. Firms that fail to meet this deadline could be subjected to big fines of up to £100,000 per day.
Is 5G safe to use?

Ever since mobile internet networks were first introduced, people have been concerned about possible health implications. The 5G rollout in particular has caused some controversy, largely because it loosely coincided with the beginning of the Covid-19 pandemic.
Despite several studies on the subject, there is no credible scientific evidence that 5G is bad for your health. In fact, most experts agree that the UK's 5G network is completely safe to use.
Why is 5G banned in some countries?
While no countries have banned 5G itself, a number, like Australia, the US and Vietnam, have stopped Huawei from installing 5G services. This was done out of fears over security rather than concerns about health.
Some towns and cities, like Brussels, have banned the large scale rollout of 5G because of residents' concerns. Some areas have also paused the rollout of 5G until its environmental impact has been fully assessed.

Comparing 5G broadband providers

There are three main companies currently offering 5G services. These are:


The table below shows some of the best 5G deals currently available from these suppliers:

| Supplier | Contract type | Data allowance | Texts and calls | Monthly cost | Contract length |
| --- | --- | --- | --- | --- | --- |
| EE | SIM only | 200GB | Unlimited | £23 | 12 months |
| Three | SIM only | Unlimited | Unlimited | £20 | 12 months |
| Vodafone | SIM only | Unlimited | Unlimited | £24 | 12 months |
| O2 | SIM only | Unlimited | Unlimited | £33 | 12 months |
At the moment, EE is offering 5G connectivity in around 160 towns and cities in the UK. Vodafone's 5G network is available in 100 towns and cities and O2 covers around 150 different places across the UK.
The UK's largest 5G network is currently Three. The company has installed 5G masts in over 193 towns and cities. Three also offers 5G broadband with average speeds of around 100Mbps.
Some other networks, known as Mobile Virtual Network Operators (MVNOs) are piggybacking on these core providers. MVNOs currently offering 5G include:

BT
VOXI
Tesco Mobile
Sky Mobile
⭐️ Trusted by over 1 million clients ⭐️
What are the benefits of 5G

The main benefit of 5G is the increased internet speed it offers. Tests have shown that 5G can be up to 10 times faster than 4G, with speeds of up to 300Mbps available in some areas.
5G networks also have lower latency and therefore greater capacity than 4G and 3G systems. This allows for a larger number of connected devices and for the possibility of implementing virtual networks.
If you have a 5G enabled phone and are able to join a local network, you should have a fast, seamless experience when using mobile internet. 5G should allow you to stream films, TV and live events and even utilise virtual and augmented reality.
How fast is 5G?
Typically, 5G offers speeds of 60Mbps to 300Mbps. However, if you have a good 5G signal on your phone, you could see internet speeds of up to 1,000Mbps. In the future, it's estimated that 5G speeds could reach an incredible 10Gbit/s. That is the equivalent of a 20-fold increase on current capacity.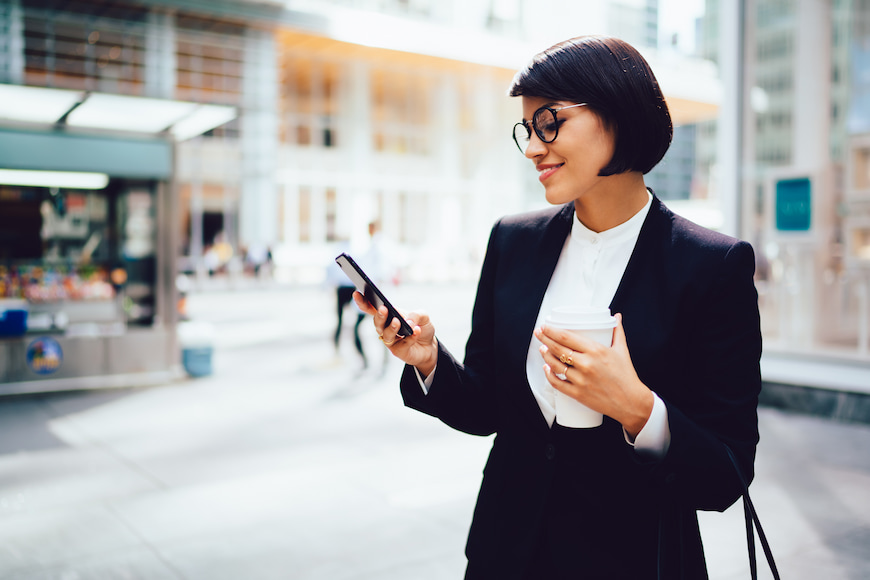 What's the difference between 5G vs 4G?

Both 5G and 4G networks offer users the chance to connect to mobile internet services when they're out and about. However, 5G offers a number of significant benefits over 4G, making it very attractive to mobile users across the country.
Speed
The most important difference between the two is speed. Where average 4G speeds are generally around 8-10 Mbps, 5G can easily reach speeds of 60Mbps. As the 5G network is expanded and extended, it's thought that users will see speeds of 300Mbps with speeds of up to 10Gbit/s possible in the future.
Latency
Latency is the time that elapses between when you touch a button on your phone and the action takes place. The lower the latency, the faster your internet connection will feel.
In 5G networks, latency will be around 10 times less than 4G. This will give you lightning fast internet and access to a huge range of services when you're out and about.
Connectivity
5G networks will allow a lot more devices to connect to them compared to 4G systems. All of these devices will receive superfast broadband. This means that you shouldn't see any slowdown in your internet when you attend large scale events or when multiple people in your home are using the 5G connection.
Broadband
Because 5G is so fast, there's a chance that it will actually replace broadband in the years to come. Already, some 5G providers offer broadband services. This allows you to receive superfast internet in your home without connecting to cables and fibre networks.
Need a new SIM card?
Find a new provider fast and easily! All the best offers on the market on one page just in one click.
Compare SIM Only deals
⭐️ Broadband Plans rate on Trustpilot Ad is 4.1/5 ⭐️
FAQ
Where is 5G available?
Currently, 5G is available in around 150 towns and cities across the UK. It's hoped that the majority of the country will be covered by the 5G network by the end of 2022.
Can I get 5G?
If you live in a major UK city, there's a good chance that there's already some 5G coverage in your area. You can find out how good the local network is using an online 5G coverage tracker, or by calling one of the providers that offers 5G, to see how extensive their network is in your region.
How long until 5G is everywhere?
It's estimated that the majority of the UK will have 5G coverage by the end of 2022. However, it's likely that rural and remote areas will still have gaps in coverage. So if you live in the countryside, or in an area that is known for poor mobile internet provisions, you may have to wait a little longer.
Will 5G work on 4G phones?
In order to access the 5G network, you'll need to upgrade your handset to one that's 5G ready. Most mobile phone networks that offer 5G also offer 5G ready phones. If you sign up to one of these tariffs, you could get a handset as part of the deal.
As 5G isn't replacing 4G, your current phone will still work on the local 4G network
Updated on 25 Nov, 2022