Broadband Explained: Everything You Need To Know
Discover all the best broadband deals for your home
Not everyone has the same broadband needs. Compare some of the best broadband deals available and find the perfect deal for you!
⭐️ Save over £200 on your yearly broadband bills ⭐️
Broadband is an essential tool that aids us in our work and relaxation at home. In an era where we rely on our internet connection for everything from video conferencing to music and video streaming to online gaming, it's never been more important to have a reliable broadband connection. But with so many Internet Service Providers, plans and packages available, how do you know which is the best for you? At Broadband Plans, we aim to help you choose the best broadband connection for your needs and budget. Here, we'll help you to better understand the broadband connections available and the technology that powers them, as well as the broadband packages and contracts you can choose from. Everything you need to make a better-informed choice about your broadband and provider.
Last update: November 2022
How to switch Broadband Plans
It should (hopefully) go without saying that you can always rely on the crew at Broadband Plans to help you find the best broadband provider and deal for your money. However, with such a wealth of broadband deals on the market, it pays to be as well-informed as possible when you switch. When you're looking for the best home broadband deals in the UK, it's easy to be bamboozled by the sheer amount of choice that's available.
We're more than happy to scour the market to find the best broadband deal for your household's needs and budget. But there's no such thing as being too well informed. Which is why we're happy to share some tips on…
How to find the right broadband package deal
Are you looking for a broadband-only deal? Or do you think you could benefit from broadband bundled in with other utilities like phone and digital TV packages? You could save money by bundling these together, or it could prove a false economy. What's more, your location can have a significant impact on what broadband deals are available in our area.
Here are some tips to help you switch to the best broadband deal for your needs.
Find out what broadband switch service is available in your area
Although most of the country (over 95%) currently has access to superfast fibre broadband in theory, there are a number of things that can limit the speed of your connection. Those living in rural areas may find that they are limited by a lack of cabling infrastructure, but it's not just households in the sticks that need to think carefully about their options.
For instance, while you may be able to get Fibre To The Cabinet (FTTC) broadband in your area, you may live in a place where fibre broadband is extremely popular and there may not be room for another connection in the exchange. What's more, your connection's performance and speed may vary depending on how many others in your area are online at the same time. While Fibre To The Premises (FTTP) can give you a dedicated connection that's faster and more reliable, this is only available in an estimated 15% of households.
An ADSL connection is more widely available as it uses your existing phone line. However, if you live too far from the nearest exchange or your local geography restricts cabling efforts, this may not be viable. A mobile broadband plan which uses a mobile provider's 4G or 5G networks may be a better option for this area.
Use Ofcom's online broadband checker to see what quality of connection is available in your area so you know what your options are before you switch.
Take a look at broadband switch offers… but take them with a pinch of salt
With more consumers online and switching than ever, ISPs and mobile providers are tripping over themselves to advertise their deals to you. But before you pounce on that deal that seems perfect, take a moment to consider the potential caveats. If a deal seems too good to be true, it usually is.
You should take broadband offers with a pinch of salt, especially when they offer attractive sweeteners like high street vouchers or cashback. Ask yourself:
Does the provider have a good reputation for customer service?
Am I likely to get the speed that's advertised in my area?
How long will I be tied to a contract?
What fees will be payable if I want to leave my contract early?
Will my tariff rise in price when my contract ends? And if so, by how much?
Create your own broadband utility bundle
Many larger suppliers like Virgin Media and Sky will offer broadband, TV and phone plan bundles. And while these will offer great value for money to those who use their landlines often and watch a lot of digital TV channels, they aren't good value for everyone. If you rely exclusively on your mobile phone to make calls or only really watch TV content from subscription services like Netflix, you may be better served by a broadband-only deal.
Work out what speed you need
Trying to determine what broadband speed you need? With suppliers like Hyperoptic and People's Fibre promising download speeds of up to 1GBps it's easy to be intoxicated by the idea of switching to such an ultrafast broadband plan. But the truth is that such speeds are utterly superfluous for most households. Even if you want seamless online gaming or to stream video in 4K UHD, you should be absolutely fine with download speeds of around 100MBps.
The truth is that most households don't really need superfast broadband. If you only use the internet for social media, online shopping, web browsing and streaming / downloading TV shows and movies a download speed of 10Mbps is usually perfectly adequate.
What are the best broadband switch prices right now?
While the Broadband Plans team are happy to find the best broadband prices for your unique needs, we can also provide you with an overview of some of the best deals on the market. In the tables below, you can see some of the best deals for different kinds of connections. All are accurate at the time of writing, although availability will depend on your location. Some prices are promotional, and where possible, we have included post-promotional prices.
Cheapest ADSL deals
If you're unable to get a fibre connection, you can still get reliable and affordable broadband with these deals for an Asymmetric Digital Subscriber Line (ADSL) connection:

Cheapest superfast fibre deals
With more and more households getting fibre broadband connections, there's never been a better time to switch to a superfast fibre deal. Most superfast deals use a Fibre To The Cabinet FTTC connection. These require an Openreach line rental, even if you don't intend to use your landline phone. All the prices listed below include line rental.

Cheapest ultrafast fibre deals
If you're after the fastest possible connection at a great price, all of the plans listed below will give you download speeds of over 300Mbps. That's enough for even the most bandwidth-intensive uses. An FTTP connection is required for ultrafast broadband.

Cheapest mobile broadband deals
With a SIM only broadband deal you can get affordable broadband to your mobile phone, SIM-compatible tablet or wireless dongle. In the table below we've listed some mobile broadband deals that can provide download speeds and data allowance that are comparable to a cabled connection.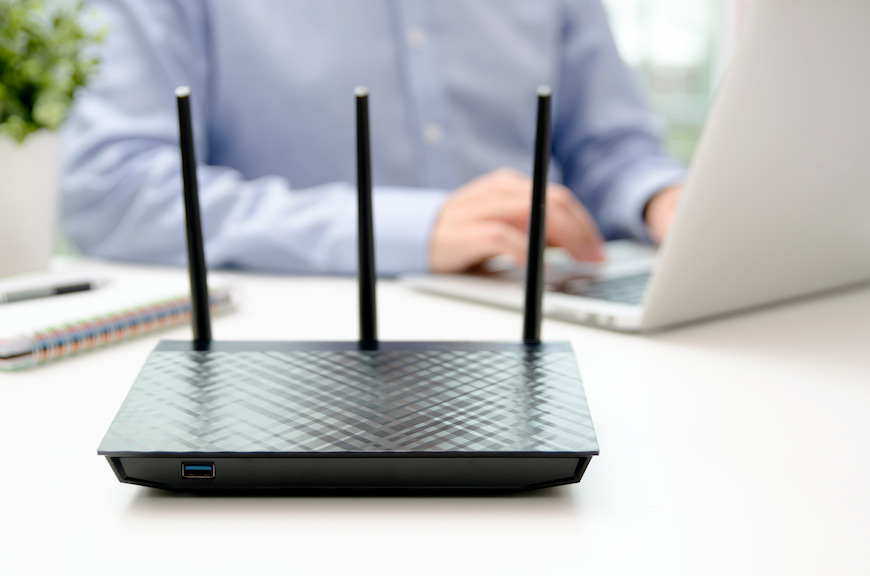 Can I switch broadband providers while in a contract?
There are all kinds of broadband contracts on the market. Generally speaking, superfast and ultrafast broadband will usually require a longer contract. But what happens if you change your mind about your broadband deal? What if you see a better offer from another provider? Can you switch broadband providers and plans while you're under contract? And what are the consequences of doing so?
Let's take a closer look…
Can you switch mid-contract?
If you're looking for flexibility in your broadband contract, you may find that you have to sacrifice it at the altar of performance. If you are looking for an ADSL deal, you may be able to find lots of flexible contracts. But for superfast or ultrafast fibre connections, you'll likely need to adhere to a contract length of around 18-24 months. This is because providers want to ensure that they can recover the cost of installation and any equipment they have provided you with, such as smart hubs and routers.
Mobile broadband deals may offer you more flexible monthly rolling contracts. But the trade-off will come in terms of download limits that may be prohibitive for many users.
Nonetheless, you if you want to switch to a new provider or plan mid-contract, your ISP can't stop you. They can, however, subject you to fees that will help them to recover any losses made on you. This may come in the form of exit fees, equipment fees or both. The amount you pay may also vary depending on how soon into your contract you switch. Fees usually start at around £40-£45 and can rise to over £80.
Nonetheless, this may be offset by savings that you make with a new supplier. What's more, switching to a supplier with a faster and more reliable connection may mean that you're more productive when working or running a business from home, potentially boosting your income or profitability.
The Broadband Plans team are always more than happy to help you explore your options and potential savings, no matter where you are in your contract.
What is the broadband switch cooling off period?
When you sign up to a new broadband deal (as with a new energy plan or insurance policy), you have the right to a "cooling off" period. This is protected by Ofcom, and no broadband provider can refuse this right to you. Within a period of 14 calendar days you can change your mind and switch back to your old provider (or any other provider of your choosing) without incurring any exit fees or other repercussions.
How long before broadband contract ends can I switch?
As we've established, you can switch broadband providers and plans at any time. Nonetheless, if you're keen to avoid charges, you'll want to know when you can switch providers without consequences.
This depends on your provider.
Different providers each have minimum contract terms, and these will dictate when you can switch without penalties. However, under new legislation that came into effect in 2020, your provider is legally obliged to provide you with an end of contract notification when your agreement is drawing to a close. They may send this in the post, via email or even in a text message. This will usually arrive between 10 and 40 days before your contract expires.
Once you have received this, it means you can switch broadband contracts without needing to worry about charges. Get in touch with the Broadband Plans team as soon as this arrives and we'll trawl the market for the best deal in your area.
Will I lose service during the switch?
There was a time when switching broadband providers and plans meant a lot of infuriating downtime. Now, however, the process is much quicker and easier, even if you're switching to a new type of connection (e.g. switching from ADSL to fibre).
As soon as you sign up to a new broadband deal, your new supplier will get in touch to advise you when the switch will take place, how much (if any) new installation will be required and how much downtime (again, if any) you can expect.
If you're switching from one ADSL plan to another, you'll find that switching only results in minimal downtime (just a few minutes). You'll even be afforded some choice over when the switch takes place to make it more convenient for you. If you're also switching phone and TV packages, downtime may be a little longer as an engineer may need to make changes to your line at the nearest exchange. However, this should still only take a few hours.
If you're from one type of connection to another, you can even have both services running concurrently for a day or two to ensure that everything is working well with your new connection before you pull the plug on the old one.
Should I switch broadband providers now or wait out my contract?
That's a choice that only you can make. However, we can easily overestimate how disruptive and potentially expensive it is to switch broadband contracts. In many cases, it often costs more to stay where you are, especially since providers may increase your monthly costs after your contract has ended.
The Broadband Plans team can advise you on whether switching to a new plan within your contract can result in savings that offset any fees you may be charged. If you've already had your end of contract notification from your supplier, there's an excellent chance that we can bring you cheaper, faster broadband for less.
Cancelling your Broadband Contract
We've hopefully helped you to realise that switching broadband plan regularly can be easier than you may have assumed, and that switching can result in years of savings. But what about your old contract? Does it need to be cancelled every time you switch? Or does your new provider take care of everything (like when you switch energy suppliers)?
Well, the truth is… it depends.
Do I need to cancel my broadband before switching?
Most of the time you won't need to cancel your old broadband plan before switching to a new one. In fact, it may be beneficial not to. Cancelling your plan before you know when your new broadband deal will be set up could result in additional and unnecessary downtime.
Your new provider will usually handle your switch. Where they are unable to do so automatically (typically when a new connection needs to be established because you're using a different type of broadband), they will notify you that you need to cancel your old plan. Depending on your contract, you may need to provide up to 30 days' notice or pay an early exit fee to leave your contract.
Where a new connection is established, it may be beneficial to plan an overlap of a couple of days between installing your new connection and cancelling your old contract. This will ensure that you experience no downtime and ensures that you'll always have your old connection to fall back on if you experience teething problems with your new one.
Can I keep my landline phone number if I switch?
Often, switching broadband providers also means switching who provides your telephone service.
If you use your landline phone regularly, the idea of memorising and new number probably doesn't appeal to you too much. Not to mention contacting all your friends and family members to let them know your number has changed. The good news is that you can keep your landline phone number when you switch, no matter how many times you change providers.
This process is called porting, and you can do it easily when you switch. Just let your new supplier know that you want to keep your old number. Porting is usually pretty quick and easy, taking a few days at the most. However, it can in theory take up to three weeks for porting to be completed.
Will I lose my email address when I switch?
When you switch to a new broadband provider, they will often provide you with a free email address. If you have grown reliant on this, you may wonder if you can continue to use it after you switch to a new provider?
The answer depends on your provider. Some, like TalkTalk will keep your email address active for 12 months after you switch. Others, like BT and Plusnet will allow you to keep your email address but will charge you a small monthly fee for doing so. Some, like Post Office Broadband will delete your email account as soon as your switch is complete.
It's a good idea to contact your supplier directly to see what will happen to your email account.
If you are likely to lose the account, take the following steps for a seamless transition to a new email provider:
Sign up to a free, web-based email provider like Gmail or Outlook.
Forward important messages from your provider's email account to your new address
Download or export your contacts list from your old account.
Make sure you change the email address associated with social media accounts, online banking or shopping etc.to your new address
Set up email forwarding to ensure that all emails sent to your old email address will automatically get forwarded to the new one
Set up an automatic reply on your old account to let anyone who tries to contact you know of your new email address.
Common problems switching broadband providers
At Broadband Plans, we aim to make it as quick, easy and hassle-free to switch your broadband provider. However, we also believe in hoping for the best while planning for the worst. Even with the best of intentions, things can go awry when switching broadband providers. And as hard as we try to work behind the scenes to reduce the risk of mishaps, it pays to be prepared.
In the table below, we've provided some of the most common problems when switching broadband providers, as well as some potential solutions.

If you´re having any issues with your service provider when trying to cancel or switch your contract, remember that you can alwasy contact Ombudsman to be your liaison between yourself and the provider.
Why you should switch broadband suppliers
Switching broadband providers ensures that you're getting the best value for money, while insulating you from rising costs. It also keeps the broadband market competitive, and prevents ISPs from getting complacent and overcharging their customers.
What to look for when you compare broadband packages
It pays to be vigilant, and keep an eye out for new deals that could provide you with a better quality of service for less. Especially if you are on a flexible contract with your current supplier. Everyone has a slightly different idea of what makes the perfect provider. However, there are some things that you should look for when comparing broadband packages:
Does the monthly cost sit comfortably within your household budget?
Will you get the speed you need for your work and leisure activities?
Does the provider have a good record for customer service (Trustpilot is a good indicator of this)
Can you definitely get the kinds of speeds offered in your area?
How long is the contract? Will it give you the flexibility you need?
Are there any upfront costs? If so, are they reasonable (i.e. less than around £50)?
How much will you be charged if you leave your contract early?
If you still use your landline, can they give you a competitive deal on calls?
How long does it take to switch broadband?
On average it takes around 2 weeks to switch broadband providers. However, it may take longer if new installations or engineering work needs to be carried out. Remember, this doesn't mean that you'll be without a connection for 2 weeks. In most cases, you won't have to put up with downtime of more than a few hours.
Let the Broadband Plans team find the best broadband plan for your household
At Broadband Plans, we take the time to get to know your household's needs and budget before matching you to the perfect broadband plan. We'll even manage your switch to make it as seamless and stress-free as possible.
Sound good?
Then what are you waiting for? Give us a call today!
Getting broadband from Sky is easy!
Want to know more details about the best broadband deals from Sky?
Check out our list of selected offers.
Get Sky now
⭐️ Broadband Plans rate on Trustpilot Ad is 4.1/5 ⭐️
Broadband in the UK's cities
Did you know that your broadband characteristics depend greatly on the city you live in? Of course, you did.
The place where your home is in many ways defines the variety of broadband deals providers can offer you, the number of providers themselves, and the quality of the connection you may get.
The critical point here is that to get the best deal specifically for your area, you need to compare the deals exactly for this area.
We prepared an array of articles dedicated to broadband in UK cities.
For example, here are UK's TOP 5 Cities and the pages with all the info you might need to compare providers and their offers for broadband here.
Do you want to know more about other cities in other regions of the Kingdom? No problem. Let's see what we have for you in…


Why love England? The list is yours to make. One of the most iconic capitals in the world, the motherland of the World's Language, outstanding level of life, unquestionable input into science and art, Fish and Chips… Let us tell you, why there are also some reasons to love the broadband in any city of our Albion.
Greater London
East Midlands
East of England
North East
North West
South East
South West
West Midlands
Yorkshire and the Humber
Na h-Eileanan an Iar

Land of strong people and oldest castles, that gave the world the concepts of modern economy (thank you, Adam Smith), penicillin (regards, Mr Flemming), and whiskey. What can a Scottish citizen get in these lands? We can talk about for hours, but let us tell you more about the thing we are actually experts in: broadband.

Scotland
East-Central Scotland
Lothian
Lowlands of Scotland
Scottish Highlands
Southwestern Scotland

Wales, the home for Ddraig Goch, picturesque natural parcs, great rugby reunions and unique Welsh language also hosts some great broadband opportunities form the best providers in the United Kingdom. Want to know more? Choose your city:
Wales
Southeast Wales
Northwestern Wales
Southwestern Wales
FAQ
What broadband speed do I need?
That depends entirely on how many people share your home, and what you most commonly use the internet for. ADSL speeds of 10-11 Mbps are usually adequate for many singletons, and couples with modest broadband needs like browsing, shopping, and streaming music and occasional video.Superfast speeds of 30-100Mbps are usually perfectly fine for most families, and will accommodate high-quality video streaming, video conferencing, online gaming and downloading large files. Ultrafast speeds (300 Mbps+) are a good fit for student households or large families where numerous parties are online at the same time.
What are End of Contract Notifications?
End of Contract Notifications are a signal from your provider that your contract has come to an end. This may come in the form of a letter, an email, or even a text message. Once you receive this, it usually means that you can switch to a new broadband provider or plan without having to worry about exit fees.
Do I have access to fibre broadband?
Around 96% of UK households now have access to fibre broadband, whether via Fibre To The Cabinet (FTTC) or a direct full-fibre connection directly to the home (also known as Fibre To The Premises or FTTP). The only caveat with the former is that if there is no room in the exchange for a new connection, you will be unable to access fibre broadband, even if it is technically available in your area.
What are the best student broadband deals?
While broadband providers don't necessarily have broadband plans specifically for students, student houses usually have higher than average usage. With numerous household members online at the same time relying on the internet for their studies and entertainment, a more robust connection may be needed. Especially if you're uploading or downloading large files, online gaming, or streaming in 4K UHD. Broadband speeds of 100 Mbps and over are recommended in student houses. By rule of thumb, you should add 30Mbps for every member of the household who's likely to be using the internet at the same time.
Updated on 2 Dec, 2022