Broadband Explained: Everything You Need To Know
Does your broadband plan have the same ring as it used to?
Call us and let our experts find you the best broadband plans on the market. For free.
Monday to Friday – 8.30 am to 5.30 pm
Does your broadband plan have the same ring as it used to?
Call us and let our experts guide you to the best broadband plan on the market. For free.
Monday to Friday – 8.30 am to 5.30 pm
Broadband is an essential tool that aids us in our work and relaxation at home. In an era where we rely on our internet connection for everything from video conferencing to music and video streaming to online gaming, it's never been more important to have a reliable broadband connection. But with so many Internet Service Providers, plans and packages available, how do you know which is the best for you? At Broadband Plans, we aim to help you choose the best broadband connection for your needs and budget. Here, we'll help you to better understand the broadband connections available and the technology that powers them, as well as the broadband packages and contracts you can choose from. Everything you need to make a better-informed choice about your broadband and provider.
Last update: April 2022
Mobile & Home broadband technologies
Of course, in the mobile age, broadband internet isn't something we leave at home. We take it with us everywhere we take our smartphones or SIM-equipped tablets. There are several different ways in which we can get online at home and on the go. Let's take a look at the different types of broadband that are available to you.
What is broadband?
Just so we're all on the same page, let's take a brief moment to explain what we mean when we talk about broadband. Broadband is a kind of bandwidth. It refers to the volume of data that can be transmitted. The greater the bandwidth, the greater your speeds are likely to be. Speeds can vary enormously with a broadband connection, from 11 Mbps to 1 Gbps (1,000 Mbps). Still, even the slowest broadband speeds far eclipse those of the narrowband (i.e. dial-up) connections of decades past which had a maximum speed of 56 kbps. Thus, even the slowest broadband is almost 200 times faster than a dial-up connection.
Broadband connection types explained
Here we'll look at the various different types of broadband connection and the kinds of speeds that you can achieve with them.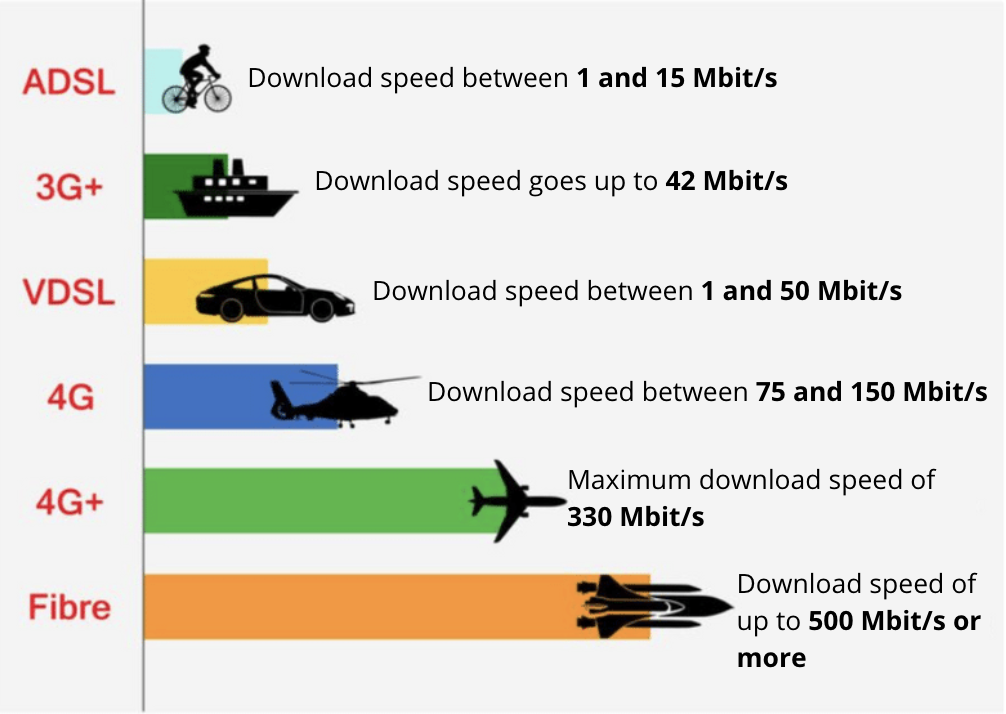 ADSL
An Asymmetric‌ ‌Digital‌ ‌Subscriber‌ ‌Line (ADSL) is the oldest, most widely available and (usually) most affordable form of broadband internet. It uses the same infrastructure of copper cables as your phone line. As such, your broadband package will need to include line rental from Openreach.
While most UK households will be able to get online in this way, it can seriously bottleneck your connection's speed. Signals can't travel as quickly or as far through a copper cable as they can through optic fibres. As such, you'll find that download speeds max out at 11 Mbps and upload speeds reach a peak of 1 Mbps.
What's more, the further you are from the nearest exchange cabinet, the slower and less reliable your connection is likely to be.
Fibre broadband
Fibre optic broadband (or simply fibre broadband) uses a network of fibre optic cables. Signals can travel through these at close to the speed of light. This means that you'll get the same speeds no matter how far you are from the nearest exchange.
It also means that you'll be able to achieve much higher connection speeds. Fibre broadband facilitates "superfast" connections that usually start at around 36 Mbps and can exceed 100 Mbps. At the time of writing, around 96% of UK households can get a fibre broadband connection. Most fibre connections are Fibre To The Cabinet (FTTC). This means that connections in the exchange are shared between multiple households. As such, your connection may be slower during peak hours when more people in the exchange are using the connection.
It's also important to note that connections within the exchange are finite. So if lots of people in your area want fibre broadband, you may not be able to get a connection.
Full-Fibre broadband
Full-Fibre broadband bypasses the exchange entirely and gives you a direct fibre connection right to your home. This is also known as Fibre To The Home (FTTH) or Fibre To The Premises (FTTP). This direct connection can deliver much faster and more consistent broadband with "superfast" speeds and even "ultrafast" speeds of up to 1 Gbps.
Unfortunately, full-fibre connections are currently only available to around 14% of households.
Broadband Cable
Cable broadband speeds start at around 36Mbps and can exceed 200 Mbps on more advanced packages. This makes it more or less the same as fibre. Cable broadband is similar to fibre and ADSL broadband. It´s connected to a cabinet in the street where it then transmits data to your home via a coaxial cable rather than the copper phone wire. .
4G / 5G Mobile networks
Mobile networks are composed of numerous geographical areas called cells. Within this are numerous mobile base stations which transmit signals via radio waves. These are then decoded by the SIM card in your smartphone to provide access to the internet.
These networks are managed by Mobile Network Operators. There are four of these- EE, Three, O2, and Vodafone. Each of these leases access to the network to Mobile Virtual Network Operators of all shapes and sizes like BT Mobile, GiffGaff and SMARTY.
4G mobile networks are capable of speeds similar to fibre broadband, with peak theoretical download speeds of 100 Mbps. 5G networks, however, are capable of much faster speeds that can (at least theoretically) eclipse those of the fastest Fibre To The Premises connections. However, 5G coverage in the UK is fairly limited (but growing) and is mostly available in cities and larger towns. A 5G connection also requires a 5G ready handset like the iPhone 12, Google Pixel 4a or Samsung Galaxy S21.
4G / 5G home broadband
The same mobile networks also provide home broadband for 4G and 5G. Usually in the form of a wireless dongle containing a data-only SIM card. This can be a useful way to get online if you live in a rural area far from the nearest exchange that gets poor or non-existent ADSL connection.
Satellite broadband
Most of the UK has access to either fibre, ADSL or mobile broadband. However, there are still some rural pockets where there is no cabling infrastructure or mobile network coverage. For properties in these areas, a satellite broadband connection can be the only way to get online.
These work in the same way as satellite TV and require a receiver dish to be installed. Speeds typically range from 10Mbps-30Mbps. Monthly tariffs and installation costs can be expensive at up to £80 per month and £600 for installation. Most ISPs will not have the infrastructure to provide satellite broadband. You'll need to go through a specialist like AirWave or Big Blue.
What Broadband speed do I need?
Lots of broadband packages offer incredible speeds. But try not to be bamboozled by these. It's important to think in terms of what you can afford and what you realistically need. There's really no point in paying through the nose for broadband speeds that are surplus to requirements. To see what speeds are available in your area, we recommend using telecoms watchdog Ofcom's broadband checker.
Fast (10-11Mbps)
Fast broadband speeds achieved by ADSL are usually enough for a range of common activities including:
Online browsing, shopping, banking etc.
Streaming music
Streaming HD video
Light online gaming
Superfast (35-300 Mbps)
Superfast fibre connections enable you to do all of the above, even with more than one user online in your home at any given time. For best results, it's recommended that you use a wired connection rather than WiFi. The more devices are using the WiFi network at any given time, the more likely you are to experience issues.
Superfast connection speeds are good for:
Downloading large files like movies and games
Streaming in 4K UHD on one device at a time
Moderate to heavy online gaming
Ultrafast (300 Mbps- 3Gbps)
An ultrafast connection will be superfluous to most smaller households. However, if you have multiple people online at the same time under your roof, you're more likely to see the benefit. Large families and student houses will do best with this kind of connection. With an ultrafast connection, multiple members of the household will be able to play games online, stream in 4K UHD, live stream and download large files.

Our broadband experts are here to help
Free service - Available Monday to Friday from 9am until 7pm
Broadband packages
When shopping around for a new broadband deal, it becomes apparent just how many broadband packages there are on the market. Indeed, the sheer volume of these can be bamboozling.
Again, it's important to choose a package that's matched to your needs and usage. Be wary of fancy extras, even if they're billed as free. You'll end up paying through them wither through a more expensive tariff or a longer contract.
Here, we'll break down the different kinds of broadband packages on the market. Of course, the Broadband Plans team are always on hand to get to know your needs and help you choose the right kind of broadband package for your needs and budget.
Broadband-only deals
Broadband-only deals do pretty much exactly what they say on the tin. They provide you with a broadband connection, but no landline call deals or pay TV.
Broadband with landline rental
Most broadband deals (including ADSL and FTTC) require a line rental from Openreach. This is included in your monthly bill. As such, you'll be able to make calls with your landline phone. However, these will be on a Pay As You Go basis, unless you get a call package added onto your deal. Rates vary by provider, and will usually include a connection charge of around 20p for each call you make.
Broadband without landline
If you want broadband without a landline, your only real option is a Fibre To The Premises connection. Because you have a direct fibre line to your home, you don't need to rent a line from Openreach. That said, you can still make landline calls with these deals. Calls are made using VoIP (Voice Over Internet Protocol) rather than through the conventional phone lines. This can actually make for cheaper and better-quality calls.
Broadband TV and phone deals
Many ISPs will offer TV and call packages to their broadband deals. These are usually charged as a premium that is added to your base package. Sky offers the best choice, with exclusive channels and 4K UHD-ready TV boxes, but their packages can get quite expensive. Especially when you want to add more movies, sports and special interest channels to your package. Virgin Media and BT also offer their own equivalent packages, with TV boxes of similar specifications at similar prices.
There are also lots of smaller providers like Pop Telecom and Origin Broadband that offer TV packages powered by Now TV. Basic packages are pretty cheap, and they offer much shorter and more flexible contracts than those offered by Sky or Virgin Media. Again, however, these can get quite expensive when you start adding on extras like sports and movie channels.
Landline call packages can be added to these deals as well. They can offer free evening and weekend to UK landlines and mobiles, free anytime calls, or free / discounted international calls.
Broadband and utility deals
There are even some providers that will give you exclusive discounts by bundling your broadband package with your gas and electricity tariffs. Shell Energy is a good example of this, as are Utility Warehouse, and OVO Energy.
While these can offer good value for money, be wary of prohibitively long contracts. It's important to keep switching as often as possible to ensure that you keep getting good value for money.
Mobile broadband deals
Mobile broadband deals are provided by mobile networks rather than conventional ISPs. They can apply to the kind of broadband you get on the go through your smartphone, or to home broadband deals.
Data-only SIM deals
Home broadband from mobile networks is provided via a data-only SIM card. This looks the same as a smartphone SIM card, but it cannot be used to send texts or make calls. There are lots of flexible data-only SIM deals. Some limit your monthly data allowance, while others offer unlimited data but offer tiered speeds. Contract lengths can range from 30 days to 24 months.
Mobile phone contract deals
The most common mobile broadband deals are those we get for our smartphones. Whenever you get a new handset, you can either buy it outright (SIM-free) or buy it with a tariff that includes financing on a new handset. Interest will be charged for this, which is why it's always best to buy SIM-free if you can.
Mobile phone contract deals usually last for 24 months alongside handset financing. After this, you can either jump back on the upgrade bandwagon, or find a better SIM-only contract. This will usually provide you with unlimited texts and calls combined with generous data allowances for a lower price.
Broadband contracts
There are all kinds of broadband contracts out there, with different prices, different terms and different lengths. So it's important to know exactly what you're signing up to before you commit to a broadband deal.
Most broadband contracts require a monthly commitment, while some will offer you a monthly rolling contract. Although this will be charged at a higher monthly premium to offset the provider's risk. Some contracts will require you to keep your broadband, TV and phone package for the same length of time. Others will require you to keep your broadband for a fixed period (usually 12, 18 or 24 months) but be more flexible in terms of your TV and phone package.
At Broadband Plans, we'll help you strike the perfect balance, giving you a broadband deal that gives you what you want at a price you love, while also ensuring that it's a contract you're happy with.
What are the best broadband deals?
Of course, the "best" broadband deals are subjective. Everyone's looking for something slightly different in a broadband deal. Some might just be looking for low monthly costs, while others will be happy to pay more for a more flexible contract, a TV deal with all the sports channels, or a home phone plan that gives them lots of international calls.
However, we can compare the cheapest broadband deals by connection type in the tables below:
Cheapest ADSL deals
These are generally the cheapest and most widely available broadband deals, although the price gap between ADSL and fibre is quickly narrowing.

| ISP Name | Monthly subscription charge |
| --- | --- |
| Pop Telecom | £17.50 |
| Now Broadband | £18 |
| Shell Energy | £18.99 (£21.99 after contract ends) |
| Plusnet | £18.99 |
| John Lewis Broadband | £19.00 |
| EE | £21.50 (£27.99 after contract ends) |
| TalkTalk | £24.95 |
Cheapest superfast fibre deals
Superfast fibre usually comes from the exchange cabinets and can achieve speeds of over 100 Mbps.

| ISP Name | Monthly subscription charge |
| --- | --- |
| Shell Energy | £21.99 (£30.99 after contract ends) |
| TalkTalk | £22.00 (£29.95 after contract ends) |
| Vodafone | £22.00 |
| Hyperoptic | £22.00 |
| Onestream | £22.50 (£27.99 after contract ends) |
| XLN Telecom | £22.74 (£47.94 after contract ends) |
| NOW | £22.99 (£40.00 after contract ends) |
| Plusnet | £22.99 (£36.52 after contract ends) |
| SSE | £23.00 |
| Origin Broadband | £23.99 |
Cheapest ultrafast fibre deals
Ultrafast fibre requires a full-fibre FTTP connection. It can achieve speeds of over 300 Mbps.

| ISP Name | Monthly subscription charge |
| --- | --- |
| Vodafone | £26.00 |
| Virgin Media | £28.00 (£44.00 after contract ends) |
| Hyperoptic | £29.00 (£35.00 after contract ends) |
| TalkTalk | £29.95 (£39.95 after contract ends) |
| Giganet | £35.00 |
| TalkTalk Business | £35.94 (£41.94 after contract ends) |
| Pulse8 | £36.00 |
| Zen Internet | £38.99 |
| EE | £39.00 (£44.00 after contract ends) |
| BT | £39.99 (£47.99 after contract ends) |
Cheapest mobile broadband deals
Mobile broadband deals use a data-only SIM card to connect to a mobile networks. The caveat here is that many plans, especially the cheapest plans, impose restrictions on your monthly data allocation. Some contracts will allow your data to roll over from one month to the next, while others will provide unlimited data with tiered speeds.
We've compiled some of the lowest prices with the most generous data allowances below:

| Network Name | Data allowance | Monthly cost |
| --- | --- | --- |
| O2 | 250GB (5G) | £28 |
| EE | 200GB (5G) | £23 |
| Vodafone | 100GB (5G) | £16 |
| 3 | 100GB (5G) | £16 |
| GiffGaff | 80GB (4G) | £20 |
How long is a broadband contract?
Most broadband contracts last between 18 and 24 months. Some, however, are more flexible. Onestream, for instance, allows customers to choose a 12, 18 or 24 month contract with the same rates. It all depends whether you'd like a contract with more freedom, or to lock your prices in for longer.
What happens when my contract expires?
Under new legislation, ISPs are legally obliged to inform you when your contract is coming to an end. When your contract expires, you're free to either stay with your current provider or switch to a new one. Your provider may ask you to send your router back to them if you switch, and you will be liable for the cost of the box if you refuse to do so.
Keep in mind that sometimes monthly costs will rise when your contract ends, and some ISPs (Sky is the biggest example) will not rule out mid-contract price rises.
What happens if I switch broadband providers mid-contract?
If you switch broadband providers before your contract has expired, you'll likely be liable for some heavy charges. Some providers charge a flat-rate termination fee, while others insist that you'll need to pay off whatever remains on your contract (or a set rate for each remaining month) in order to be released from your contract.
Under Ofcom guidelines, you can leave your contract without paying a termination charge if your ISP increases your prices mid-contract, or if they consistently fail to provide the speeds that they advertised to you.
Can I get broadband without a contract?
Numerous broadband providers offer broadband with 30 day rolling contracts. While these are often called "contractless", this is a little misleading. However, it's the best bet for those who want flexible broadband. Virgin Media, Sky, Now Broadband and Plusnet all offer rolling 30 day contracts, although you can expect to pay a little more per month for this flexibility.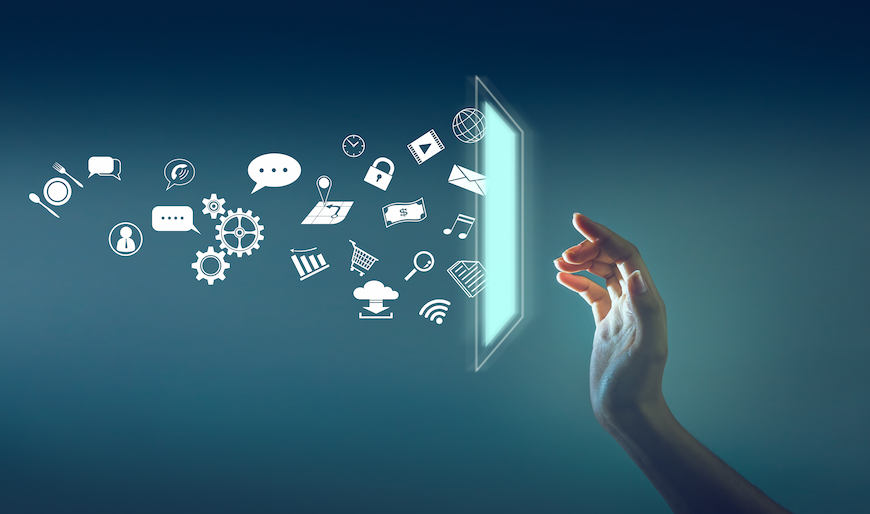 Compare Broadband providers
There are lots of broadband providers of all shapes and sizes out there. How do you know which is the best fit for your household? At Broadband Plans we get to know your needs before suggesting some ISPs and plans that would be a good fit for you. However, we can also provide some advice on how to choose a provider.
Who is the best broadband provider?
Again, this is a tricky question to answer, as every consumer has a different criterion for what makes a provider the best. If we go off popularity, the top 10 ISPs in terms of subscribers are as follows.

| ISP Name | Number of Subscribers |
| --- | --- |
| BT (Including PlusNet & EE) | 9,300,000 |
| Sky Broadband | 6,200,000 |
| Virgin Media | 5,420,100 |
| TalkTalk | 4,220,000 |
| Vodafone UK | 876,000 |
| Glide | 400,000 |
| Post Office | 400,000 |
| Zen Internet | 150,000 |
| Ask4 | 130,000 |
| KCOM | 126,900 |

However, a large subscriber base doesn't necessarily make a provider the best. If we look at the Trustpilot scores for the Top 10 above, it becomes clear that the biggest providers aren't necessarily the biggest hit with customers:

| ISP Name | Trustpilot Score |
| --- | --- |
| BT (Including PlusNet & EE) | 1.4 BT / 1.4 Plusnet / 2.3 EE |
| Sky Broadband | 1.2 |
| Virgin Media | 1.2 |
| TalkTalk | 2.5 |
| Vodafone UK | 2.1 |
| Glide | No reviews |
| Post Office | 1.5 |
| Zen Internet | 4.1 |
| Ask4 | 4.2 |
| KCOM | 2.7 |

So, which providers have the highest Trustpilot score? We've trawled through the numbers, so you don't have to!

| Provider | Trustpilot Score ( /5) | Number of Customer Reviews |
| --- | --- | --- |
| Community Fibre | 4.9 | 7652 |
| Giganet | 4.9 | 85 |
| Andrews & Arnold | 4.8 | 252 |
| Fibreway | 4.8 | 46 |
| Hyperoptic | 4.7 | 10425 |
| 4G Internet | 4.7 | 282 |
| Pure Broadband | 4.7 | 273 |
| Italik Telecom | 4.6 | 11470 |
| Supanet | 4.6 | 453 |
| Truespeed | 4.6 | 240 |

Finding a provider that combines a commendable Trustpilot score with a healthy number of reviews is often a good place to start.
How to compare broadband deals
Even if you have a good idea which provider is right for you, it can still be a real head-scratcher to find the perfect broadband plan. Again, the Broadband Plans team will be with you every step of the way, trawling the market on your behalf for the perfect deal.
However, some of the things you may want to keep in mind before you contact us are:
Price and setup costs
Of course the monthly cost of your broadband will need to be factored into your carefully considered budget. While ultrafast speeds of up to 1Gbps may be tempting, they'll be surplus o requirements for many households, meaning that you'll likely pay more than you need to for your broadband.
You may also want to factor in upfront setup costs. These may range from £5 to cover the postage cost for your router or over £60 to install a new line.
Compare broadband speeds
Determining the right broadband speed for your household is tricky. By rule of thumb, providers recommend that your speed is chosen based on how many people share your home. However, it's also worth considering what kinds of things you do online. The more people are online at a time, and the more bandwidth-intensive their uses, the more speed you're likely to need.
We've compiled a list of common activities and necessary speeds in the table below:

| Online activity | Broadband speed required |
| --- | --- |
| Streaming music | 1 Mbps |
| Watching video in HD | 5 Mbps |
| Making a high-quality video call | 10 Mbps |
| Online gaming | At least 3 Mbps download and 1 Mbps upload |
| Watching video in 4K UHD | 25-30 Mbps |
Contract length
A lengthy contract can be good because it locks in your monthly rates for 18-24 months. However, you can expect to pay a hefty charge if you want to leave mid-contract for reasons that aren't the provider's fault.
On the other hand, a 30 day rolling contract will give you more freedom, but you can expect to pay more for that privilege every month.Same goes for no-contract broadband plans.
Extras
Some providers will throw in attractive extras like high street vouchers or even up to 3 months' free broadband or TV to convince you to sign up. And while you may certainly benefit from these, keep in mind that nothing is really free. You may be expected to pay for these sweeteners by staying in a longer contract, or paying a little more each month.
Broadband switching
Your broadband supply is just like your car insurance, your mortgage or your energy supply. The longer you stay on the same plan, the more money you could be wasting, especially if you're out of contract.
While you want to steer clear of exorbitant exit fees, providers won't necessarily reward your loyalty if you stay with them. Indeed, you may find that they hike their prices after your contract has ended.
As such, we have some advice to share on the subject of broadband switching.
Can I switch at any time? Are there any restrictions?
While you can technically switch to a new provider at any time, unless you're on a rolling broadband contract, you'll be liable for some potentially hefty termination fees. These vary by provider. Some will charge you an upfront fee while others will expect you to pay off the remainder of your contract (or a minimum term) in full. Some may charge you a one-off termination fee and a set monthly fee for every month remaining on your contract.
So you should think carefully about when you switch to ensure that your savings from switching aren't offset by charges.
How do I know if I'm out of contract?
Under new legislation that came into effect in 2020, providers must issue you with an End of Contract Notification when your broadband deal is close to expiry. This gives you time to see what other options are available and how much you could save by switching. This notification may come in the post, via email, or even as a text message.
If you've received this notification, you can switch providers without fear of termination fees.
How often should I switch broadband providers?
At Broadband Plans, we recommend switching providers (or at least seeing what your options for) as soon as your contract has expired. Or, if you're on a rolling contract, every 12-18 months. The team will be more than happy to help you explore all of your options and get the best deal for your needs and budget.
Want to know more?
Give us a call today on 0330 818 6395 .
FAQ
What broadband speed do I need?
That depends entirely on how many people share your home, and what you most commonly use the internet for. ADSL speeds of 10-11 Mbps are usually adequate for many singletons, and couples with modest broadband needs like browsing, shopping, and streaming music and occasional video.Superfast speeds of 30-100Mbps are usually perfectly fine for most families, and will accommodate high-quality video streaming, video conferencing, online gaming and downloading large files. Ultrafast speeds (300 Mbps+) are a good fit for student households or large families where numerous parties are online at the same time.
What are End of Contract Notifications?
End of Contract Notifications are a signal from your provider that your contract has come to an end. This may come in the form of a letter, an email, or even a text message. Once you receive this, it usually means that you can switch to a new broadband provider or plan without having to worry about exit fees.
Do I have access to fibre broadband?
Around 96% of UK households now have access to fibre broadband, whether via Fibre To The Cabinet (FTTC) or a direct full-fibre connection directly to the home (also known as Fibre To The Premises or FTTP). The only caveat with the former is that if there is no room in the exchange for a new connection, you will be unable to access fibre broadband, even if it is technically available in your area.
What are the best student broadband deals?
While broadband providers don't necessarily have broadband plans specifically for students, student houses usually have higher than average usage. With numerous household members online at the same time relying on the internet for their studies and entertainment, a more robust connection may be needed. Especially if you're uploading or downloading large files, online gaming, or streaming in 4K UHD. Broadband speeds of 100 Mbps and over are recommended in student houses. By rule of thumb, you should add 30Mbps for every member of the household who's likely to be using the internet at the same time.
Updated on 9 May, 2022