Find the best student broadband deals – September 2022
Discover the best broadband and TV deals for your home
Save money by bundling your TV and broadband services. Compare the best broadband & TV deals available near you and start saving money today!
⭐️ Save over £200 on your yearly broadband bills ⭐️
These days, a good reliable internet connection is an absolute essential for students across the country. Used for research, entertainment, socialising and shopping, the internet is an integral part of modern student life.
In general, the more you pay for your broadband, the better your connection will be. Packages start from around £15 per month and go up to around £40 per month, although you can easily pay more if you want a package with a range of extras. Finding a broadband deal that's affordable and that offers enough bandwidth for all your streaming, gaming and socialising needs will ensure you get the most from your student broadband connection.
Last update: November 2022
If you're about to move into a student house, or if you're already living with other students and are looking for a better deal, shopping around could save you money on your internet connection. Here, we're taking an in depth look at the best student broadband deals on the market and finding out how you can grab an internet bargain.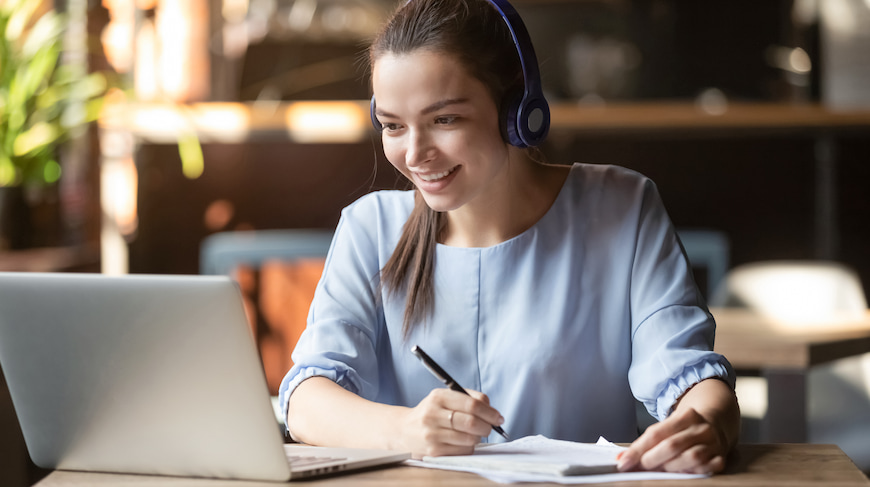 Which suppliers offer a student discount on broadband?
Only a few UK broadband suppliers offer specially tailored student deals. These deals are normally based on 9-month contracts to coincide with the normal short tenancy period offered by student accommodation.
One of the main suppliers to offer this type of contract is BT. Signing up to a 9-month BT deal will ensure that you don't pay for internet you're never going to use. However, as 9-month deals are generally more expensive than 12 or 18-month contracts, they're not always the best financial option for your student home.
Other 9-month offers and discounted deals aimed at students are occasionally available. These are generally advertised in August, September and October as students move into their new homes and start sorting their utilities.
A number of other suppliers offer packages focused on ultrafast internet. This is important as it's common for multiple people in a student house to be on the internet at the same time. An ultrafast fibre connection will ensure that you and all your housemates are able to stream, game, shop and socialise simultaneously.
Suppliers with superfast broadband deals include:
Find the fastest student broadband in your area by calling Broadband Plans today. Our team will search through all available deals to find the package that suits you perfectly.
Give us a call on
0330 818 6395
What is the best broadband for students?
Most student households will prioritise two things when it comes to their broadband deal: cost and speed. Ultrafast, affordable broadband will allow everyone in the property to use the internet at the same time and ensure no one has to break the bank in order to finance their internet deal.
The more you pay...
In general, the more you pay, the faster your connection will be. Balancing the price and speed of your internet is key to finding the deal that's right for you.
UK broadband deals vary significantly in both cost and speed. At the cheapest end of the broadband spectrum, you'll be looking at around £15 per month. In this price bracket, you'll probably be able to expect speeds of around 10Mbps.
An average speed of 10Mbps is considered an acceptable broadband connection. It will allow you to stream films and TV, play computer games and shop without a problem. However, if multiple people are trying to stream TV or download movies at the same time, you may run into issues.
At the more expensive end, you could pay up to £40 per month for your internet connection. If you opt for a premium deal, you could get up to 500Mbps, making your broadband exceptionally fast. If your student house is full of gamers, or you have a lot of people watching TV at the same time, it might be worth paying more for a broadband deal that gives you the internet speed you need. Or even splurging on a broadband and TV deal.
What are the best broadband deals for students currently available in the UK
In terms of best value for money (aka best money for the speed you get from a broadband deal), there are some providers that stand out more than others. Check out the deals below to determine the best student broadband plan for you. If you´re unsure of what broadband speed you need, check out out below for the optimal broadband speeds for students.
⭐️ Best Broadband Deals for Students ⭐️

| | | | | | |
| --- | --- | --- | --- | --- | --- |
| Provider | Student Deal | Avg. Speed | Cost/Month | Contract | Bonus |
| | M100 Fibre Broadband | 108 Mbps | £26 | 18 months | Phone line included |
| | Fibre Unlimited | 59 Mbps | £23 | 18 months | Phone line included |
| | Full Fibre 74 | 74 Mbps | £25.99 | 24 months | Phone line included |
| | NOW Broadband Brilliant Broadband | 11 Mpbs | £18 | 1 month | – |
| | Hyperoptic Ultrafast | 500 Mbps | £35 | 12 months | – |
| | EE Unlimited Broadband | 36 Mbps | £31 | 24 months | – |
Last update: Prices are valid as of November 2022 &nbps;
Where can I get the best deal on broadband for students?
When shopping around for your student broadband deal, it's a good idea to use an impartial comparison service. This will allow you to look at a range of different offers and find the deal that's right for you and your friends.
Find out how we can help by giving Broadband Plans a call. Our expert team will be able to talk you through the different options available, find out about your priorities, budget and requirements and find the package that's perfect for your household. Wether that be a broadband-only deal or a bundle, we find packages that fit your needs.
Give us a call on 0330 818 6395
What should I look out for when choosing a student broadband package?
Shopping around for a new student broadband deal can be confusing. Set up costs, monthly fees, freebies, average speeds and coverage all need to be taken into account when selecting a deal, giving you a lot to think about as you compare packages.
To help you navigate your way through the complex world of student broadband packages, we've picked out some of the most important things to consider when signing up for a new deal.
Contract length
As we've already seen, a small choice of providers offer 9-month broadband contracts that are specifically aimed at students. If you know for certain that you're only going to be in your student house for the duration of the academic year, one of these deals may make it easier to divide up your bills and keep household finances simple.
Longer contracts usually mean cheaper deals
If you think you might be in the same property for a full year, or even live in the house until you graduate, you may find taking out a longer contract gives you better value for money. In general, 12 and 18-month deals are cheaper than 9-month options. This is because suppliers like their customers to sign up for as long as possible.
Opting for one of these longer deals could save you money. However, make sure you don't sign up for too long or you could be left paying for your student internet long after you've moved out.
Setup costs
A lot of UK student broadband suppliers charge set up costs when households take out a new contract. These cover the expenses that providers incur when installing routers, cables and other equipment in your home.
Beware of setup fees
Set up fees can add a lot to the average monthly cost of a broadband deal, with some companies charging as much as £60 to get you online. Choosing a deal with zero set up fees will help to keep your internet costs to a minimum.
Optimal broadband speeds for students
Internet speed is probably going to be one of the most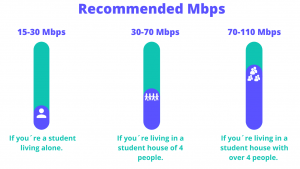 important considerations for student houses in the UK. After all, the faster your internet is, the easier it will be for everyone in the house to use it at the same time. The infograph to the right can give you a better understanding of what broadband speeds you might require as a student.
Average internet speeds can vary between suppliers, deals and geographical regions. Make sure you check what sort of average speed you can realistically expect from your preferred provider before signing on the dotted line.
Monthly cost
The average monthly cost of broadband deals in the UK can range from £15 to £40. Some deals cost even more. Before you take out a new student broadband deal, talk to your housemates about how much you're each willing to spend. This will ensure that everyone is happy with the internet deal you opt for.
Extras
Some student broadband deals offer more than just internet. Possible extras include free phone calls, free mobile SIM cards and even satellite TV bundles. While these freebies probably aren't enough to make you pay considerably more per month, they may help you to decide between similar deals, so it's worth keeping your eyes peeled for any extras.
How can I check my broadband speed?
If you've already signed up to a broadband deal and want to know how fast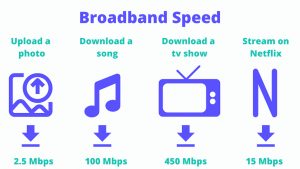 your connection is, simply search for 'internet speed test' online. This will take you to a range of sites that can check your connection in seconds.
If you haven't yet selected a student internet package, but want to know what sort of internet speed you could expect, you'll need to speak to your potential provider. They'll be able to tell you about average speeds in your area and give you a good idea of the speeds you'll get if you sign up. Check out the infograph to the left to get a better understanding of how much speed it takes to achieve different online tasks.
What is the typical contract length for students?
Most students opt for 12-month broadband deals. Although some shorter 9-month contracts are available, these don't always offer better value for money and so many households prefer to go for a cheaper, year-long contract.
If you're planning on staying in your student property over the summer holidays, or living in the same house for a number of years, it could be well worth signing up for a 12 or 18-month deal.
⭐️ Trusted by over 1 million clients ⭐️
Student broadband deals 9 months
If you have your heart set on a 9-month contract, the provider with the best choice of deals is BT. BT offers a selection of fast internet packages that can be taken out for 9 months. These vary in price from £27.99 to £33.99 per month. The same deals over a 12-month period would cost between £24.99 and £31.99 per month.
What do you need in order to set up broadband in your home?
When setting up a new broadband connection in your student house, there are a few bits of paperwork you'll need to collect before signing your contract. Importantly, you'll need to provide your supplier with your bank details so they can take payment every month.
Talk to your housemates about who's going to be responsible for this bill before you call your chosen supplier. In most cases, the bank account holder will need to give permission for their account to be used, so make sure the nominated housemate is there when you start the process.
Alternatively, you could consider setting up a joint bank account for household bills. This can remove the individual responsibility from any one housemate and make it easier to split your finances.
Once you've signed up to a new broadband provider, they'll send you a router, modem and any other equipment that's required to get your connection up and running. In some cases, you'll be able to install this equipment yourself, in others, an engineer will be sent out to do the work for you.
How long does it take to install broadband?
If there's already a working phone line in the property, your broadband could be up and running in just a few days. However, if a new phone line needs to be installed, it could take up to two weeks for your connection to become active. If you wanted to use this phone line it also might be worth looking into phone and broadband deals.

Do I need to buy a router?
Your internet provider should send you a router when your broadband is being installed. Some internet providers charge set up costs when installing a new broadband connection. This will normally cover the cost of a router.
How do I cancel broadband?
If you want to cancel your broadband connection at the end of your contract period, you'll need to get in touch with your internet supplier to ask them to stop your deal. This is normally a fairly straightforward process. However, you may need to provide a month's notice so make sure you get in touch with your supplier as soon as possible.
Discover best Broadband & TV bundle deals
Find offers that fulfills your needs. And choose the best one!
Compare bundle deals
⭐️ Broadband Plans rate on Trustpilot Ad is 4.1/5 ⭐️
FAQ
💸 Does Virgin Media offer student discounts?
Virgin Media doesn't currently offer a discount to students. However, the broadband supplier does occasionally offer students freebies and vouchers when they sign up.
⏳ What will the length of the broadband contract be?
Most broadband contracts last 12 to 18 months. It is possible to find 9-month contracts and even 1 month rolling deals, but these are likely to be more expensive and so offer poorer value for money.
⭐️ Which is the best broadband for students?
The best broadband deal for your student house will depend on your budget, the number of people you live with and how heavily you use the internet. Use our impartial SwitchBox comparison service to find the deal that's right for you. Give us a call on 0330 054 0020
📞 Can I get broadband without a phone line?
It's possible to find a number of broadband deals that provide an internet connection but no phone line. This can be a good option if everyone in your house has their own mobile phone and you don't want to pay extra for a landline contract.
However, in most cases, you will still have to pay line rental. If you want to avoid paying line rental altogether, you'll need access to full fibre broadband or Virgin Media's cable broadband.
Updated on 14 Oct, 2022