Sky Broadband and Bundle Deals – Everything you Need to Know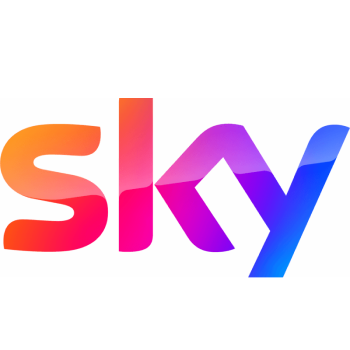 Save money with Sky Broadband & TV
Save money and switch to Sky for your broadband and TV! With award-winning TV services that are unbelievable for unlimited streaming and guaranteed broadband speed or money back
⭐️ Save over £200 on your yearly broadband and TV bills ⭐️
The UK offers consumers many options in terms of broadband providers which leads us to the question; What does Sky Broadband have to offer? Sky currently provides their consumers with great broadbands deals available at different ranges of speed that can even be bundled with your TV and phone plan. These competitive deals have allowed them to remain relevant in the dynamic market that broadband is proving that they are broadband provider to consider.
Last update: November 2022
This article goes through the ins and outs of Sky in order to help you discover if Sky could be the broadband provider for you. This covers everything from Sky broadband deals and bundles to Sky customer service and more.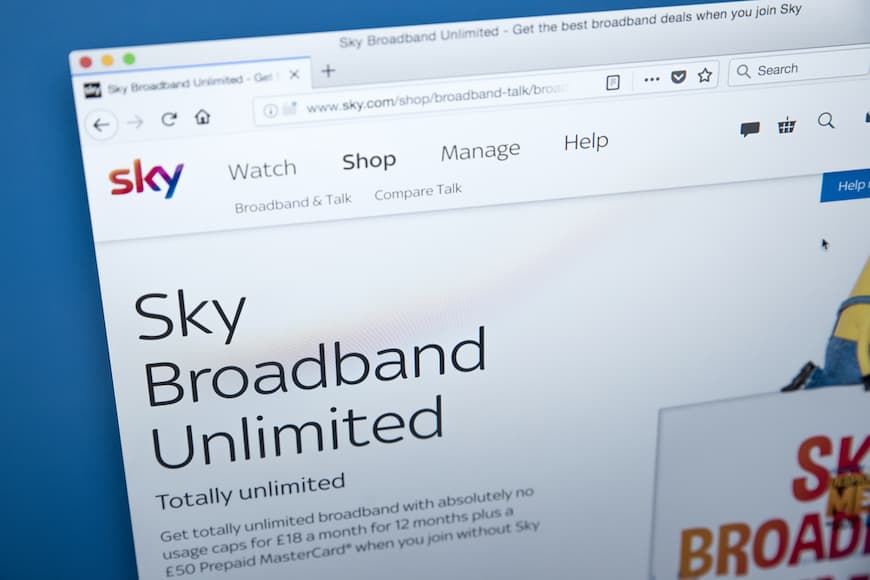 Why choose Sky Broadband?
A household name in the UK, synonymous with TV, Telephone and now broadband, Sky has long had a considerable presence in the Telecommunications sector. The brand has been made famous by Sky Sports, Sky News, Sky Movies and Sky GO. With further new ventures such as Sky Mobile, Sky broadband and a number of offers across each area for business. Having been in the telecoms industry since 1900s has allowed the brand to fostered a sense of trust within UK, and their bundle deals are highly competitive making them a provider to consider for your household´s broadband.
What does Sky broadband offer?
Sky has a few tricks up their sleeve that enables them to differentiate themselves from other competitors like BT and Virgin Media. The following list pertains to the key features that Sky as a company can offer in terms of their broadband services that not a lot of other providers can offer.
Bundled TV, broadband, phone and mobile deals in one plan with a single monthly fee
Extra features that you can add or remove on a flexible basis allowing you to personalize your plan
Access to award-winning Sky Q set-top box with their TV plans at a cheaper cost
Exclusive tv and movie content content from the US with their Sky Atlantic
On Demand options with over 500 Sky box sets, Netflix and Disney Plus
The ability to access TV anywhere with their Sky Go app
They offer 18-month contracts
Sky Broadband pros and cons
Let´s take a look at the pros and cons of Sky broadband in order to get a general overview of their services before getting into their deals.

Large range of TV channels to choose from
Sky Q and Sky Glass are highly rated
Broadband speeds that are adaptable to most households
Ability to save money and receive discounts/bonuses with Sky bundles
The Sky router is very well rated
Their TV packages and bundles aren´t exactly cheap, especially if you take a few add-ons
Other providers offer cheaper broadband prices for the relatively same speeds
Other providers offer faster broadband speeds
Sky Broadband Deals
The brand offers competitive average speeds for both their standard and fibre service with unlimited monthly data usage. However, once again their real selling point is their bundle TV deals. While certainly not cheap, Sky TV offers a variety of different good quality channels that competing broadband providers have a hard time matching.
What Broadband Deals does Sky offer?
Sky broadband offers broadband, tv, and phone services that can also be combined into great bundle deals. The only catch is that most of their broadband deals come with a landline which means that getting a broadband-only deal from them can be hard, but not impossible.
Sky broadband-only deals
Sky like most UK providers offers their own broadband services. However, in terms of broadband-only services, these are harder to find with Sky as most of their broadband packages come with a landline in which you would be charged if used (pay as you go calls). If you really want a broadband-only deal and don´t mind paying a bit more, Sky offers ultrafast full fibre which is the one circumstances that would enable you to get a broadband-only deal.
Sky Broadband-Only

| | Speed | Monthly allowance | Contract | Price |
| --- | --- | --- | --- | --- |
| Sky Ultrafast Broadband-only | 145 Mbps | Unlimited data usage | 18 months | £32 |
Sky TV and broadband
The easiest way to bundle with Sky and get a good deal is to select one of their broadband/TV combinations. The Ultrafast TV Deal for £43 per month is one such example, where Netflix is included for free but you also get 59 mb/s quoted as the download speed on the internet. All the deals seen below have a setup fee of £49, are on a 18 month contract and have a one time processing fee of £25.95
Sky Broadband Tv Bundles
Package
TV
Broadband
Mobile
Price
Brilliant Sky Q & Superfast Broadband
Sky TV & Essentials
Sky Broadband Superfast 35 Mbps
Sky Pay as You Talk
£30
Sky Q, Sky TV, Netflix & Superfast Broadband
Unlimited Netflix shows &
Sky Signature TV
Sky Broadband Superfast 35 Mbps
Sky Pay as You Talk
£43
Sky Q, Sky TV, Netflix & Ultrafast Broadband
Unlimited Netflix shows & Sky Signature TV
Sky Broadband Ultrafast 145 Mbps
Sky Pay as You Talk
£50
Prices accurate as of 27/04/2022
Sky TV, phone and broadband
Sky is arguably the best in the market for bundles. They were the pioneers in the UK market for bundling TV, landline, broadband and mobile phone contracts into one package. While other big players in the broadband industry followed suit with bundling, Sky remains a compelling choice as a broadband provider.Their higher-end offers will typically include Sky TV, Sky Broadband, Sky Sports and Sky Pay as you talk. The sweet spot may be to opt for a lower-end plan and add a few additional add ons such as Sky Cinema for £11 per month. This enables you to personalize your package and really make it your own. However, keep in mind that the bill can add up if you overindulge in add ons and remember it's worth getting a decent speed so you have good broadband coverage before upgrading to anything else.
Package
Broadband speed
Phone
TV package
Contract
Price
Sky Broadband Superfast with Sky TV packages
59 Mbps with unlimited downloads
Pay as you go

Sky TV
Netflix
Sky Sports
TV apps & over 500 Box Sets

18 months
£46
Sky Broadband Superfast 35 with Sky TV + Netflix
36 Mbps with unlimited downloads
Pay as you go

Sky TV
Netflix
TV apps
over 500 Box Sets

18 months
£26
Sky Broadband Superfast 35 Sky TV packages + Netflix
36 Mbps with unlimited downloads
Pay as you go

Sky TV
Netflix
Sky Cinema
TV apps
over 500 Box Sets

18 months
£38
Sky Broadband Superfast Sky TV packages + Netflix
59 Mbps with unlimited downloads
Pay as you go

Sky TV
Netflix
Sky Sports
Sky Cinema
TV apps
over 500 Box Sets

18 months
£56
Prices accurate as of 27/04/2022
Sky Broadband channel add ons
Sky TV packages are flexible in the sense that you can add and remove different channels from your plan monthly. Here are some of the channels that are available for add ons at an additional fee:

| Channel | Description | Additional Monthy Cost |
| --- | --- | --- |
| Sky Sports | Gets you the full suite of Sky Sports channels | £20 |
| Sky Cinema | Entitles you to 12 movie channels and hundreds of movies to watch on demand | £12 |
| Sky Kids | Includes11 live children's TV channels | £6 |
| Sky HD | 40+ extra HD channels | £12 |
| BT Sports | All BT Sport channels, with 52 live Premier League games per season | £28 |
| HD and Ultra HD | Upgrades select channels to HD and Ultra HD | £12 |
| Multiscreeen | Let´s you watch Sky TV on separate TVs around the home simultaneously | £15 |
| Disney+ | Includes movies and TV shows from Marvel, as well as Star Wars and Pixar | £7.99 |
What are Sky Broadband´s most popular deals?
While Sky might not be the cheapest provider, the quality of their services is a common theme throughout their services which make it worth the extra few pounds. Additionally, if you chose to bundle your deals, it can be more cost efficient in the long run as opposed to having different providers for all your internet services. Let´s take a look at some of the most popular broadband deals that Sky has to offer.
Sky´s Most Popular Broadband Deals

| Package | Broadband Speed | Contract Length | Monthly Price |
| --- | --- | --- | --- |
| Sky Broadband Superfast | 59Mb average | 18 months | £26 per month |
| Sky Broadband Ultrafast | 145Mb average | 18 months | £32 per month |
| Sky Sky TV Essentials + Superfast Broadband | 59Mb average | 18 months | £30 per month |
| Sky Superfast 35 | 36Mb average | 18 months | £25 per month |
| Sky TV + Netflix | 36Mb average | 18 months | £26 per month |
| Sky TV + Broadband Superfast + Netflix | 59Mb average | 18 months | £26 per month |
| Sky TV + Broadband Superfast 35 + Netflix | 36Mb average | 18 months | £26 per month |
| Sky Broadband Essential Plus | 11Mb average | 18 months | £30 per month |
| Sky Sky Q Lite + Superfast 35 Broadband | 36Mb average | 18 months | £30 per month |
| Sky Broadband Superfast + Anytime Extra Calls | 59Mb average | 18 months | £38 per month |
Prices accurate as of 27/04/2022
Sky Broadband Speeds
Sky offers 5 different types of broadband speeds. With these 5 different variety of speeds, you´re sure to find a speed package that suits your household´s online usage needs.
What fibre speeds does Sky broadband offer
Sky offers a variety of Broadband speeds that can suit the diverse needs of most households in the UK. Unfortunately, that doesn´t necessarily mean that all of these different speeds will be available to your location.

Broadband Essential – this broadband package comes with speeds of 11Mbps and is ideal for individuals households who are on a budget and have low internet usage.
Broadband Superfast 35 – the newest Sky broadband package, with average speeds of 36Mbps and uploads of around 9Mbps. Great option if you´re on a budget in a two person household with moderate internet usage.
Broadband Superfast – the most subscribed fibre broadband package. Average speeds of 59Mbps as well as unlimited monthly usage. This deal enables you to bundle your tv and phone subscriptions for additional cost making it a diverse offer that can suit the needs of a variety of households, such as a four person family
Broadband Ultrafast – is a ultrafast broadband package at 145Mbps. Ideal for those uploading large content, streaming and online gaming. However, this package may not be available in your area, as it´s currently only rolled out in 32% of the UK.
Broadband Ultrafast Plus – the fastest broadband package that Sky provides with speeds of 500Mbps. If you´re looking for extremely fast internet, or are in a household with a large number of people and don´t mind paying the extra cost, this might be ideal for you.
Sky Broadband Speeds

| Broadband Package | Download Speed | Upload Speed |
| --- | --- | --- |
| Broadband Essential | 11Mbps | 0.8Mbps |
| Broadband Superfast 35 | 36Mbps | 9Mbps |
| Broadband Superfast | 59Mbps | 9Mbps |
| Broadband Ultrafast | 145Mbps | 27Mbps |
| Broadband Ultrafast Plus | 500Mbps | 60Mbps |
| Broadband Gigafast | 900Mbps | 100Mbps |
Prices accurate as of 27/04/2022
What speed is Sky Broadband in my area?
More than 96% of the UK has access to Sky's superfast fibre broadband, but there may still be some locations where this isn't available. Exact speeds will also differ depending on a user's location, with a variety of factors contributing to the specific performance for a home. The best way to determine Sky's broadband speed in your area is to use Sky´s postal code checker to find out what broadband packages are available near you.
⭐️ Trusted by over 1 million clients ⭐️
Sky Broadband customer service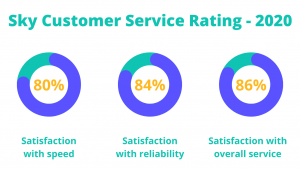 Looking to contact a provider for customer service can be a hassle. Luckily there are multiple ways that you can contact Sky´s customer service team if you require assistance with Sky Broadband. Overall, Ofcom´s figures show that Sky has a pretty good customer service reputation.
Does Sky have good reviews?
Their presence on Trustpilot is unclear, because there are reviews for both Sky.com and Sky.co.uk websites. However, it does demonstrate that the sky.com domain has been claimed by the company. Nevertheless, both of them have low ratings. Interestingly, on Broadband.co.uk their rating is three stars out of five for customer service.
Professional customer service from Sky. Our Sky + box packed-in over the weekend, and so we called their customer services for help. Although the first call-out failed to show up as he couldn't find our house, Sky promptly re-arranged a re-show and also credited the account for the inconvenience. When the engineer showed the next day, be promptly replaced the box and was done in 15 mins.
Although not the smoothest of resolutions, Sky's response was spot on, especially the staff within the UK call centres who were extremely helpful.
– Patty Brown
Worst Broadband Ever! If you work remotely don't use them! The TV package is fair and can be negotiated down to a reasonable price in my opinion. The reason I'm writing is regarding their horrific customer service when it comes to their broadband. If you work from home avoid avoid avoid! Sky broadband has the worst most inconsistent broadband I have ever used! Whenever you try to get support you are dismissed and told they cannot see anything on their side. After years of poor quality, inconsistent and pricy internet I have decided to finally move to BT.
– Travis Grishem
What do the good reviews tell us?
In a recent Ofcom study, Sky were found to be above average in all areas when it comes to customer service and had a call waiting time of 3m 21s, which is pretty good for a major telcom company. They also had just 23 complaints per 100,000 customers and an overall satisfaction score of 86%, which represents one of the highest scores in the market.
Good reviews from customers tend to mention good prices, consistent customer service and response to technical issues. The main resurfacing quality of Sky is its prioritisation of customer equity demonstrated by its willingness to retain customers with good prices and deals.
What do the bad reviews tell us
In general, the negative feedback on Trustpilot and other broadband websites in regards to Sky services relates to:

Technical issue
Customer service
Overall this is not uncommon in the Telecom sector and in the Ofcom study of May 2021, the findings can confirm this statement. Sky also has the disadvantage of working closely with Openreach and relying on their infrastructure, so fixes to technical problems are sometimes out of Sky´s control.

How to contact Sky Broadband customer service?
Calling or contacting Sky about broadband is also quite straightforward in an era when speaking to a human being has become harder and harder to find. When you check Sky´s contact page they will push you towards their online guides, FAQs and automated options.
However, if you keep pressing further forward you will find a vast number of questions answered on their online help tools. Unfortunately, finding a telephone number is less easy. The best way is to keep clicking through the options until you are given a number, which does thankfully appear. If you sign in you can also use live chat or email to a Sky Advisor.

Sky´s current contact number is 03337591877
You can write to them at – Customer Complaints, Sky Subscriber Services Ltd, PO Box 43, Livingston, EH54 7DD
Send a livechat message from this contact webpage
Send them an email at service.b2b@sky.uk
Sky has also made a community blog, where follow sky users can post their problems and seek help from other users who had similar problems.
How to make a complaint to Sky Broadband?
Sky is confident that if you follow their online tool, you will not need to take your complaint further. Stating that 90% of their customers get the issue resolved online because they follow the advice shown there. If you need to go further than that, you can click through the complaint options and will eventually have the choice of calling, live chatting or emailing for the issue. Sky then states that they will provide a suitable response and a resolution will be made after having checked the facts, looking further into the situation to thus form a decision. It may happen that while you´re on the line for chat or call, they will contact you back with a resolution.
Sky accepts that there are situations where a complaint will need to be taken higher and say that they will escalate the issue as long as you inform them you are unwilling to accept their initial outcome. If all else fails and Sky issues a deadlock letter because you continue to dispute the final resolution. This will only be issued after 8 weeks of the complaint being open, or in a situation where you reject Sky´s final resolution. Once you have a deadlock letter, you can contact Communications and Internet Services Adjudication Scheme (CISAS). As a consumer in the UK, you have the right to put the complaint forward with CISAS for a review, where they will then agree to a new resolution.
The risk
This resolution may be the same, better for you or even more in Sky´s favour. So be warned that sometimes the independent decision can be less than favourable, especially if Sky were trying to resolve your complaint in a generous way.
How to cancel my Sky Broadband?
In order to cancel your broadban plan with Sky you will have to contact them directly, as stated on their website.
You have 4 way to contact Sky to cancel your broadband:

Legally, UK residents are able to cancel their broadband package within 14 days of the sale without having to pay any early exit fees. However, Sky has a 31-day cooling period, in which if you decide to cancel within 31 days of starting your contract you won´t have to pay any early exit fees. Other factors that could come to play in determining whether or not you must pay an early exit fee consist of:
Brandband cancelation factors

| Cancellation reason | Will I be charged an Early Exit Fee? |
| --- | --- |
| Within 31 days of sale | No, Sky has a 31 day cooling off period |
| Service and connection complaint | Possibly, your provider will more likely offer compensation and resolve the issue |
| I found a cheap deal elsewhere but have 6 months left on my contract | Yes, without exception |
| I have received terrible customer service and want to leave | Possibly, if you complain, you still be given a resolution that is probably not going to be leaving for free. Only if there is a ruling from the Ombudsman for you to leave for free in this case |
| The speed is slower than quoted and it cannot be fixed | No, if your provider is a member of the Ofcom voluntary code you will not be charged an ETF |
Getting broadband from Sky is easy!
Want to know more details about the best broadband deals from Sky?
Check out our list of selected offers.
Get Sky now
⭐️ Broadband Plans rate on Trustpilot Ad is 4.1/5 ⭐️
FAQ
💪 What is a Sky Broadband Boost?
Sky broadband boost comes with extra features such as:
WiFi Guarantee - if you experience speeds slower than 3Mbps, you'll get the money refunded your Boost subscription.
Tech Support - You'll be able to arrange engineer visits on evenings and weekends at no extra cost.
Speed checks - Sky will conduct daily speed checks on your line and fix any rising issues before you have time to even notice.
Sky Broadband Buddy app - Acces to an app that helps you control children´s screen time.
2GB backup - You'll receive a 2GB on your Sky Mobile package if your broadband fails to work.
Upgraded router - Sky will upgrade you to the latest router if you don´t already have it.
📶 What is the fastest Sky broadband plan?
Sky´s fastest plan at the time of writing comes with a 900mb/s download speed for £55 with an 18-month contract and a setup fee of £19.95. The plan caters to gamers and competes with the big broadband players fastest broadband plans.
🔁 How to reset Sky broadband?
Unplug the router and wait for 30 seconds before plugging it back in. You can also press the reboot button on the back. It'll take a couple of minutes for your router to start working again after the rebooting process.
💨 How to check sky broadband speed
In order to check your broadband speed you´ll need to login into your account to get direct access to their speed checker speed checker.
Updated on 25 Nov, 2022