Compare Mobile Network Coverage: WiFi and Signal Checkers UK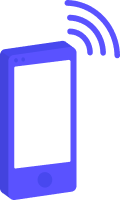 Compare Mobile Network Coverage of UK's providers,
and discover their best deals
UK mobile phone deals from Vodafone, iD Mobile and more...
Find the best mobile deal available near you!
From the iPhone to Samsung S22, with a wide range of SIM offers.
We ensure that you get the best mobile deal on the market.
⭐️ Save over £200 on your mobile bills ⭐️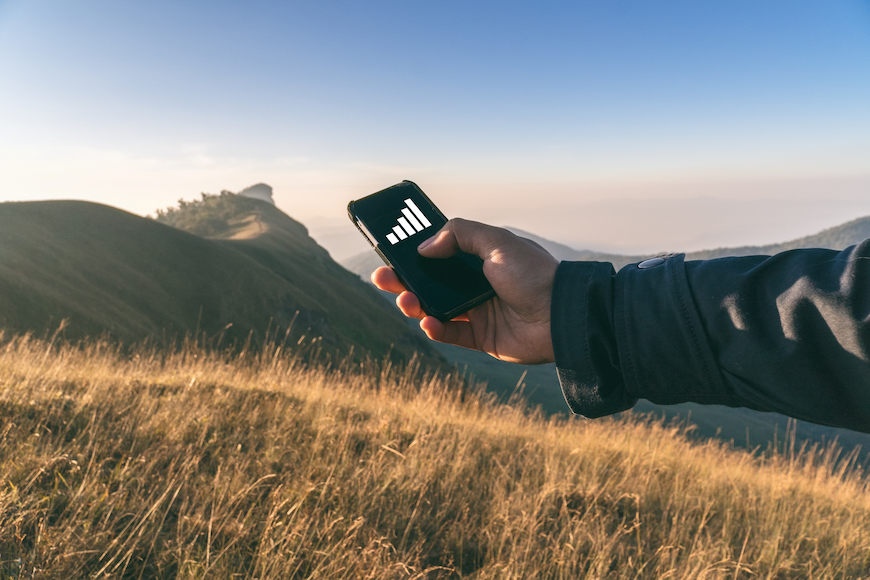 What is mobile coverage?
Mobile coverage refers to the signal strength you can expect to receive on your phone in a certain area. It's essentially what gives you reception on your mobile phone, allowing you to make calls, send texts, or use mobile data.
What is the best UK mobile network for coverage?
Overall, the best UK network for coverage is EE. It offers 99% coverage across the UK, which is similar to the level of coverage of the O2, Three, and Vodafone networks. However, its excellent 4G and 5G provision makes it the strongest UK provider in this area.
EE covers the most UK landmass of any provider, with 86% outdoor coverage. Its indoor coverage is also impressive at 93%, but this is slightly lower than O2 and Three, which offer 95% indoor coverage. EE is also the leaders in terms of 5G coverage, offering 5G connections to more places than any other mobile network.
What types of mobile coverage are available?
Depending on your phone and nearby coverage, there are four types of technology that can keep you connected.
2G
Launched in the 90s, 2G is the second generation of mobile networks. It's widely used around the world, but in the UK, it's usually just a backup network for when 3G or 4G networks fail. You can use a 2G network to make calls, send texts, and access a very basic Internet connection, allowing you to check and send emails.
2G technology is on its way out, and you won't be able to access 2G in the UK after 2033. Currently, 2G makes up just 1% of network usage in the UK – as most people use 3G or 4G instead.
3G
Emerging in the early 2000s, 3G technology is widely available across the UK. It provides Internet access to mobile phones, and unlike 2G, its speeds support web surfing, social media browsing, or audio and video streaming. In the UK, you can expect an average download speed of 6.1 megabytes per second (Mbps), which is slower than the average broadband connection.
Like 2G technology, 3G is set to be phased out by 2033. It comprises 17% of the UK's network usage, with 4G being more commonly used.
4G
4G technology was released in 2012, and with average download speeds of 33Mbps, it offers faster Internet access with fewer delays. This means that, in addition to sending texts and enjoying clear voice calls, you can use 4G to stream in HD or download apps. Its speeds rival what you'd expect from standard home broadband – so 4G offers a good connection.
In the UK, most networks offer 4G coverage to most locations, and 4G is widely used by mobile phone customers nationwide, so it's not going anywhere just yet!
5G
5G offers the fastest and smoothest connection widely available on your phone. With fewer delays and more reliability, 5G results in faster speeds that rival that of fibre broadband. In addition to making calls and sending texts, you can use a 5G connection to download 4K films in seconds.
5G technology is highly capable, but it's not yet widely available. The rollout of 5G infrastructure is ongoing, and if you're in an area with 5G coverage, you'll need a 5G-enabled mobile phone. You can find out whether 5G is available in your area with Ofcom's coverage checker.
What are virtual mobile networks?
Virtual mobile networks are providers that offer mobile services, including calls, texts, and data, without running their own network. Rather, they use or 'piggyback off' one of these four UK mobile networks: O2, Vodafone, EE, or Three.
As virtual mobile networks, or Mobile Virtual Network Operators (MVNOs), rely on their host's infrastructure, they offer the same coverage as these major networks. For example, as Tesco Mobile is a MVNO using the O2 network, it offers the same coverage as O2.
When you compare mobile network coverage between the four major providers, it's worth considering MVNOs too. They're often cheaper and offer high-value SIM-only deals, giving them an edge over their host networks. However, the bonuses offered by MVNOs struggle to match that of the main providers.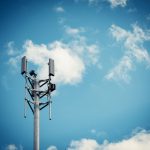 Compare mobile network coverage
To ensure you'll get the signal and mobile broadband speeds you need, it's important to compare mobile network coverage between providers.
How to compare mobile network coverage?
The easiest way to compare mobile network coverage between providers is by using Ofcom's coverage checker. This signal checker shows where you'll be able to get phone reception and mobile broadband, including 5G.
Note that Ofcom's coverage checker displays local coverage from the four main providers: O2, EE, Three, and Vodafone. Virtual mobile networks will use one of these four networks and therefore offer the same coverage as these host networks. Keep this in mind when you compare mobile network coverage, as a MVNO can offer the same coverage at a lower price.
As an alternative to using Ofcom's coverage checker, each provider (including virtual mobile networks) offers its own signal checker.
Here are the coverage percentages and signal checker links for the four main networks. Remember that providers don't release their latest coverage figures simultaneously, making it difficult to rank and compare mobile network coverage with total accuracy.
You can also access the coverage checkers for major MVNOs using this table:
*Note that this refers to the percentage of the UK population who receive coverage, not the total geographical coverage.
**Although Three specifies its coverage rather than simply stating "over 99%", EE is still believed to offer the widest coverage – but by a small margin.
⭐️ Trusted by over 1 million clients ⭐️
How do I find the best mobile network in my area?
You can compare mobile network coverage in your area by using Ofcom's coverage checker. After inputting your postcode, the site will show whether you'll be able to get indoor and outdoor mobile coverage in your area, and how good your signal will be.
Which network is best for 4G coverage?
Although 4G is widely available in the UK, coverage varies slightly between providers – but not by much. Currently, EE is thought to offer the best 4G coverage in the UK, as over 99% of the UK population can access its 4G network. Three offers a more specific figure – 99.8% coverage for its own 4G network – but EE is still considered the leading network for 4G coverage.
Which network is best for 5G coverage?
Networks are racing to offer the widest and best 5G coverage across the UK. However, EE is winning in terms of 5G coverage, as its customers can access its 5G network from over 160 towns and cities. Coverage isn't limited to the most central or densely populated areas of these settlements, so anyone in the general area around an EE 5G town or city can access its 5G network.
In fact, over half of the UK population is now covered by EE's 5G network, making it the first provider to reach this milestone.
Which service provider has the best coverage?
The table shows the estimated 4G and 5G coverage from major UK networks. Note that although 4G mobile broadband is widely available, the availability of 5G is still limited.
| Provider | Percentage 4G coverage* | Percentage 5G coverage | Number of towns and cities with 5G coverage | MVNOs using the network |
| --- | --- | --- | --- | --- |
| O2 | 99% | <50%* | 200+ | Sky Mobile, Tesco Mobile, giffgaff |
| EE | >99% | 50% | 188+ | – |
| Three | 99.8% | 54% | 370+ | iD Mobile |
| Vodafone | 99% | – | 138 | Talkmobile |
*O2 states it's on track to offer 5G coverage to 50% of the population by 2023.
How does the mobile coverage checker work?
Each mobile network offers its own signal and mobile broadband coverage checker. They're easy to use and feature interactive maps to show the availability of 3G, 4G, and 5G networks in your area. All you need to do is input your postcode into a given provider's mobile coverage checker.
You can see your expected coverage from all four UK networks in one place with Ofcom's coverage checker.
How can I check mobile phone coverage in my area?
The easiest way to check whether your provider offers mobile phone coverage in your area is by using an online checker. On these websites, you simply enter your postcode to view an interactive map confirming the types of mobile coverage available in your area.
Here are the signal and mobile broadband checkers for the major networks:
EE
Three
Vodafone
Talkmobile
iD Mobile
Sky Mobile
Tesco Mobile
giffgaff
Are there 3G, 4G and 5G coverage maps?
Yes. When you use a mobile provider's online coverage checker, you'll be presented with an interactive map. This will show the 3G, 4G, and 5G availability in your area, allowing you to check and compare mobile network coverage. You'll also see if you can expect any issues with indoor or outdoor coverage in your postcode area.
For a detailed voice and data coverage map, check out Ofcom's signal checker. It shows the coverage of the four main networks, EE, O2, Three, and Vodafone, and by extension, MVNOs using those networks.
Looking for a good deal for a new mobile?
More than 20 providers with their best offers. More than 20 models of phones available for special offers. Choose yours.
Compare mobile deals
⭐️ Broadband Plans rate on Trustpilot Ad is 4.1/5 ⭐️
FAQ
🌎 Which mobile network is best in my area?
Although all mobile networks offer extensive UK-wide coverage, coverage may vary depending on your area. You can see which provider offers the best coverage in your area by using Ofcom's signal and mobile broadband checker
🌐 Which mobile network has the widest coverage?
EE is the mobile network that offers the widest coverage across the UK. Its network covers over 99% of the UK population, making EE a widely accessible and available network.
📵 What can I do if I have poor mobile coverage?
If the mobile network coverage is poor in your area, you can use Ofcom's coverage checker to see if you'd get better reception with another provider. Note that poor mobile coverage may be worsened by your surroundings, as thick walls, metal window frames, and ceilings may impair your signal.
💫 Which network has the best 4G?
4G is standard across mobile networks, but EE offers the most widely available and fastest 4G coverage. Over 99% of the population can access EE's 4G network, which boasts download speeds of 36.4Mbps – which is higher than the other three networks' speeds.
Updated on 28 Oct, 2022