How To Set Up Broadband in Your Home
So you can focus on the right tasks
Call us and let our experts find you the best broadband plans on the market. For free.
Monday to Friday – 8.30 am to 5.30 pm
Call us and let our experts guide you to the best broadband plan on the market. For free.
Monday to Friday – 8.30 am to 5.30 pm
Not sure how to set up broadband in your home? You've come to the right place! Setting up broadband in your home has gotten simpler in recent years. In most cases, even if you're getting a new fibre broadband connection, engineers will do all the work necessary to get you set up outside your home. You usually only need a home visit from an engineer when setting up a new connection e.g. getting fibre directly to your home (Fibre To The Premises or FTTP). You can set up an ADSL or Fibre To The Cabinet connection by yourself in a matter of minutes.
Last update: April 2022
Regardless of if you are considering
switching your broadband provider
, join us as we guide you through how to set up broadband in your home.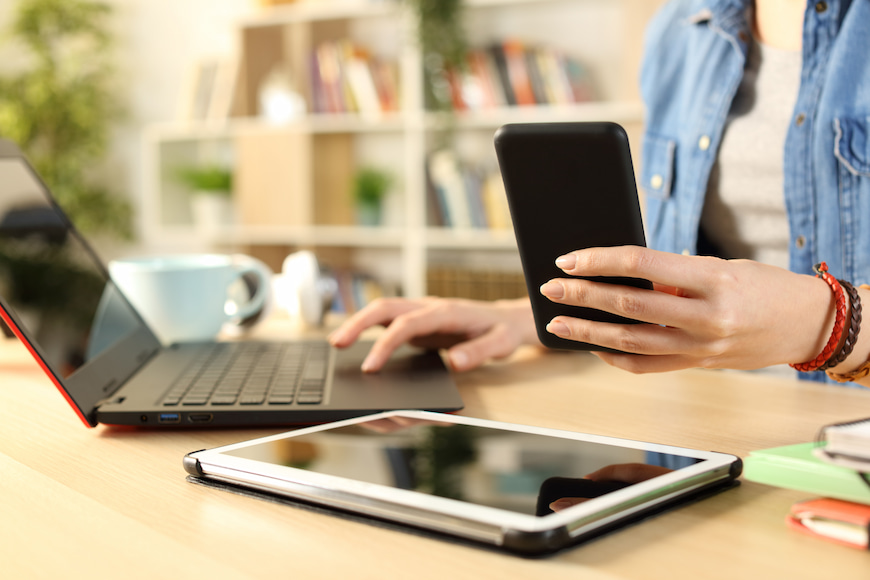 How do I set up a new broadband connection?
ADSL and Fibre To The Cabinet (FTTC) connections are available in over 96% of households. While full-fibre FTTP connections are only available to around 14% of households. This means that the vast majority of new connections are set up by customers. You will only need an engineer if a new Openreach line needs to be installed. The charge for this varied greatly. It is usually around £60, but BT charges more than double this at £140.
If the line is already there, your new Internet Service Provider (ISP) will send you your new router in the post before your activation date. As soon as it arrives and your activation starts, you're ready to get started! The engineer will have done all the work behind the scenes to get you started, so all you need to grapple with is your router.
What do you need for broadband connection?
Your ISP will send you everything you need to get started. Don't worry, you won't need to dust off your toolbox. Setting up a new connection is easy and tool-free. In the package that contains your router, you'll usually find:
The router itself
Phone and ethernet cables
A microfilter to enable you to connect your phone and broadband at the same time
How do I set up my broadband router?
Different ISPs provide different types of router. However, getting them set up is much the same, whatever the manufacturer and model:
Connect your router to the master phone socket (where the phone line enters your home).
Connect your landline phone to the microfilter provided if necessary
Power up your router and wait for it to indicate that it is online
Connect devices via ethernet cable for best results
Securing your Wi-Fi network
Where possible, you should connect PCs, games consoles, smart TVs etc. via a cabled connection for best results. However, to get your smartphones, tablets, laptops etc. online you'll most likely need to connect via Wi-Fi.
You'll usually receive the name of your WiFi network as well as a security key to keep it secure. However, here are some extra steps to keep your WiFi network as secure (and easy for you to access) as possible:
Type the IP address of your router. This is usually http://192.168.1.1
This will take you to the connection page
Change the name of your WiFi network to identify it as yours
Change your password to something that is unique and strong but memorable
Enable encryption (Select the WPA 2 or WPA 3 option)
You will now be able to log on to your Wi-Fi network quickly, easily and securely.
Troubleshooting common Wi-Fi problems
If you've carried out the above and things aren't going as planned, here are some potential troubleshooting solutions.
Slow internet in some areas of the home
Wi-Fi broadcasts your connection via radio waves, and these can be blocked by furniture, walls and other obstacles. Not to mention other routers if you live in an apartment building. Try adjusting the antennae of your router or, if you have a dual-band modem, try connecting on a different frequency. Alternatively, signal boosters can be deployed around the home.
Slow internet all over the home
If your speeds are slow all over the home, your issue is likely with your Internet Service Provider rather than your router. Try resetting your router, and if that doesn't work, contact your ISP to see if there are any problems at their end.
Certain devices won't connect to the Wi-Fi network
Connection issues with specific devices are usually fleeting. Try resetting the device or disabling and re-enabling Wi-Fi on the device.
Nothing is connecting to Wi-Fi
If nothing in your home will connect to your Wi-Fi network, try connecting via a cabled connection to identify whether the issue is with your network or your internet connection. Check that your router has not become disconnected and take a look at your ISP's websites and social accounts to ensure that there are no issues at their end. Try resetting your router. If this doesn't work, the issue may be with your router. If there is a fault, your ISP should usually replace it free of charge.
Wi-Fi network has disappeared
If your network appears to have vanished altogether, check that your router has not been disconnected. If not, it may have been reset to its factory defaults. Take a look at your available networks to see if the default network name is visible. If this is the case, you will need to change your network name and password again.

Our broadband experts are here to help
Free service - Available Monday to Friday from 8.30 am until 5.30 pm
Set up per provider
The Switch-Plan team are always on hand to help you find the perfect ISP and tariff for your home. Every ISP requires you to set up your network in different ways. Here we'll look at how to get set up with some of the UK's most popular providers.
Sky broadband setup
Sky is one of few broadband providers that does not allow self-installation. Even though it uses an Openreach line, you'll need to let an engineer into your home to get set up.
BT broadband setup
If you already have an Openreach line, getting set up with BT is very simple. Just plug the broadband cable with grey connectors into your BT Hub and connect the other end to your master phone socket. Some master sockets have a phone and ethernet port, others just have a phone port. In which case you will need to use a filter.
The only exception to this is if you get an FTTP connection with BT which will require an engineer.
Virgin Media QuickStart setup
Virgin Media has its own cable broadband network. As such, if you're switching to Virgin Media, you'll need to get a new cable line installed in your home.
That said, if there has been a Virgin Media connection in your home at some point during the past 3 years, you may be able to carry out a QuickStart self-install.
QuickStart kits can be posted to your home for a small charge of £5 and includes your router and everything else you need to get set up.
Vodafone broadband setup
Vodafone will send your home broadband router to you in advance of your connection date. As soon as it arrives, connect your new router to the master phone socket before 8am on your activation day and leave it switched on until you connectivity is confirmed. This should occur by midnight on your activation day at the latest. Vodafone will keep you updated throughout the process by phone, email or text.
NOW Broadband setup
NOW Broadband is a good option for those who want Sky channels without the lengthy contract. Install your NOW Hub as per the instructions above. It will automatically download software that it will need to get fully operational. This may make your internet connection slow or inconsistent at first. This should only take around 20 minutes, after which you can get online as normal.
Onestream broadband set up
Onestream is another provider that will allow you to get yourself set up as long as you already have an Openreach line. They send your router to you in the post (there is a charge of £9.99 for this) in advance of your activation date. When your activation date comes, just set up your router as instructed above and you're ready to roll!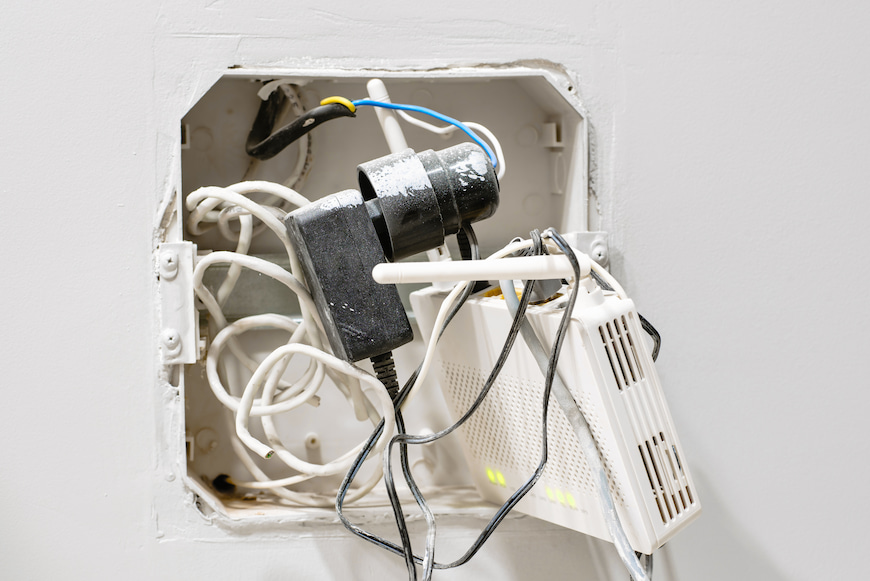 How to self-install your broadband
Not everyone likes the idea of letting an engineer into their home. Especially in the COVID-19 era. Fortunately, if you already have an Openreach line you will likely be able to connect via either ADSL or Fibre To The cabinet via your master phone socket.
Which providers allow self-installation?
Basically, every provider that connects via an Openreach line will allow you to self-install. Usually, the engineers will do their work outside of your home to get you ready in time for your activation day. The only ISPs that will require you to get an engineer to come to your home (provided you already have an Openreach line) are Sky, Virgin Media (who have their own network) and FTTP specialists like Hyperoptic.
Improving Wi-Fi signal strength and range
Once your router / hub is up and running, you may find that some areas of your home are able to connect to the network better than others. Here are some tips for improving the strength and range of your Wi-Fi signal.
Optimise your Wi-Fi router placement
The positioning of your router will significantly impact where the signal can travel to easily. For best results, position your router in a central space in the home away from appliances, cordless phones and other potential sources of interference.
Install Wi-Fi boosters
Wi-Fi boosters (also known as repeaters or extenders) can improve your signal's range by re-broadcasting a weak signal. While they can improve your signal, this may come at the expense of your performance and speed.
Chose the right Wi-Fi channel
Most routers today broadcast on dual bands. The frequencies are 2.4 GHz and 5 GHz and routers may broadcast either simultaneously or one at a time. Broadcasting at 2.4 GHz results in broader coverage but slightly slower speeds while the 5 GHz band will result in faster speeds but less comprehensive coverage.
How do I get broadband in a new house?
If you're moving to a new home you may or may not be able to take your broadband with you. It depends what connection types are available in your new home. For instance, you may be moving from a home with an FTTP connection to an area where only FTTC is available.
It's a good idea to do your homework before moving to see what your options are. Use Ofcom's Broadband checker to see what type of connection is available in your new home. This will help you to see what providers and plans will be available to you in your new home. If you're out of contract it will almost certainly be cheaper to switch to a new ISP as they reserve their best deals for new customers.
Can I set up broadband before I move in?
You can only set up broadband in your new home when you are legally responsible for your supply. However, you should contact your ISP as soon as possible to notify you of your move and whether or not you want to (or are able to) take your service with you. Most ISPs will be permissive of this, although they may charge a small fee. Some may expect you to set up a new contract with them in your new home.
Will I have to pay a termination fee if I'm mid-contract?
Possibly. Some providers will charge you a termination fee and / or expect you to pay off your existing contract even if you are unable to continue your service in your new home. This is why it's important to contact your current ISP as soon as you know your moving date.
Without a landline, can I set up broadband?
Wondering if you can set up broadband without a landline? Well, most broadband connections will require you to rent a line from Openreach. The only exceptions to this are Fibre To The Premises (FTTP) connections and cable broadband providers like Virgin Media.
Get set up with the perfect broadband deal for your home
Now you know how to set up broadband, perhaps it's time for you to consider how much money you could save by switching ISP and plan. The SwitchBox team can help you find the perfect provider and plan for your needs and budget whether you're looking for broadband-only, or TV and call bundles.
Call us today on 0330 818 6395 to find out more!

FAQ
Can I install broadband without an engineer?
Although an engineer will need to establish your connection, this is usually done outside of your home. As long as you already have a line set up, you won't need to let an engineer into your home. Most ISPs today send routers directly to the customer for self-installation.
How long does broadband take to set up?
It usually takes around 2 or 3 weeks to get your activation date. You will be sent your router in advance of this date. The router itself only takes a few minutes to set up. Get it connected on your activation date and you're all set!
How can I improve my Wi-Fi speed?
If your Wi-Fi speed is flagging, there are a number of things you should consider to improve it including:
* Repositioning your router in a central location with no sources of interference
* Changing the direction of your router's antennae
* Switching from the 5 GHz band to a 2.4 GHz band if you have a dual-band router
* Deploying signal boosters at key points in the home
Can I take my broadband plan with me when moving home?
Usually, yes. However, you'll need to check that your new home has the same cabling infrastructure as your current property. If you are unable to get the same broadband product in your new home, you may have to pay a termination fee if you are still within your contract. If you are out of contract, it will almost certainly be cheaper to set up a new contract with a new ISP.
Updated on 9 May, 2022