Problems Switching Broadband Providers UK | Solutions to Change Easily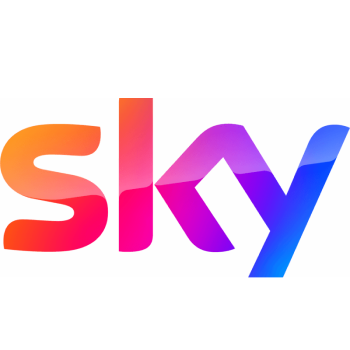 Are you afraid of having problems Switching Broadband Providers?
Find a new, better provider from our wide range of Partners
and we'll help you switch easily!
Compare your actual contract to Sky offers: with award-winning TV services that are unbelievable for unlimited streaming and guaranteed broadband speed or money back
⭐️ Save over £200 on your yearly broadband and TV bills ⭐️
Having constant access to a fast, reliable Internet connection is essential to many broadband customers. This is partly why switching Internet providers is often daunting – as you don't want to be left waiting for your new broadband connection to be ready. You've also got to ensure your old contract is officially over – and that there will be no nasty surprises for leaving. Unfortunately, it's not always so simple. From avoiding expensive early cancellation fees to returning your old router, you may experience problems switching broadband providers. These can result in unnecessary hassle and disruption to your broadband service.
Last update: November 2022
Don't despair though – it's usually simple to end your old contract and enjoy your new broadband service with minimal fuss. This comprehensive guide about problems switching broadband providers will address your concerns. We'll cover important topics such as moving home, avoiding early exit fees, and getting your new broadband connection installed.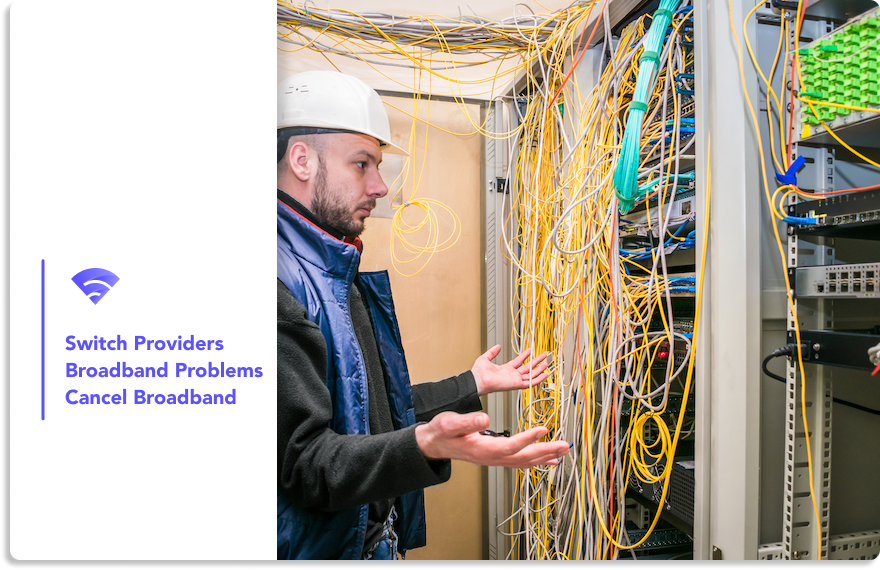 Common problems switching broadband providers and how to solve them
Here are some of the most common problems customers experience when switching broadband providers.
Cancellation fees
When you sign a broadband contract, you'll be subject to certain terms and conditions regarding the end of your contract. This usually means that you're free to leave your contract when its minimum period ends. However, leaving before the agreed contract end date usually entails early cancellation fees.
The amount you'll need to pay will vary between providers and plans. But generally, you'll have to pay a fee that covers the cost of the remaining months of your contract and equipment provided, including your router.
However, under certain circumstances, you can avoid paying cancellation fees:
Avoid playing cancellation fees

| Condition | Explanation |
| --- | --- |
| You're outside of the minimum contract length | If you've had your broadband plan for longer than the minimum length, you can cancel whenever you like for free. |
| The contract is in its cooling-off period | Internet service providers (ISPs) are required to provide a 14-day window in which you can cancel your contract for free. This period begins when you sign the contract. |
| Your monthly bill has increased | If your provider increases your bills, Ofcom's rules mean you can leave without paying an early exit fee. You just need to do this within 30 days of your provider telling you about the price increase. |
| Your broadband is slower than advertised | BT, Sky, Virgin Media, EE, TalkTalk, and Plusnet have signed <a href="https://www.ofcom.org.uk/phones-telecoms-and-internet/information-for-industry/codes-of-practice" target="_blank"Ofcom's code of practice, so you can exit for free if your speeds don't match what's expected from your deal. |
| The provider hasn't solved an issue you've flagged | If you've contacted your provider about an unresolved issue with your broadband service, you could cancel for free. However, your ISP could dispute your complaints and still charge you. |
A new line needs to be installed
To ensure your new broadband service will be compatible with your property, you may need to have a new line installed. This will apply if you're changing your type of connection to access a Virgin Media or full fibre plan.
You can avoid problems by keeping track of your old contract's end date and your new contract's activation date. This will let you select a convenient date to have your new line installed – with minimal disruption to your Internet access.
Note that you may have to pay an installation fee to receive a new line at your property. You'll also need an adult at the property to meet the engineer.
Moving houses
You may think you'll need a new contract if moving homes – but that's often not the case.
Most broadband providers will allow you to take your existing broadband service to your new home. However, you may need to pay a small fee or commit to a new contract with your provider.
Staying with your existing ISP may be worthwhile if it will provide a sufficient service at your new address. It's also an affordable option if you'd otherwise face early cancellation fees. However, if you won't face any exit fees and want a better service, moving homes is a good opportunity to switch providers.
The provider I want isn't available in my area
Although Wi-Fi services are widely available across the UK, not every provider is available in every location. This is often the case for full fibre services in particular.
Unfortunately, there isn't anything you can do about this. The best option is to compare the prices, services, speeds, and reviews of the providers available in your area, and select your favourite.
Switching will leave me without Internet for a while
Being stuck without Internet access for hours or even days is a worrisome thought. Thankfully, you're unlikely to be left without Internet access for long.
When your new provider switches you over to its network, the changeover period should only last a few minutes. Your provider will let you know when the switch will occur, so you can avoid getting caught out.
To stay online during your switchover period, you can use a mobile hotspot if you've got one.
My new broadband service is slow
Although inconvenient, it's normal to experience some slowdown and inconsistent broadband speeds during the first week at least. However, if you're still receiving Internet speeds slower than what you're paying for beyond this, you may be able to solve this by:
contacting your ISP to see if there's a wider issue
turning your router off and on again
checking if there are any objects blocking your Wi-Fi signal.
If these options don't help, you can probably cancel your plan without any early exit fees. You can do this during the cooling-off phase with no questions asked – or by notifying your provider that your speeds fall below expectations.
My old provider is still charging me
It's standard practice for your ISP to charge you for the final month of your contract – even if you cancelled before the end of that month. This means you might receive one last bill from your old provider after starting your new contract.
Your previous provider should send you emails or letters confirming your contract cancellation and the date you can expect your final bill. If you've not received any written confirmation, it's best to check in with your old provider's customer service to ensure you're not being overcharged. It should refund you if this happens – and if you don't get refunded, you could complain.
My new provider raised my bill shortly after I switched
Many ISPs are increasing their monthly costs – which can result in a nasty surprise if you've just switched providers. This price hike may be enough to make you want to cancel your new contract.
Thanks to Ofcom's rules, you can cancel your contract within 30 days of receiving notice of a bill increase – and you'll avoid cancellation charges, too.
⭐️ Trusted by over 1 million clients ⭐️
Should I switch Internet providers even if problems might arise?
From early cancellation fees to unexpected price increases, there are potential issues associated with switching ISPs. However, if switching means getting faster speeds, improved reliability or better prices, it's usually worth it.
You can avoid problems switching broadband providers by taking the following measures:
Ensure you have written confirmation of cancellation and start dates.
Read reviews of your new provider before switching.
Be aware of extra fees, such as cancellation or installation costs.
Choose a switching date where Wi-Fi loss would cause minimal disruption.
Have plenty of mobile data ready as a backup.
How to switch broadband providers
Here are the steps to moving Internet providers smoothly:
Check whether you can leave your provider for free or not.
Find out which providers are available near you.
Compare broadband deals to find your perfect plan.
After you've found the right deal, you'll need to contact your preferred new supplier to sign up. If both your new and old supplier use the Openreach network (e.g. Sky and BT), you won't need to contact your previous ISP to confirm you're leaving. You can expect written confirmation of your switching date shortly after signing your contract.
If you're switching to a provider on another network – such as Virgin Media or Hyperoptic – you'll have to manually contact its customer support team to confirm the cancellation. The provider will then confirm when your broadband service ends.
How much does switching cost?
Switching broadband can involve a range of costs, which will vary between providers and deals. Here are the one-off costs to consider when switching:
One-off cost to switching broadbands

| Cost | Explanation |
| --- | --- |
| Early cancellation fees | If you choose to leave your current provider before fulfilling your contract's minimum length, you may face early exit charges. |
| Installation and technical support fees | You may need to pay to get your home broadband service set up by professionals. |
| Charge for your new router | Some ISPs will charge you a one-off cost for your new home broadband router. |
| Costs for other equipment | If you're receiving equipment other than a router, such as digital phones, a TV box, or Wi-Fi boosters, you may be charged for them upfront. |
Can I switch broadband mid-contract?
It's possible to switch broadband providers whenever you like, even if your existing contract hasn't ended. However, this will usually mean you'll have to pay early cancellation fees, which can be expensive. If possible, it's best to switch when your contract ends.
There are a few circumstances in which you can switch mid-contract without facing early cancellation fees:
Within the last 30 days, you've been notified about an increase in your monthly bill.
Your broadband speeds are lower than your provider promised.*
You've got a valid complaint or issue which your ISP hasn't resolved.
*This only applies to providers which have signed Ofcom's code of practice for broadband speeds.
How long does it take to switch Internet provider?
Although the switchover between providers may only last minutes, it can take a couple weeks to switch, as you'll need to give adequate notice beforehand. This may take longer if you'll need your new connection professionally installed by engineers.
What if my new broadband provider can't arrange the switch?
Usually, your new provider will be proactive in arranging your switchover date. However, if it's unable to organise this, you'll need to contact its customer support team to check when it's able to transfer you to your new contact. You'll be able to select a convenient date on which to do so. Once you've got a transfer date booked, simply contact your previous ISP and inform it that you want its service to end on the day your new service begins.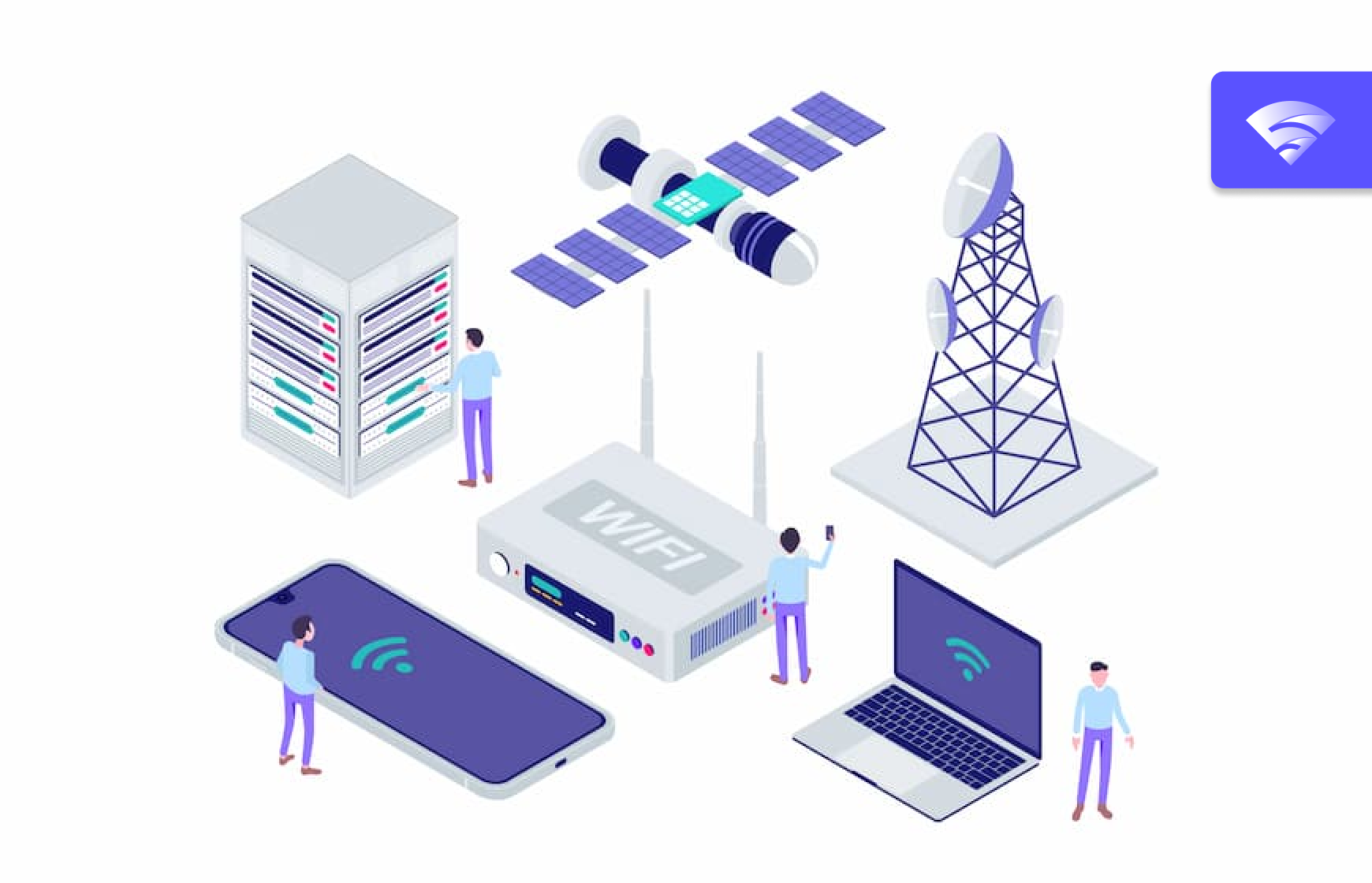 What happens when switching broadband providers?
To avoid disruption or confusion, it's important to be aware of what happens in the switching process – as well as what it means for your contact details.
What is the installation process like when moving broadband providers?
What your installation process looks like may depend on your provider and type of connection.
Installation process for broadband providers on the Openreach network
If you're switching between two providers on the Openreach network, installing your new router will be straightforward – so you can do it independently. It's a simple process:
Your new ISP will confirm your broadband activation date and time.
At this time, disconnect your old router and connect your new one to the master phone socket.
Wait for your new provider to connect you – this should happen within minutes.
Note that you'll need to have a phone line in your home (and by extension, a master socket) first. If you don't, you'll need to contact your new provider to have a new line fitted.
Installation process for Virgin Media home broadband
If you're switching to Virgin Media, the process is more complex. As this network has its own infrastructure, you'll need to reconfigure your connections with the equipment and instructions provided by Virgin Media. Alternatively, for a £30 fee, you can get an engineer to do it instead – although the process is straightforward enough to do without expertise.
However, if your property has never been linked to Virgin Media's network, you'll definitely need an engineer to install your connection. It will need to run a cable from your local street cabinet and install a box on your property manually.
Installation process for full fibre broadband
After signing up to a full fibre broadband deal – which aren't yet available everywhere – you'll need an engineer's help to get connected. They'll need to create a new connection using cables from your nearest access point or overhead lines. This involves drilling into your exterior wall and fitting a new socket indoors, allowing you to connect to fast, full fibre broadband.
Of course, if you've already got a full fibre broadband connection at home, you won't need an engineer's help to switch over between full fibre plans.
Can I keep my landline phone number if I change broadband provider?
Yes – you won't lose your landline phone number when you switch between broadband providers. However, ISPs do offer the option to change your number when switching – so you may have to ask to keep your landline number before signing your new contract.
Can I keep my email address if I change broadband provider?
As you'll likely have many important login details or documents tied to your email address, losing access to it could be frustrating. Many ISPs include email addresses in their broadband plans – but email accounts aren't as easy to transfer as landline phone numbers.
Broadband providers take different approaches to handling previous customers' email addresses:
BT and Plusnet will charge you to access your email after ending your contract.
Sky won't delete your email address unless you don't use it for six months.
TalkTalk will delete your email address one year after cancellation, but Virgin Media will do this after 90 days.
If you're looking to avoid losing your email address when switching, we'd advise signing up to a free email service, such as Gmail from Google.
Switching to Sky is easy!
Want to know more details about the best broadband deals from Sky?
Check out our list of selected offers.
Get Sky now
⭐️ Broadband Plans rate on Trustpilot Ad is 4.1/5 ⭐️
FAQ
📢 Do I need to contact my broadband provider before switching?
If you're switching between providers on the Openreach network, such as BT, Sky, or EE, you won't need to contact your old provider to cancel its services. However, if you're switching to a full fibre broadband provider or a supplier with its own network – such as Virgin Media – you need to notify it before switching.
🕜 How long before my broadband contract ends can I switch providers?
You can switch providers at any point during your current broadband contract. However, if you leave before the minimum period of your existing contract is over, you'll likely face costly early cancellation charges.
🔄 Do I need to return my equipment when I switch?
Broadband providers have different approaches to this issue. Some providers will charge you for not returning your equipment (which may include your router and TV box), while others will let you keep it for free. Where possible, some ISPs will encourage you to recycle your equipment – or at least dispose of it responsibly!
💭 Is switching broadband provider easy?
Switching broadband providers isn't as complicated as you'd expect. All you need to do is choose a new plan and sign up with your chosen new ISP. It will likely cancel your old plan for you – unless you're switching to Virgin Media or a full-fibre network. You may have to self-install your new router, but this is a simple and speedy process.
Updated on 30 Oct, 2022