Boris Johnson Resignation – Five factors that played into the PM´s downfall
Boris Johnson, the UK prime minister, announced on Thursday July 7th 2022 that he would be stepping down as Conservative Party leader on Thursday after political pressure and an unprecedented flood of government resignations and a Cabinet revolt.
Last update: July 2022
While this resignation seems sudden, we take a look at 5 factors that foreshadowed this politically changing event.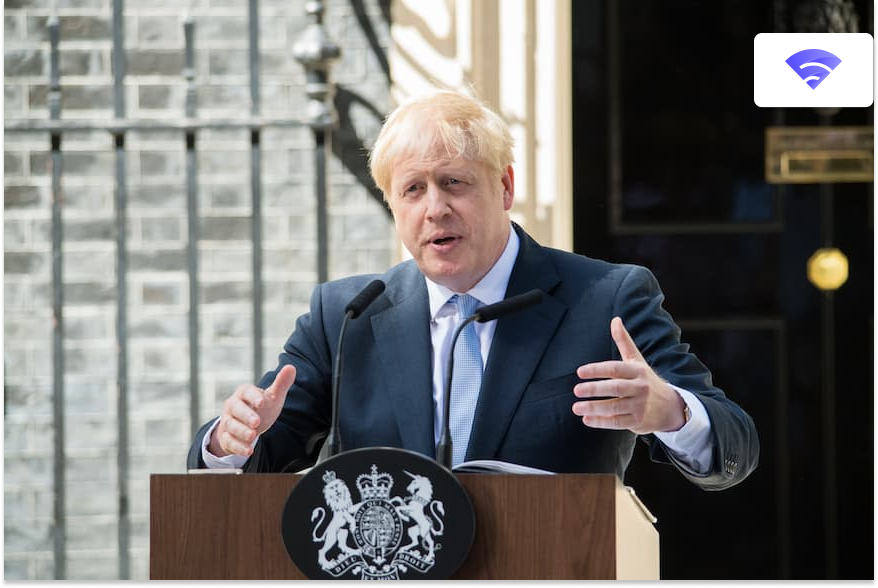 Political meetings turned into the ´Boris Show´
Boris Johnson won his majority based on promises to follow through with Brexit. Since this, his critics speculate that there is a lack of focus and clarity behind his ideas in Downing Street. His ex-adviser Dominic Cummings has accused him of being an out-of-control shopping trolley, fluctuating from position to position with no clear goal.
Mr John (former Labour leader of Southwark LBC) disclosed that during local enterprise partnership meetings, the subjects of discussion would revert back to ¨the same pet issues meeting after meeting¨. Pet issues such as how Boris thought it was unfair that he could not invest in superfast broadband, given how lucrative that market is.
Party in the UK
During Covid lockdown, Boris Johnson was fined after breaking lockdown rules and having a birthday party in June 2020. Given the fact that these rules were established by the PM himself, this unsettled and angered UK citizens who were confined to the quarters of their homes. Throughout Covid-19 police, investigations had been conducted regarding other potential parties that were being held in Downing Street and other politically recognized estates.
Freebies and favours
In 2020 there was much controversy and speculation over who had paid for the prime minister's luxury villa in Mustique with his then-fiance Carrie Symonds. The controversy was unravelled by parliamentary standards commission Kathryn Stones who proved that Johnson had obtained this luxurious and pricey ´freebie holiday´ from the Tory donor and millionaire owner of Carphone Warehouse, David Ross. Johnson failed to check the details of financial arrangements for the £15,000-a week villa they vacationed in when he declared it as a gift from Ross in the MPs' register. While he was cleared of any legal wrongdoing, the reputation of a political system operating on freebies, favours and preferential treatment prevailed.
In November 2021, Owen Paterson, a former minister and supporter of Brexit, was found to have partaken in paid lobbying. However, Johnson whipped his MP's mid-case to vote in order to change the rules and protect his support, Owen.
Furthermore, lucrative Covid deals have been coming to the surface showing that Tory connections were being granted large sums of money in Covid contracts. One of the examples circulating is that Conservative party donor David Meller (a backer of Michael Gove's Tory leadership bid) won £164m in Covid contracts for the company he co-owned at the time after Gove referred it to the "VIP lane". Meanwhile, Alex Bourne, former publican and ex-neighbour of Matt Hancock, won £50m of government work to supply vials for the covid testing and tracing programme. Despite having zero experience in manufacturing medical devices, he was named as the sole subcontractor of the DHSC Covid contract after sending a WhatsApp mobile message to the health secretary.
More of these Covid deals involving Tory connections can now be found on the internet and other cases are still emerging.
The cost of living crisis with an added tax rise
Inflation has risen sharply in 2022, to the current rate of 9.1%.
It is noted that many European countries are facing the same inflation as the UK due to Russia´s invasion of Ukraine which has led to an energy crisis.
However, UK citizens were not happy with a tax rise in April. National Insurance went up by 1.25 pence in the pound. Essentially anyone earning more than £34,000 a year will still pay more in taxes.
Labour leader Sir Keir Starmer questioned this decision and states "In the middle of the worst cost of living crisis for decades, the government chooses to increase taxes on working people".
The final blow – The Chris Pincher affair
The most recent demise in Johnson PM's career was on Wednesday 29 June. MP Chris Pincher – the Conservative deputy chief whip – went to a private members' club in London. The Guardian stated that Pincher stated that he "drank far too much" and "embarrassed himself".
Pincher was accused of groping two men on this night of drinking which led to further allegations of similar events regarding Pincher, some dating back years.
Downing Street said Mr Johnson was not aware of "specific allegations" regarding Pincher before appointing him as deputy chief whip in February. However, on Jul 4thy, the BBC reported Mr Johnson had indeed been made aware of a formal complaint against Pincher. On July 5th, a former civil servant – Lord McDonald – said the prime minister had not only been made aware of the formal complaint but it was delegated in-person to Johnson.
Boris Johnson then admitted that he was made aware of allegations before he had appointed Pincher as deputy chief whip and apologized.
Updated on 11 Jul, 2022