Can water pipes revolutionise internet speed?
In an ambitious plan to increase the quality and speed of internet access within the UK, the government is going to test water pipe broadband connections. The drinking water pipes between Barnsley and Penistone will be used to test the viability of the plan. Around 8500 people could be connected to faster broadband in the test phase while remote areas which have slower internet speed and quality could also profit from the implementation of the project.
Published on: 07-06-2022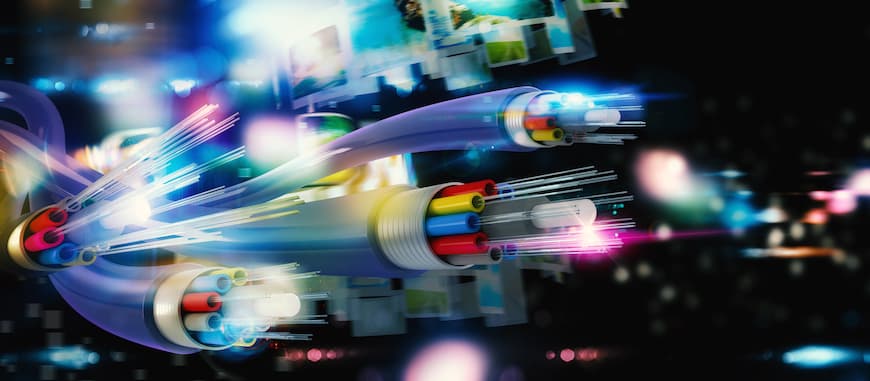 Pressing need for faster internet connections in several places in the UK.
The need for faster internet speed, especially in remote and rural areas can be seen in the table below. In the table we highlight the 5 counties with the highest average internet speed and the 5 counties with the lowest average internet speed. The large difference in average download speeds in (Mbps) are substantial. A person in Dorset would take almost twice as long to load a specific page as a person located in Surrey.
Counties with fastest and slowest internet speed

| County | Average internet speed (Mbps) | | County | Average internet speed (Mbps) |
| --- | --- | --- | --- | --- |
| Dorset | 32 | | Bedfordshire | 55 |
| Cumbria | 33 | | Bristol | 56 |
| Cornwall | 34 | | London | 56 |
| Durham | 34 | | Hertfordshire | 57 |
| Isle of Wight | 34 | | Surrey | 59 |
Sourced from: https://fairinternetreport.com/United-Kingdom
Future way of working further increases necessity for country-wide fast broadband
Also with the recent developments of working online following the Covid-19 pandemic has put extra pressure on internet speed requirements. Especially people who live in rural areas will have more difficulties working from home due to internet connection issues that are present in less well-connected parts of the country.
Despite the relaxing of Covid-19 measures in recent months due to the mild omicron variant, around 30% of people still work remotely. Around 84% of employees would prefer a hybrid model in the future where people work partly at home and partly in the office. People at home now have much more need for fast internet to facilitate their daily work while not being able to use the high-quality internet often present in office buildings.
Aim to rollout country-wide implementation of water pipe optic fibre cables in 2024
The aim of the government is to use the coming 2 years to test the water pipe optic fibre cables in the South Yorkshire area. If the testing turns out to be a success, the system could then be rolled out across the country in 2024 with the aim to be operational within the same year. Potentially by the end of 2024 the entire UK will be covered and have access to Gigabit internet speed, right now this number sits at 66%.
Pipes through drinking water would significantly reduce costs and complexity of new broadband set up
Successful implementation of broadband fibres in drinking water pipes would mean no need for digging up roads to connect the broadband fibres to homes, which would save a lot of hassle for traffic. Furthermore, using water pipes would significantly reduce the time and resources spent on installing new ducts and poles necessary for implementing new broadband fibre connections. Installing new ducts and poles often can take up to 80% of costs of the entire cost of introducing new broadband fibre connections.The opportunity with the new fibre network created will also be utilised to install 5g masts that would be able to quickly reach remote areas that have lower connectivity to broadband and make sure that the internet is quicker in these areas.
£4 million government investment in research on optic fibre.
About 8 months ago the government set up a competition worth £4 million to facilitate the research on fibre optic cables in water. Yorkshire Water as the winning party of the competition receive a £1.2 million grant from the government to deliver the project that could reduce both the environmental and the day-to-day impact of telecom companies' activities after winning the competition After a review of the progression in the plans a further £2 million of funds could be allocated to the project. Yorkshire Water combine forces with the University of Strathclyde and Arcadis, the world's leading company in engineering and consultancy solutions for natural assets.
Future £5 Billion Project Gigabit plan to boost broadband access in remote areas
The optic fibre testing plan is part of the government project Gigabit which is a comprehensive programme to ensure fast and reliable internet connectivity within the UK. The enormous sum of money is deployed on several smaller projects and also into direct assistance. £210 million pounds will be set aside to provide direct financial support to people in eligible rural areas. Grants with a maximum of £1,500 for homeowners and £3,500 for businesses are awarded to help install speedy internet in these remote areas. Visit the Gigabit Broadband Voucher Scheme website to check whether or not you can apply for a grant.
Another £110 million will be used to help connect public buildings in these rural areas to ensure that in these buildings everyone can access high-quality broadband connections. This would be a major boost for schools, hospitals, and libraries in these areas to improve their quality of service, which in turn would benefit the quality of life in these rural areas. The hope is to reach at least half of all areas with an internet speed of under 30(Mbps) with these policies in the coming years.
Updated on 17 Jun, 2022