Discover all the best Fibre Broadband deals for your home
Find the best broadband-only deal on the market. Compare from our selection
of the best Fibre broadband deals with other types of broadband available and get a cheaper broadband package today!
⭐️ Save over £200 on your yearly broadband bills ⭐️
Fibre broadband is growing in coverage and popularity across the UK, promising faster connections for all users. Fibre is an internet connection that offers more reliable and quicker speeds than other types of broadband, including the ADSL connections we have all used over the past decade or two. Fibre broadband works by using plastic or glass cables rather than the standard copper wire used in regular connections. Data is transmitted using beams of light, meaning it travels at much faster speeds and is not slowed down over longer distances, which can affect other kinds of connections.
Last update: November 2022
There are two main types of fibre broadband, which are fibre to the cabinet or FTTC and fibre to the premises or FTTP. Both offer much faster speeds than ADSL or cable broadband, typically offering download speeds of between 35 and 60 Mbps. Some ultrafast connections offer speeds between 300 and 900 Mbps. As you can see, there are many factors that influence speed, and a multitude of others that you might like to consider when
comparing broadband deals
for your home.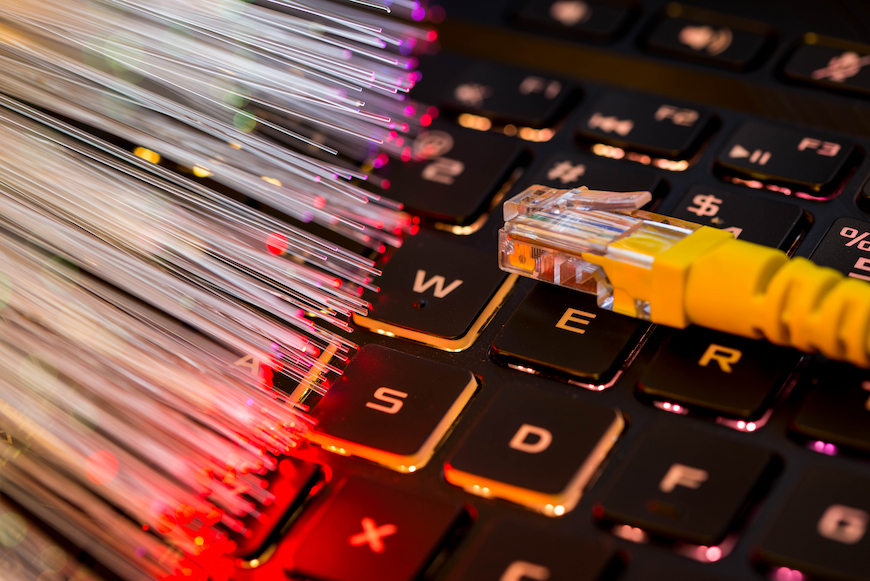 Of course, all of this comes at an increased cost, although fibre connections are probably not as much as you might think. Deciding whether or not fibre is for you will depend on what kind of user you are. If you're a very light internet user then you might not need a fibre connection. But heavy users such as gamers will benefit from the increased speed of connection. Whether or not you can get fibre broadband does depend on where you are in the country. Some areas already have a fibre infrastructure in place but others are still waiting for this to be put in place.
What is fibre broadband?
Traditional broadband uses a different kind of connection and takes its name from the cables used to transmit data. Instead of using the old style copper cable, fibre optic cable is usually made from plastic or glass. This means that data can be transmitted at a much faster speed. This means you get much better quality when streaming films and TV, and buffering and loading times are reduced.
The information is transmitted as pulses of light instead of the electrical signals used by older style cables. This means it is both much faster and not subject to the resistance found in copper cables. Information can travel at the speed of light down the cables resulting in speeds of up to 900Mbps.
What is full fibre?
There are two types of fibre optic broadband. These are:
Superfast fibre, also known as fibre to the cabinet (FTTC) which gives speeds between 30-70Mbps
Fibre-optic cables run from the provider's broadband exchange to the cabinet in your street. This can be up to 300m away. This is then connected to your home with regular copper wires, which delivers slower speeds. This is the most common connection in the UK and is faster than ADSL but still slows down in the final section of its journey.
Full fibre or fibre to the premises (FTTP) gives speeds between 50-1000Mbps
This is where fibre optic cables run all the way to your home. This is the fastest broadband connection possible in the UK right now, delivering speeds of up to 1000Mbps. The UK government wants to roll out this kind of broadband to every property in the country within a decade.
What other types of broadband can you get?
There are a number of different types of broadband connections that you can get in the UK. These include:

| Connection Type | Max Download Speed | Upload Speed Range | Available in the UK 2020 (as a percentage) |
| --- | --- | --- | --- |
| ADSL | 8Mbps | 1.5Mbps | 99.9% |
| ADSL2+ | 24Mbps | 1.5Mbps | 99.9% |
| FTTC | 80Mbps | 18Mbps | 96% |
| GFast | 300Mbps | 50Mbps | 9-10% |
| Cable | 575Mbps | 38.5Mbps | 46% (estimate) |
| FTTP | 1000Mbps (1Gbps) | Unknown | 8-9% |
Do I need fibre-optic broadband?
Whether or not you need fibre broadband depends on a number of factors. If you are a light user of the internet, using it for browsing and online shopping then you might not need the extra expense of paying for fibre right now. If you are a moderate user, watching or streaming programmes and movies then it becomes a more viable option. Streaming services such as BBC iplayer and Netflix operate better at higher speeds, so this is a good option. For this you probably only need regular superfast fibre.
If you are a very heavy user, a gamer or rely on a fast connection for work purposes, then a full fibre connection is what you need. You can get speeds up to 1000Mbps which is enough to ensure that whatever you're doing happens almost instantly, with no buffering or loading time required.
Can I get fibre broadband in my local area?
Fibre broadband is not available all over the UK right now so you may need to check to see if it is available in your area. However, if you live in a town or city then there is good news. More than 90% of urban areas now have access to fibre, and the coverage is increasing year on year.
However, if you live in a rural area then the likelihood of coverage gets much smaller. In all, about 80% of the country is covered by BT's fibre network, which most ISPs use to provide their service.
If you can't get fibre, then your next best option is to go for an ADSL connection. This will not be nearly as fast but is cheaper and still comes with unlimited downloads. Average speeds for ADSL connections are around 10 to 11 Mbps, which is more than enough for the needs of most households in the UK.
How do I know if my house is fibre ready?
You can find out if your home is fibre ready by using one of the online fibre connection checkers such as the SSE checker here.
This will tell you if your area is fibre ready and whether you can get a superfast connection for your internet.
When will fibre come to my area?
The UK government aims to make full fibre broadband a reality for the whole UK within ten years. The coverage is already at between 80 and 90% for regular. However, that means that around one fifth of households in the UK are still without access to fibre. So, when can these places expect to receive coverage?
The answer is that it depends. The network is operated by Openreach, a division of BT. They are currently working as fast as they can to extend the fibre network. This involves overlaying part of the existing copper network. There is quite a lot of complex civil engineering work involved, often in hard to reach or remote locations.
If you live in an urban area and don't yet have fibre, you can probably expect it within a few years. However, if you live in a more rural or remote location then it may take a few more years for fibre to reach you.
How do I install fibre optic broadband?
The first thing to do is to use a fibre optic coverage checker online to see if you have fibre in your area. Alternatively, you can get in touch with an ISP to see if they offer fibre broadband in your area. As they all use the same network, each supplier should be able to tell you whether or not it is possible.
You also need to make sure you have an existing phone connection. Although fibre uses glass or plastic cables instead of copper, in cases where FTTC connections are used the fibre only reaches as far as the supply cabinet in your street. From there it uses the old phone line connection to deliver high speed internet to your home. If you don't have an existing phone line you may need to pay to have a connection installed.
Once you have checked you have all the infrastructure in place, you simply need to choose a supplier and sign up to a fibre broadband contract. They will then agree a time to come and install the fibre.
If you need help choosing a supplier that offers a suitable deal for you, our team can help. Get in touch on Give us a call on 0330 818 6395 .
Can I get fibre optic without line rental?
Generally, you will need an active phone line to get standard fibre broadband into your home. However, there are a few providers who offer cable services. These allow you to bypass a standard phone line, which means you won't need to pay line rental.
What is the best fibre broadband deal?
Fibre broadband deals are always changing and competition for customers is fierce. That means switching can be a good way to save money on your fibre bills. At the moment, some of the best fibre deals are as follows:

Package

Broadband

Contract term

Upfront price

Monthly price

Shell Energy

Superfast Fibre Broadband
35Mb average
Unlimited
18 months
Free
£27.99

Vodafone

Superfast 1
35Mb average
Unlimited
24 months
Free
£22

TalkTalk

Fibre 35
38Mb average
Unlimited
18 months
£4.95
£22

Plusnet

Unlimited Fibre + Line only
36Mb average
Unlimited
18 months
Free
£22.99
⭐️ Trusted by over 1 million clients ⭐️
What is the cheapest fibre broadband?
As mentioned above, deals are always changing and there are special offers launched to entice new customers. That means it is hard to give a definitive answer to the cheapest fibre supplier. However, in general there are a couple of providers who offer cheap deals:
Onestream Plusnet has a deal that costs just under £20 a month.
Hyperoptic with a £19.99 deal
POP Telecom from £20.50
Origin from £20.99
Vodafone fibre from £21.95
TalkTalk from £22

Most major providers charge between the £25 and £30 mark, with higher speed packages generally costing between £30 and £40.

Which is the best fibre provider?

This is another question without a definitive answer. The best providers are those that offer great value, good customer service and reliable broadband. Although a lot depends on personal experience and your own requirements.

BT is currently the UK's most popular provider of fibre broadband services. However, Sky and TalkTalk are also very popular. Virgin Media is the other big provider in the UK and operates its own cable network, with faster speeds. However, there is more limited availability, with only just over half of premises covered.

Which providers offer fibre broadband?

There are dozens of providers offering fibre broadband here in the UK. Some of the most popular include:
BT
TalkTalk
Sky
Plusnet
Direct Save Telecom
John Lewis
EE
Hyperoptic
Fibre Broadband speed vs other types of broadband
Standard broadband has been described as 'up to 17Mbps'. However, a new ruling states that broadband providers must only advertise speeds that are accessible by at least 50% of their customers. That means that standard broadband is now, on average, advertised as 11Mbps. This is much closer to what most people can expect to receive in their homes using the ADSL network.
Fibre cable delivers broadband speeds much faster and with more consistent performance . Exact speeds depend on the speed of the fibre input. Generally, the faster the input speed, the higher the price you pay. The averages advertised are usually 35Mbps and 60Mbps for regular and premium fibre services.
How does fibre optic broadband connect to my house?
Fibre cables run from the exchange to a cabinet on your street. This is then connected to your home via the old copper phone line. This is the kind of fibre you get from Openreach providers, which include BT, Sky, TalkTalk and EE. However, there is occasionally an option to connect the fibre directly to your home, which can offer faster speeds.
What speed fibre can I get?
The averages advertised are usually 35Mbps and 60Mbps for regular fibre services. Full fibre can be up to 1000Mbps.
What fibre speed do I need for Netflix?
If you want to stream TV, then you'll need at least 1.5Mbps for TV services such as BBC iPlayer or 2.8Mbps for HD quality. For other services such as Netflix, the minimum speed requirement is about 3Mbps for standard streaming and 5Mbps for HD. So you should check to see if your service provides this.
What else affects the speed of my broadband?
Numerous factors affect the speed and quality of your fibre connection. These include the transfer technology used, your location in the country, the number of people you share the connection with and the type of device you are using. It can even depend on the time of day as more people tend to be using the network in the evening.
Feel the freedom of the best broadband!
Find the best offer that truly covers your needs. Make the internet yours at the best price!
Compare broadband deals
⭐️ Broadband Plans rate on Trustpilot Ad is 4.1/5 ⭐️
FAQ
What is fibre broadband?
Fibre is an internet connection that offers more reliable and quicker speeds than other types of broadband, including the ADSL connections, using glass or plastic cables to transfer information.
Can I get fibre broadband in my area?
Coverage in the UK is somewhere between 80 and 90% so it is available in most places. However, if you live in rural or remote areas then there is less chance that your network is fibre ready.
How much does fibre cost?
It varies depending on which provider you use, but a standard fibre service usually comes in at around £25 a month. Faster services generally cost more.
Will fibre broadband stop buffering?
It will certainly help to reduce buffering and speed up loading times. That's because fibre is much quicker than standard ADSL services.
Updated on 30 Oct, 2022