Choosing the Best Broadband Deals For Your Home
Discover the best broadband and TV deals for your home
Save money by bundling your TV and broadband services. Compare the best broadband & TV deals available near you and start saving money today!
⭐️ Save over £200 on your yearly broadband bills ⭐️
There are lots of different broadband deals on the market. So many, in fact, that it's often hard to know which is the best fit for our households. In an age where many of us are working from home and turning to the internet for entertainment, we're more reliant on our broadband connection than ever. But that doesn't mean we have to overspend on getting our homes connected. Let Broadband Plans do the research so you dont´t have to.
Last update: November 2022
Choosing the best broadband deal for your household can help you save money. But that's really just the tip of the iceberg. It can also ensure that you maintain peak productivity when working from home. It can ensure that the whole family stays entertained, even if they're all streaming on separate devices. And it can ensure that your work and play aren't impeded by irritating download limits.
Here, we'll cover everything you need to know when choosing the perfect broadband deals.
Finding the best broadband bundles and packages
The kind of broadband deals, bundles and packages available to you will depend on a range of factors. There are many factors that could determine the best deal for your household, including your location, the age and size of your property, and even who supplies your gas and electricity. The Broadband Plans team will be more than happy to help you find the perfect broadband package for your needs. But here we will give you the full spectrum of options.
What type of broadband deals are available?
If you stream a lot of music, films and TV shows, work from home, and have a family that spends much of its leisure time online, you'll need a broadband deal that can support your usage. You don't want to waste your precious free time waiting for your movie rental to buffer, any more than you want to send your boss an apologetic email explaining why your connection cut out halfway through an important Zoom call.
In every household there's a fine balance to maintain between affordability and quality of connection. Depending on where you live, your budget and your home setup, these are the different types of broadband deals that may be available to you…
ADSL
Asymmetric Digital Subscriber Line (ADSL) is the most basic and common type of broadband connection. Data travels down the traditional copper cables that make up your traditional phone line.
Although this can bottleneck your broadband's performance and download speeds, it also means that you'll be able to get an affordable and fairly reliable broadband internet connection.
Fibre Broadband
Fibre broadband uses fibre optic cables instead of copper wiring. Signals are able to travel much faster this way when compared to copper cables. As such, fibre connections are capable of achieving up to 1,000 times the bandwidth of copper connections. So a fibre broadband package could be a great choice for you.
Superfast Broadband
You may have seen superfast broadband advertised in your area. This is a form of fibre broadband, however connection speeds are much higher than standard fibre broadband, ranging from 35 Mbps to 300Mbps or even 1 Gbps (ultrafast). A great choice for those who want to stream seamlessly in 4K.
Superfast broadband is only available from a handful of suppliers including:
BT
Virgin Media
Hyperoptic
However, according to the communications watchdog Ofcom, 95% of households can potentially access superfast and ultrafast broadband.
Cable Broadband
Although cable broadband achieves connection and download speeds comparable to fibre broadband, the two are not quite the same thing. Cable broadband uses coaxial cables instead of copper wires. It is used by companies like Virgin Media that have their own networks.
Mobile Broadband
Not every area has the cabling infrastructure to support a cabled broadband connection. For households in these areas, mobile broadband may be a viable alternative. Mobile broadband connects through a mobile network, and uses the same 4G or 3G connection that you get from your smartphone.
Satellite broadband
Satellite broadband is a great option for areas where other broadband options are not available, like remote, rural or mountainous areas. If you have no cabling infrastructure and limited network coverage, satellite broadband is your best bet to get the fastest and more reliable connection possible. With satellite broadband you can download or upload data from a satellite. It works in much the same way as a satellite TV subscription.
What broadband packages are available?
The type of broadband you choose will determine the speed and reliability of your connection, based on the suitability for your home and area. However, there are lots of different kinds of broadband packages that may help to improve affordability. There are even student broadband deals that can be available to your if you´re enrolled in school.
Broadband, phone and TV packages
Many suppliers provide broadband-only deals. However, many also include broadband alongside phone and / or digital TV channel packages. Sky and Virgin Media are perhaps the best known examples of this.
TV packages usually offer:
A base package with channels not available on Freeview (e.g. Sky One, Sky Atlantic, MTV, Comedy Central)
Additional extras like Sky Cinema channels, Kids' channels etc.
Sports channels such as Sky Sports, BT Sport, Premier Sport, Racing TV etc.
Special interest channels (e.g. Zee TV, SET Asia)
Phone packages vary depending on provider. Most will offer calls on a Pay As You Go Basis, although some (like NOW) offer unlimited anytime calls to UK landlines to all new customers for their first year free of charge.
Some of the best value broadband and TV packages are listed in the table below:

| Package Name | Average Broadband Speed | Contract Length | Monthly Cost |
| --- | --- | --- | --- |
| Virgin Media Big TV Bundle, Superfast Fibre Broadband & Phone | 54 Mbps | 18 months | £33 |
| BT Fibre 2 & Entertainment | 67 Mbps | 24 months | £35.99 (£46.99 after contract) |
| TalkTalk Unlimited Fibre 35 TV and Phone Line | 38 Mbps | 18 months | From £28.95 |
In most cases, phone packages on offer will include a choice of:
Unlimited evening and weekend minutes to UK landlines
Unlimited anytime calls to UK landlines
Unlimited anytime calls to UK mobiles
Unlimited calls to international landlines (although different providers may offer anytime calls to different countries as part of their international call package)
Some of the best value phone and broadband packages are as follows:

| Package Name | Connection Type | Average Download Speed | Contract Length | Anytime Calls Included | Monthly Cost |
| --- | --- | --- | --- | --- | --- |
| NOW Fab Fibre | Fibre To The Cabinet | 36 Mbps | 12 months | Yes | £22 inc. line rental |
| NOW Super Fibre | Fibre To The Cabinet | 63 Mbps | 12 months | Yes | £24 inc. line rental |
| Plusnet Unlimited Fibre | Fibre To The Cabinet | 36 Mbps | 18 months | Yes | £27.99 inc. line rental |
| Plusnet Unlimited Fibre Extra | Fibre To The Cabinet | 66 Mbps | 18 months | Yes | £29.99 inc. line rental |
| TalkTalk Fibre 65 | Fibre To The Cabinet | 65 Mbps | 18 months | No (£7 extra for unlimited mins to UK landlines & mobiles) | £25 inc. line rental |
So if you´re looking to bundle your broadband with tv and/or phone, there are some great packages for you that are worth conisdering.
Broadband and other utilities
As well as getting cheaper phone and TV packages alongside your broadband, you may also be able to get cheaper gas and electricity in the same bundle. Utility Warehouse and SSE, for instance, allow you to combine broadband with TV, phone, gas and electricity bundle deals for increased savings.
Is it cheaper to bundle my services?
That really depends on your circumstances. If, for instance, you work from home and need to make a lot of outbound calls, you may find that you make substantial savings with a broadband and phone bundle. Likewise, if you and your household watch a lot of TV, you may find that you can save money by bundling your services. However, if you get all the entertainment you want from streaming services like Netflix, these bundles may be surplus to your requirements.
FTTC vs FTTP – what's the difference?
There are two kinds of fibre optic cabled connections available. These are Fibre To The Cabinet (FTTC) and Fibre To The Premises (FTTP). FTTP is pure fibre broadband, while FTTC uses a combination of fibre and copper cable. While both FTTC and FTTP are faster than copper cable alone, FTTP is the preferred choice for businesses and high-usage households because it is faster, more reliable, and designed to be expanded and improved upon.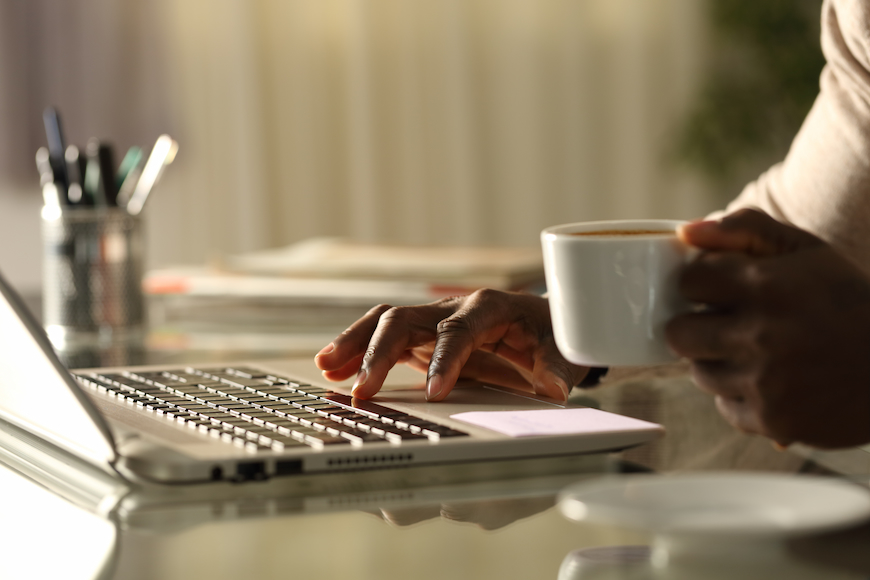 How to compare broadband deals?
Now we know a little more about the different kinds of broadband that are available, as well as the different kinds of bundles and deals, we need to look at how to compare them to get the right deal for you.
Here are some ways in which you can compare broadband deals to get the perfect balance between performance and price for your needs…
Check the monthly price
Your broadband costs are one of the monthly expenses that you'll need to factor into your carefully calculated monthly budget. Broadband prices can range from less than £20 per month for 10Mb average speeds to over £40 per month for ultrafast 1Gb fibre broadband.
For instance, the cheapest ADSL deal from Pop Telecom ranks as the cheapest on the market at £17.50 per month. And while its download speeds of 10-11 Mbps may be fine for smaller households, they may be frustrating for larger, higher-usage households and those that work from home. On the other hand, Hyperoptic's fastest full-fibre package is priced at £39 for new customers. This is one of the better value packages of its speed on the market. While it is over twice the price of Pop Telecom's cheaper offering, it offers 10 times the speed.
Households need to find the balance of performance and affordability that best suits their needs and budget. The average broadband bill in the UK is around £30 per month.
Keep in mind that broadband prices are just like energy prices. They're likely to be lower for new customers, but after your initial contract expires, you may find that your prices are higher. As with energy suppliers, after your contract expires you can (and should) shop around for cheaper suppliers when your contract has expired. The team at Broadband Plans will always be here to help you get the best value deal once your contract has expired.
Compare broadband speeds
The primary factor that differentiates different broadband packages is the speeds that they are capable of attaining. Keep in mind that the speed advertised won't necessarily be the speed that you get. At least not consistently. There are a number of factors that will determine your connection's speed. We'll discuss these in the next section.
What's the difference between speed and bandwidth?
As well as the speed of your connection, your bandwidth will also affect your broadband connection's performance. But what's the difference between speed and bandwidth? Simply put, your bandwidth is about how much data can be download to or uploaded from your computer or device. Your speed, on the other hand, is more about how fast can the data be uploaded or downloaded.
Keep in mind setup costs
Your broadband deal may be subject to setup costs. These are typically between £10 and £30, although they may be more expensive for complicated installations. There are many broadband companies that now offer free setup. Just remember that there's no such thing as free in the world of commerce. The setup costs will likely be absorbed by your monthly bills, potentially making them higher.
Bundles, perks, vouchers, reward cards and cashback
Many broadband companies try to increase their value proposition by throwing in extras like reward cards, vouchers, cashback and other perks. And while these may be appealing, remember that you're still paying for these in one way or another. Your monthly fees may seem reasonable upon signup. But they're more than likely to rise exponentially after your contract has expired.
Likewise, suppliers may offer you phone and TV bundle deals that look very attractive. Just take a moment to do the maths and make sure that you'll benefit from the bundle. Otherwise, you'll find yourself paying for services that you don't need or use.
Other factors to consider
There are a couple of other things that you should keep in mind when choosing a broadband deal for your household. These include:
Availability
Keep in mind that just because a particular broadband deal is advertised, doesn't necessarily mean that deal is available in your area. It's always a good idea to double check with suppliers before signing up.
Hardware
It's also a good idea to see what hardware will be included in your broadband deal so that you can take a look at the specs online and ensure that it will give you the performance and reliability that you need. It's also important to note that while you won't necessarily have to pay for your hardware upfront, that doesn't mean that it's free. It's cost will be enfolded into your future bills.
Always make sure that there are no hidden hardware charges in your contract as these will usually be payable upfront.
Contract length
While there are some Pay As You Go broadband deals that will allow you some flexibility, most of the cheapest broadband offerings are fixed-contract, typically lasting between 12 and 24 months.
Although you can technically switch providers mid-contract this will likely incur an early exit fee. These can range between £45 and upwards of £80.
However, Ofcom guidelines state that you can leave a contract early if you can demonstrate that you were not given the connection speeds that you were promised.
⭐️ Trusted by over 1 million clients ⭐️
What broadband speed do I need?
With broadband deals ranging from 10Mbps to 1Gbps, it can be difficult to decide what sort of broadband speed you need. Especially since it's hard to quantify megabits (Mb) per second in any way that's meaningful to us.
The best way to quantify broadband speed is by looking at the speeds necessary for the kinds of tasks that we use the internet for. You can see some of these detailed in the table below:

| Online activity | Broadband speed required |
| --- | --- |
| Streaming music | 1 Mbps |
| Watching video in HD | 5 Mbps |
| Making a high-quality video call | 10 Mbps |
| Online gaming | At least 3 Mbps download and 1 Mbps upload |
| Watching video in 4K UHD | 25-30 Mbps |
Be aware that speeds advertised may differ from the speeds that you actually get. According to Ofcom guidelines, advertised speeds must be available to at least 50% of customers. If your provider is consistently unable to provide speeds close to those advertised, you can leave your contract without incurring exit charges.
Will I get the advertised broadband speed?
It's important to remember that the speed you get consistently may not necessarily be the speed that's advertised. Just because your car is capable of travelling at over 100mph doesn't necessarily mean that it will spend much time travelling at that speed (hopefully).
As such, it's important both to manage your expectations of your connection, and get a speed that will be slightly surplus to your requirements.
What's my broadband speed?
If you want to find out your current speed, there are numerous online tests that will allow you to determine your upload and download speeds at any given time. However, the most reliable, and the one the Broadband Plans team recommend is Ofcom's broadband checker. You can use this by clicking here and following the instructions given.
What can affect your broadband speed?
There are a number of factors that may determine your broadband in real terms, and cause it to differ from the speeds that are advertised. These are also known as "Upto" speeds.
Factors that might determine your real speed include:
The type of connection you have (copper, fibre, coaxial etc.).
Your home's physical distance from the exchange (if you have a FTTC connection).
The time of day you go online.
The physical quality of the line (wear and damage can slow down speeds).
Your provider's traffic management policies.
The way in which your hardware is set up.
Do I need superfast broadband?
Superfast broadband is technically anything above 35 Mbps while Ultrafast broadband is anything between 300Mbps and 1Gbps. The truth, however, is that few households really need Ultrafast broadband. Checking your emails, uploading your photos to social media, downloading music and streaming videos are all fairly light demands on your broadband connection.
However, your household may benefit from a superfast connection if:
You upload a lot of videos to Youtube.
You play a lot of online games.
Your whole household uses a lot of different devices at the same time.
Rely on video conferencing for working at home.
Which are the best broadband deals in the UK?
We've looked at the different kinds of broadband deals available in the UK, as well as what you should look for in your broadband package. But which are the best deals and providers available in the UK?
At Broadband Plans, we pride ourselves on our ability to match each household that uses our service with the perfect broadband deal for their needs. But with so many providers and plans on the market, it may be tricky to know the best option for you. While this is a very personal choice that we're delighted to help you make, we can shine a spotlight on some of the best providers and deals available right now.
Which are the most popular providers in the UK?
There are all kinds of broadband providers to choose from in the UK, from big name brands like Sky and Virgin Media to telecoms giants like BT, EE and Vodafone to Ultrafast specialists like Hyperoptic and People's Fibre.
We naturally gravitate towards utility suppliers that we already know. It makes us feel safe and that we'll get no unpleasant surprises. With that in mind, who are the most popular broadband providers at the moment? If we use the number of active subscribers to determine popularity, the top 10 Internet Service Providers (ISPs) are as follows:

| ISP Name | Number of Subscribers |
| --- | --- |
| BT (Including PlusNet & EE) | 9,300,000 |
| Sky Broadband | 6,200,000 |
| Virgin Media | 5,420,100 |
| TalkTalk | 4,220,000 |
| Vodafone UK | 876,000 |
| Glide | 400,000 |
| Post Office | 400,000 |
| Zen Internet | 150,000 |
| Ask4 | 130,000 |
| KCOM | 126,900 |
Keep in mind that though there may be comfort in the familiar, the best deal for you may come from a smaller ISP. At Broadband Plans, we'll search the full gamut of providers of all shapes and sizes to find you the perfect deal or bundle for your needs.
Who is the cheapest broadband provider in UK?
If you're looking for the cheapest broadband deals, you'll find that costs are very dependent on the kind of connection you choose. ADSL deals will always the cheapest. But given that they max out at around 10-13 Mbps, your performance is always going to be encumbered by those little copper cables. However, we have compiled a list of the cheapest superfast and ultrafast providers below:
The cheapest superfast broadband deals are as follows:

| ISP Name | Monthly subscription charge |
| --- | --- |
| Shell Energy | £21.99 (£30.99 after promotion ends) |
| TalkTalk | £22.00 (£29.95 after promotion ends) |
| Vodafone | £22.00 |
| Hyperoptic | £22.00 |
| Onestream | £22.50 (£27.99 after promotion ends) |
| XLN Telecom | £22.74 (£47.94 after promotion ends) |
| NOW | £22.99 (£40.00 after promotion ends) |
| Plusnet | £22.99 (£36.52 after promotion ends) |
| SSE | £23.00 |
| Origin Broadband | £23.99 |
The cheapest ultrafast providers are as follows:
| ISP Name | Monthly subscription charge |
| --- | --- |
| Vodafone | £26.00 |
| Virgin Media | £28.00 (£44.00 after promotion ends) |
| Hyperoptic | £29.00 (£35.00 after promotion ends) |
| TalkTalk | £29.95 (£39.95 after promotion ends) |
| Giganet | £35.00 |
| TalkTalk Business | £35.94 (£41.94 after promotion ends) |
| Pulse8 | £36.00 |
| Zen Internet | £38.99 |
| EE | £39.00 (£44.00 after promotion ends) |
| BT | £39.99 (£47.99 after promotion ends) |
What is the best broadband deal in the UK?
While any of the above plans are worthy of consideration, the best broadband deal in the UK will depend on your needs. The Team at Broadband Plans will help you to walk the fine line between performance and value for money.
How to switch broadband provider
As with your energy provider, it's good to keep switching your broadband provider every time your contract expires.
While you may enjoy special promotional rates for the length of your contract, as we can see from the tables above, these can climb by quite some way once your contract expires.
But how do you go about switching broadband providers? At Broadband Plans, we're more than happy to guide you through the switching process and even manage your switch for you. Nonetheless, we understand that you may still have some questions.
Can I switch at any time? Are there any restrictions?
Most broadband contracts are pretty long. 12 months at the shortest, and 18-24 months in most cases. However, if you're not happy with your ISP, you may technically switch to a new one at any time.
However, there is a caveat to this. Most broadband contracts require the payment of an early exit fee if you switch ISPs mid-contract. This is usually somewhere between £45 and £80. Some suppliers (including BT) will also throw in "equipment charges" of over £40 if you switch before your contract has expired, in order to cover the cost of the hardware.
Again, it's important to note that according to Ofcom guidelines, you can exit your contract without having to pay an early exit fee if you can demonstrate that you have not been able to achieve the connection speeds that you were sold.
How do I know if I'm out of contract?
If you want to be on the safe side, it's probably a good idea to check that whether or not you're still in contract with your ISP before switching. You should be able to check the details of your contract by logging into your provider's website and accessing your customer portal. Alternatively, you can call your ISP or speak to them via live chat to ascertain the status of your contract.
What are End of Contract Notifications?
Under new legislation introduced in February 2020, ISPs are now legally required to provide you with an End of Contract Notification when your contract is due to expire. You can look at this notification as an invitation to take a look at other ISPs and tariffs to see if you could get more for your money.
What happens after my contract ends?
When your contract expires, you'll still continue to get the same quality of broadband. However, it's likely that your costs will rise after your contract expires. As we've established in the tables above, costs can rise quite significantly after the promotional rates that are used to lure customers in expire.
In this respect, broadband deals are very similar to car insurance policies or energy plans. But that doesn't mean that you can't get a great deal if you're proactive.
Should I get a new broadband deal?
If you're getting frustrated with the speed, cost, or reliability of your current broadband, you may be able to get a better deal elsewhere. In the vast majority of cases, you won't even experience a loss in service. You'll just get cheaper, faster broadband.
The team at Broadband Plans can help you to find the best value new broadband deal for your household by comparing offerings from all kinds of suppliers. We'll even manage your switch for you from end-to-end. So you can get seamless access to cheaper broadband with Broadband Plans.
Want to know more?
Give us a call today on 0330 818 6395 .
Discover best Broadband & TV bundle deals
Find offers that fulfills your needs. And choose the best one!
Compare bundle deals
⭐️ Broadband Plans rate on Trustpilot Ad is 4.1/5 ⭐️
FAQ
Should I bundle broadband, phone and TV?
There are many ISPs that combine broadband packages with phone and TV deals. Some will also throw in gas and electricity tariffs, too. And while you may be able to save money through one of these bundle deals, it's important to make sure you won't be paying for any services that are surplus for your household. If you're not going to use it, there's no point in paying for it.
What is unlimited broadband?
Some broadband deals have traffic management policies that cap the amount of data that you can upload or download in a single billing cycle. An unlimited broadband deal places no such restrictions on your downloads. You can get unlimited broadband deals with all kinds of connection speeds. It's not just limited to superfast or ultrafast deals.
Which is the best broadband deal?
That's a very personal choice that will depend largely on your needs and budget. 
If you're just after the cheapest option, an ADSL broadband deal will be the most budget-friendly. However, if you demand only the highest-quality video streaming, play a lot of online games or regularly rely on live video streaming, you may find that a superfast broadband deal is the best option for your household. 
Will I lose connection when I switch broadband provider?
In all likelihood, no. Most broadband switching is provider-led these days, so your new supplier takes care of the logistics of switching without the need for new installations. The only exception to this would be if you switch from a Fibre To The Cabinet (FTTC) to a Fibre To The Premises broadband plan, which will require a new connection to be made.
Should I get an unlimited broadband deal?
Many of the cheapest deals on the market will place restrictions on how much you can upload or download every month. However, an unlimited broadband deal places no restrictions on the amount of data downloaded or uploaded. Given that the difference in cost is growing increasingly negligible, many households would benefit from an unlimited broadband deal.
Can I get fibre broadband?
Over 90% of the country is currently able to access fibre broadband. At least, in theory. So the majority of households will likely be able to get a fibre broadband deal. However, there may be restrictions that prevent you from getting fibre broadband, including:
* Living in a remote or rural area with no fibre cabling
* Living too far away from your nearest cabinet
* Living in an old home that won't admit fibre cabling
* Living in an area where fibre is extremely popular and there isn't room in the cabinet to accommodate a new connection.
Should I choose a broadband package based on price?
There are many factors that should go into choosing a broadband package. And while cost should certainly be one of them, it doesn't necessarily mean that the cheapest deal is the best one for you. The cheapest deals may be restrictive both in terms of speed and download / upload limits. The frustration you experience with buffering or data caps might offset your monetary savings. Fortunately, the team at Broadband Plans are here to help you strike the perfect balance between performance and affordability.
Updated on 14 Oct, 2022